Global stocks mixed as Trump softens tone on trade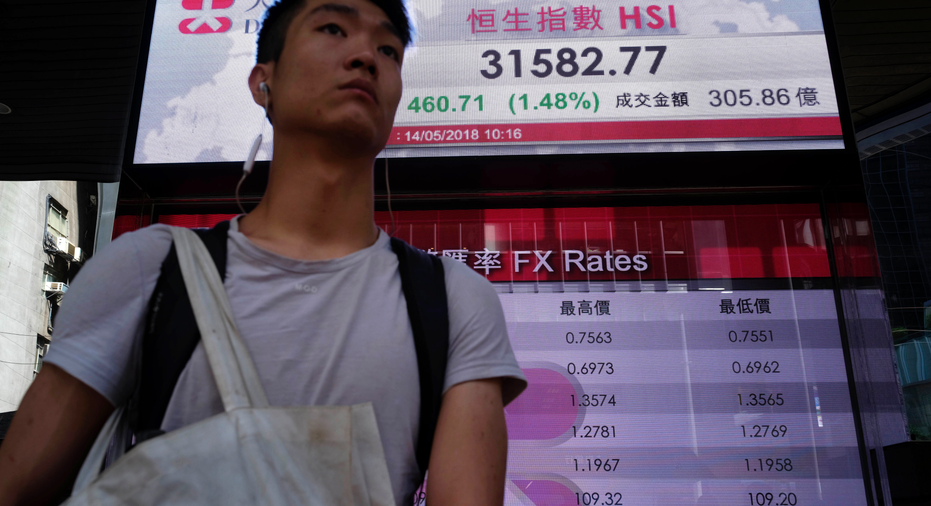 World stocks were mixed Monday after U.S. President Donald Trump softened his tone on trade, saying he would seek a way to keep Chinese technology company ZTE in business despite U.S. sanctions. European markets were slightly weaker amid signs that Italy's populist parties may form a government.
KEEPING SCORE: France's CAC 40 dipped 0.3 percent to 5,525 and Germany's DAX lost 0.4 percent to 12,946. Britain's FTSE 100 edged 0.3 percent lower to 7,702 and Italy's FTSE MIB dropped 0.7 percent to 23,994. Wall Street was poised to open higher. Dow futures advanced 0.3 percent and S&P 500 futures rose 0.2 percent.
TRUMP ON CHINA: In a surprise overture to Beijing, Trump tweeted that he wanted to help Chinese smartphone and telecom gear maker ZTE "get back into business, fast." The company's Hong Kong-traded shares have been suspended since U.S. authorities banned it last month for seven years from importing U.S. components in a case involving illegal exports to North Korea and Iran. China's foreign ministry responded by saying it "highly commended" the move, ahead of trade talks in Washington this week.
ANALYST'S VIEW: "It seems Trump's move is a good starting point, and likely to be welcomed by markets," said Hussein Sayed, chief strategist at FXTM. "Many policymakers will criticize such a reversal, but from an investor's perspective, it's a sign of easing relations between the world's two largest economies and should support risk-taking."
ASIAN SCORECARD: Japan's benchmark Nikkei 225 rose 0.5 percent to close at 22,865.86 while South Korea's Kospi dipped 0.1 percent to end at 2,476.11. Hong Kong's Hang Seng jumped 1.4 percent to 31,541.08 and the Shanghai Composite in mainland China added 0.3 percent to 3,174.03. Australia's S&P/ASX 200 climbed 0.3 percent to 6,135.30. Taiwan shares rose but Southeast Asian indexes were mixed as Malaysian shares resumed trading after last week's election. The benchmark FTSE Bursa Malaysia KLCI rose 1.3 percent to 1,873.07.
ITALIAN DEAL: Rival populist parties in Italy appeared close to being given the green light to form a government, after the president summoned them to discuss their coalition deal. The parties are both euroskeptic, a fact that has unnerved some investors, though the market reaction in Italy was still relatively muted on Monday. Italian bond yields were stable, suggesting investors are waiting to see if a government is actually formed and what policies they might agree on.
MALAYSIAN MARKETS: Malaysian markets reopened after a public holiday following 92-year-old Mahathir Mohamad's surprise election victory. Shares of regional budget airline AirAsia fell as much as 13 percent early Monday after the carrier's chief Tony Fernandes apologized for supporting defeated Prime Minister Najib Razak. By mid-afternoon they were down 5.1 percent. The benchmark index also rebounded after opening as more than 2 percent lower, rallying 1.4 percent, while Malaysia's currency dipped in a knee-jerk reaction to uncertainties over the change in government.
ENERGY: The benchmark U.S. crude oil contract was flat at $70.70 a barrel in electronic trading on the New York Mercantile Exchange. The contract fell 66 cents to settle on Friday. Brent crude, used to price international oils, gained 11 cents to close at $77.23.
CURRENCIES: The dollar rose to 109.51 yen from 109.36 yen on Friday. The euro strengthened to $1.1987 from $1.1942.