Global stocks in retreat after North Korean missile test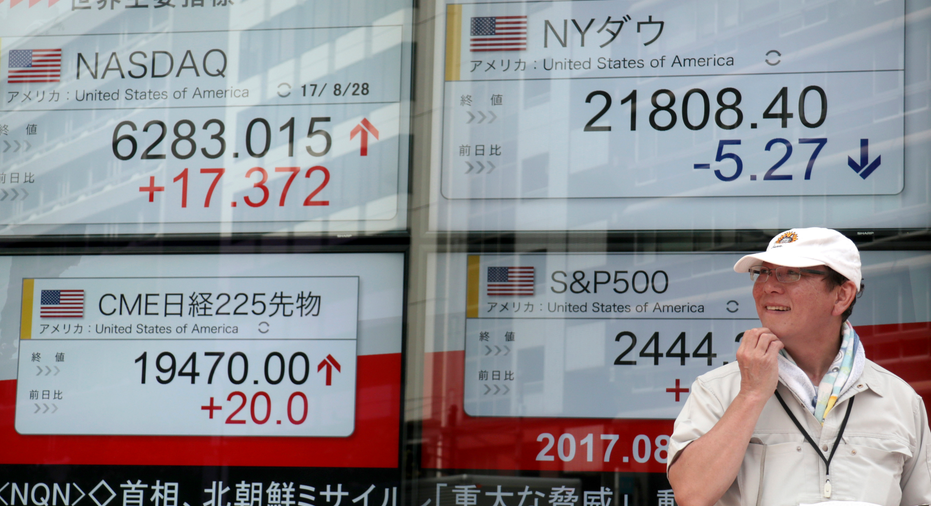 Global stock markets and the dollar fell sharply Tuesday, as investors were rattled by North Korea's launch of a midrange ballistic missile that crossed over northern Japan and fell into the Pacific Ocean. The euro, which breached $1.20 for the first time since January 2015, was one of the major beneficiaries of the risk-averse mood across financial markets.
KEEPING SCORE: In Europe, France's CAC 40 fell 1.3 percent to 5,011 while Germany's DAX slid 1.8 percent to 11,911. The FTSE 100 index of leading British shares was 1.2 percent lower at 7,314. U.S. stocks were poised for declines at the open with Dow futures and the broader S&P 500 futures down 0.6 percent. The dollar was also suffering from the risk averse mood in the markets, posting big falls against its major competitors.
MISSILE NEWS: The reason behind the risk-off mood in stock markets was the news overnight that North Korea had fired a midrange ballistic missile into the northern Pacific Ocean. South Korea's Joint Chiefs of Staff said the missile traveled around 2,700 kilometers (1,677 miles) and reached a maximum height of 550 kilometers (341 miles) as it traveled over the northern Japanese island of Hokkaido. The distance and type of missile tested seemed designed to show that North Korea can back up a threat to target the U.S. territory of Guam, if it chooses to do so, while also establishing a potentially dangerous precedent that could see future missiles flying over Japan.
ANALYST TAKE: "Equities are firmly in the red after North Korea delivered its biggest provocation in two decades by firing a ballistic missile over Japan, adding fuel to the fires of geopolitical uncertainty," said Mike van Dulken, head of research at Accendo Markets.
SAFE HAVENS: While stocks were suffering, traditional safe haven assets were in demand, including gold, which was up 0.8 percent at $1,325.30 an ounce. The Swiss franc was also in the ascendant, with the dollar down 1.2 percent at 0.9442 SFr.
EURO STRONG TOO: Europe's single currency also enjoyed further solid gains amid the geopolitical uncertainty, rising above $1.20 for the first time since early 2015. The euro has be buoyant for a while now, benefiting from the stronger than anticipated economic recovery taking place in the 19-country eurozone as well as rising expectations that the European Central Bank will start to rein in its stimulus measures soon. Last Friday, the ECB's president, Mario Draghi, failed to engage in any talk about the strong euro, which could hurt exporters and prevent inflation from rising back to target as it keeps import costs down. Investors took that as a signal for further euro buying. By early afternoon London time, the euro was up 0.5 percent at $1.2042.
ASIA'S DAY: Asian investors largely held their nerve after the North Korea test, with Japan's benchmark Nikkei 225 closing down only 0.5 percent at 19,362.55. The Japanese yen was holding up well too as it often does in times of geopolitical stress — the dollar was down 0.7 percent at 108.49 yen. Elsewhere in Asia, Australia's S&P/ASX 200 dipped 0.7 percent to 5,669.00 while South Korea's Kospi lost 0.2 percent to 2,364.74. Hong Kong's Hang Seng shed 0.1 percent to 27,828.67, but the Shanghai Composite inched up 0.1 percent to 3,365.23.
STORM FEARS: U.S. trading had focused on the effects of Tropical Storm Harvey in the absence of other market-moving news. Large parts of the energy and petrochemical industries are based in the Houston area and companies with a lot of stores in the area stand to lose business. While gas price spikes will be temporary, other effects of the storm will last for years. The U.S. Federal Reserve might hesitate to raise interest rates if they think the storm will slow the economy significantly.
ENERGY: Benchmark U.S. crude was down 4 cents at $46.53 a barrel, while Brent crude, the international standard, fell 20 cents to $51.22 a barrel.