Global stocks higher ahead of Fed meeting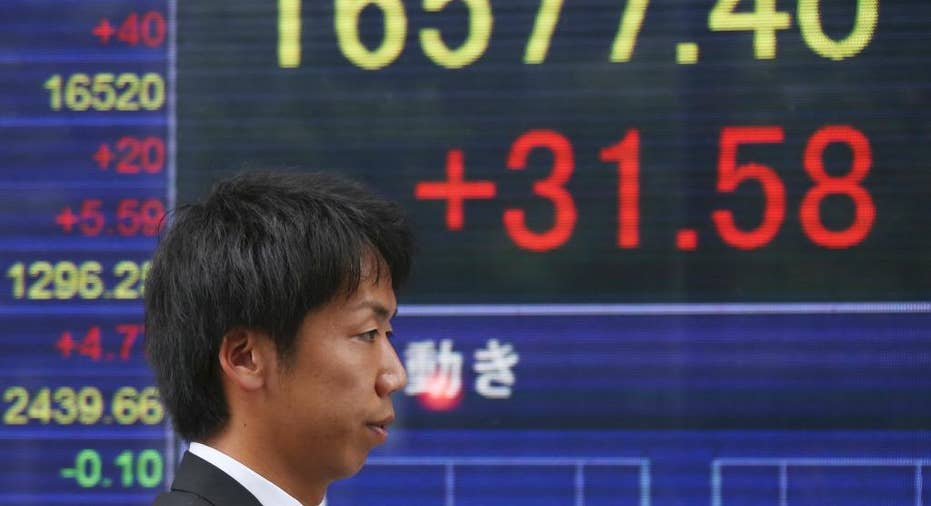 Major global stock markets were mostly higher Monday as investors looked ahead to the Fed's meeting in Jackson Hole, Wyoming, for clues on timing for possible interest rate hikes.
KEEPING SCORE: In early trading, France's CAC-40 rose 1.5 percent to 4,410.55 points and Germany's DAX advanced 0.8 percent to 10,633.55. London's FTSE 100 was up 1.3 points at 6,860.31. On Friday, the CAC-40 shed 0.8 percent, the DAX was off 0.6 percent and the FTSE lost 0.1 percent. Wall Street looked set for modest gains, with futures for the Dow Jones industrial average and Standard & Poor's 500 index up just under 0.1 percent. On Friday, the Dow shed 0.2 percent, the S&P lost 0.1 percent and the Nasdaq composite was down less than 0.1 percent.
FED WATCH: Investors were looking ahead to a speech by Fed chair Janet Yellen at an annual summer gathering in Jackson Hole, for indications of how policymakers view the outlook for economic growth and interest rates. Analysts expect Yellen to express caution but support the impression the U.S. central bank is on track to raise rates as early as this year.
ANALYST'S TAKE: "Recent market price action suggests that nervousness about Fed policy may persist ahead of the Jackson Hole symposium," Citigroup economists said in a report. "With markets pricing almost even odds for another Fed hike this year, and given the retreat in the dollar and the rally in risky and emerging markets, this allows investors to once again ponder their portfolio exposure in the backdrop of subtle shifts in Fed messaging."
WALL STREET: Energy companies fell as a rally in oil prices faded and investors sold safe assets they favored earlier. Technology and materials companies made small gains. While stocks haven't made many big moves this summer and the S&P was flat last week, there are signs investors feel comfortable enough to take bigger risks.
INDIA'S NEW BANKER: India's government ended weeks of speculation by naming Urjit Patel governor of the Reserve Bank of India. Economists said the appointment of Patel, a deputy governor since 2013, was likely to lead to policy continuity because he worked closely with his predecessor, Raghuram Rajan. They said Patel's personal prominence also might help defuse concern the government was trying to reduce the bank's independence.
CHEMCHINA-SYNGENTA: China National Chemical Corp. said a U.S. national security panel has cleared its proposed acquisition of Swiss agrochemicals giant Syngenta. The state-owned company, also known as ChemChina, said the $43 billion acquisition still requires approval from anti-trust and other regulators in the United States and other countries. If completed, the deal would be the biggest foreign acquisition to date by a Chinese company.
ASIA'S DAY: Tokyo's Nikkei 225 gained 0.3 percent to 16,598.19 while the Shanghai Composite Index lost 0.7 percent to 3,084.81. Hong Kong's Hang Seng added 0.3 percent to 22,997.91 and Seoul's Kospi advanced 0.9 percent to 2,017.94. Sydney's S&P-ASX 200 gained 0.4 percent to 5,497.40 and benchmarks in Thailand, New Zealand and the Philippines also rose. India's Sensex lost 0.1 percent to 28,036.76 and Taiwan also declined.
CURRENCY: The dollar gained to 100.72 yen from Friday's 100.22 yen. The euro declined to $1.1296 from $1.1325.
ENERGY: Benchmark U.S. crude shed 86 cents to $48.25 per barrel in electronic trading on the New York Mercantile Exchange. The contract shed 1 cent on Friday to $49.11. Brent crude, used to price international oils, tumbled 93 cents to $49.95 per barrel in London. It lost 1 cent on Friday to $50.88.