Global stock markets slip as China's growth slows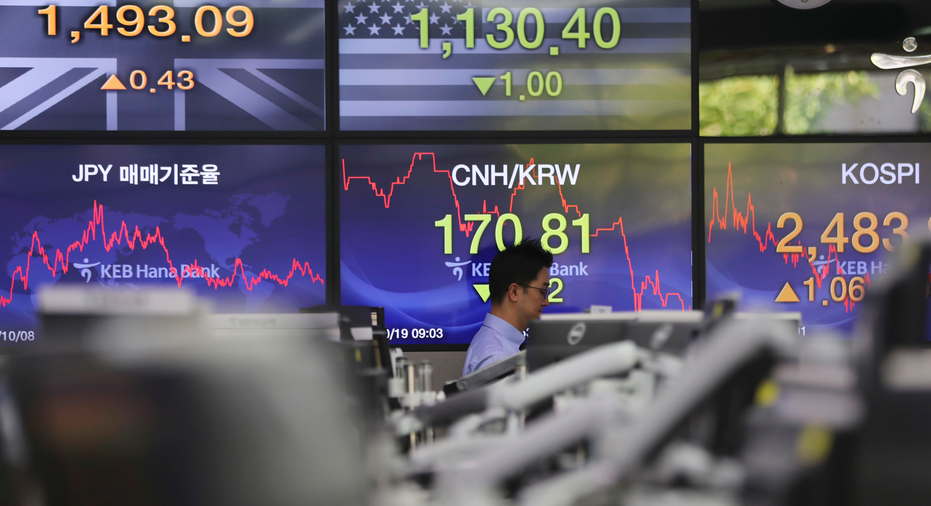 Global stocks mostly fell Thursday after data showed that China's economic growth slowed slightly and tensions rose over the Spanish region of Catalonia's bid for independence.
KEEPING SCORE: Britain's FTSE 100 fell 0.5 percent to 7,507 and France's CAC 40 fell 0.6 percent to 5,353. Germany's DAX declined 0.8 percent to 12,941. Futures showed Wall Street was also headed for a lower start. S&P and Dow futures both slipped 0.4 percent.
CHINA: China's economy expanded at a 6.8 percent annual pace during the July-September quarter, relatively stable growth but slightly below the previous quarter's 6.9 percent, government data showed. The latest result gives a boost to the ruling Communist Party that has been trying to steer the world's second-largest economy to slower, more sustainable growth based on consumer spending rather than exports and investment.
CATALONIA: Also in focus was Catalonia's demand for independence from Spain, the eurozone's fourth-largest economy. The central government called a special Cabinet meeting for the weekend to activate measures to take control of Catalonia's semi-autonomous powers. Catalonia had a deadline Thursday to say it had not declared independence but it did not say so, merely urging the Spanish government to hold talks. Spain's Ibex 35 stock index was down 0.8 percent, more than most European markets.
EARNINGS: Corporate earnings were mostly weak, with consumer goods company Unilever reporting a drop in sales due to the impact of the hurricanes and chilly summer weather in Europe. Foods maker Nestle and drugs company Roche also said sales had fallen. Reports from Philip Morris and Bank of New York Mellon are due later.
ASIA'S DAY: Asian markets finished mostly weaker. Japan's Nikkei 225 gained 0.4 percent to 21,448.52, while South Korea's Kospi slipped 0.4 percent to 2,473.06. Hong Kong's Hang Seng index slumped 1.9 percent to 28,159.09 and the Shanghai Composite Index shed 0.3 percent to 3,370.17. Australia's S&P/ASX 200 added 0.1 percent to 5,896.10. Stocks in Taiwan and Singapore were higher but elsewhere in Southeast Asia, they were mixed.
JAPAN TRADE: Customs data show Japan's trade surplus leaped nearly 38 percent in September from a year earlier, on strong shipments of cars, car parts and machinery to China and the U.S. The upbeat report boosted share prices for manufacturers like Toyota Motor Corp. and Panasonic. However, analysts are forecasting that growth will slow in coming months.
OIL: Benchmark U.S. crude lost 66 cents to $51.38 per barrel in electronic trading on the New York Mercantile Exchange. The contract rose 15 cents on Wednesday. Brent crude, used to price international oils, fell 76 cents to $57.39 per barrel in London. It gained 27 cents the day before.
CURRENCIES: The dollar fell to 112.50 yen from 112.93 yen. The euro rose to $1.1832 from $1.1788.