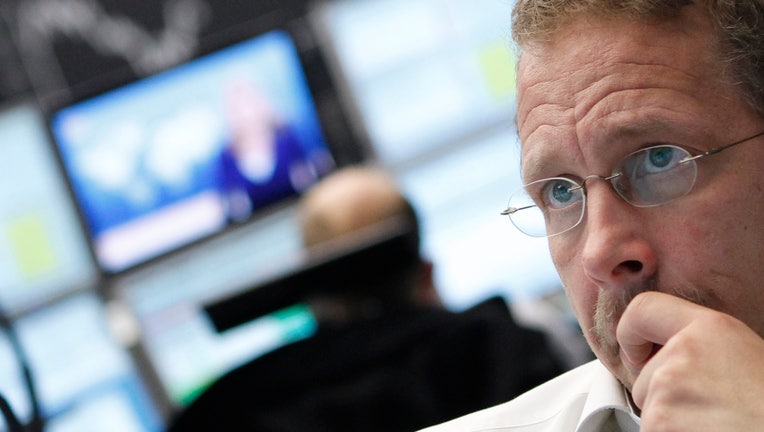 World shares are on course for their worst weekly performance since June, depressed by the looming "fiscal cliff" that could slash U.S. public spending and by Europe's debt troubles.
However, better-than-expected Chinese economic data for October, pointing to a modest rebound in the world's second largest economy, helped ease some concerns over global growth, keeping market moves within tight ranges on Friday.
The MSCI world equity index was down 0.2 percent at around 323.6 points by 1000 GMT. It has lost just over two percent since Monday morning and looked set to close on Friday with a decline steeper than any other week since June.
European shares extended their losses into a third day, partly due to worries over whether Greece will secure a deal to unlock access to urgently needed international aid.
A senior EU official told Reuters it was unlikely ministers would reach agreement on Monday on whether to release Greece's next aid tranche and that another meeting would probably be needed.
The FTSE Eurofirst index of top European shares was down 0.3 percent to 1094.55 as London's FTSE 100, Paris's CAC-40 and Frankfurt's DAX all slipped between 0.2 and 0.5 percent.
"We still have the situation in Greece; the volatility indexes are showing that investors are not too worried at the moment - but that can change quickly so politicians need to act quickly," said Emile Cardon, a market economist at Rabobank.
Dives in industrial production in France, Sweden and Italy and a warning from a German ministry that the country's economy - Europe's largest - was expected to slow further in the fourth quarter and the first three months of next year, also rattled investors.
German government bonds, favoured by risk-averse investors, rose, with Bund futures climbing 23 basis points on the day to 143.20, adding to gains of more than a point since last Friday's close.
EURO STRUGGLES
In currency markets, the euro returned to the $1.2717 two-month low against the dollar it hit on Thursday after the European Central Bank kept rates on hold and its president, Mario Draghi, sounded downbeat on the euro zone economy.
The dollar was back in positive territory at 80.830, just below the 81.001 two-month high it hit against a basket of major currencies on Thursday. Rising demand on the back of the looming U.S. fiscal crisis underpinned the greenback, which is seen as a safe haven by international investors.
Since the U.S. elections on Tuesday investors have become worried that Washington's politicians may struggle to find a compromise to cut the budget deficit before nearly $600 billion worth of spending cuts and tax increases kick in early in 2013.
Markets are also watching the debt ceiling, which needs to be raised to avoid a government shutdown.
U.S. stock futures were pointing to another cautious open on Wall Street when trading resumes. Data on tap includes the Thomson-Reuters University of Michigan sentiment survey where a small pickup to 83 from 82.6 is forecast.
Analysts say the fiscal cliff could derail the U.S. economy, which had recently defied a general trend in other parts of the world by showing signs of a modest recovery, and a U.S. recession could drag the global economy down further.
CHINA CHANGEOVER
Those concerns eased somewhat after Chinese data showed industrial output and retail sales for October slightly exceeded expectations, while annual October consumer inflation dipped to its slowest pace in nearly three years, giving policymakers scope to further loosen monetary policy.
It came right on cue for the start of the week-long leadership changeover in the ruling Communist Party.
"Given the uncertainties in the outside world, we expect the (China) recovery momentum to be limited and the full-year industrial output is likely to be around 10 percent for this year," said Iang Chao, analyst at Guotai Junan Securities in Shanghai.
The slightly better outlook for China left U.S. crude oil prices up 34 cents to $85.43 a barrel. Brent futures were just above $107 a barrel on course for their first weekly gain in a month.
It was a similar story for gold, which rose to a three-week high of $1,737.60 an ounce. Like other safe-haven assets, the U.S. fiscal worries boost the appeal of the precious metal.
"Politics is going to take centre-stage as far as commodity markets are concerned," said Natalie Rampono, a commodity strategist at ANZ.
In Asian trading, Thursday's losses in global stocks weighed on Japan's Nikkei stock average which closed 0.9 percent lower.
MSCI's broadest index of Asia-Pacific shares outside Japan eased 0.2 percent on top of the previous day's 1.3 percent slide, its biggest one-day percentage drop in two months, leaving it 0.4 percent down on the week.