Global shares mostly lower amid worries over Brexit, Italy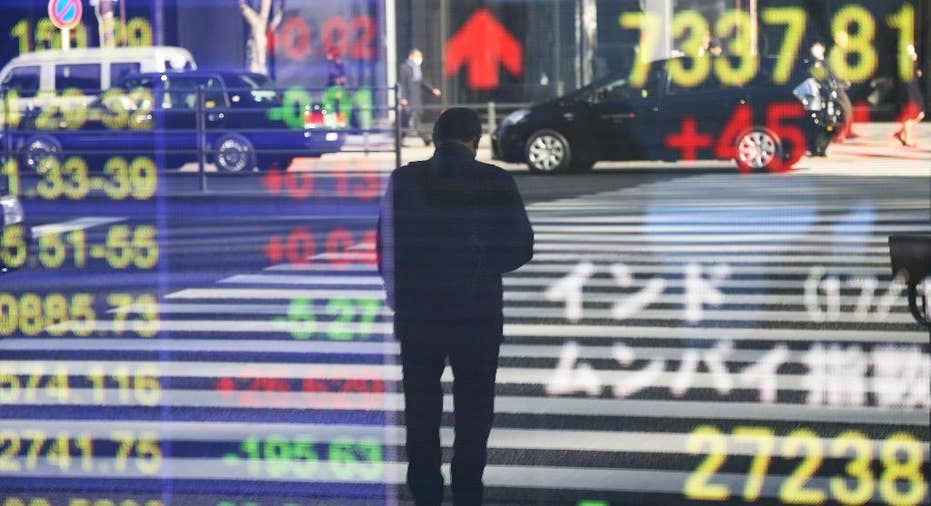 Global shares were mostly lower Monday amid worries about Britain's exit from the European Union and a downgrade of Italy's credit rating. Takata's shares fell in Tokyo after the air bag maker agreed to a guilty plea in the U.S. over massive recalls.
KEEPING SCORE: France's CAC 40 slipped 0.8 percent in early trading to 4,883.49, Germany's DAX fell 0.7 percent to 11,550.77, and Britain's FTSE 100 inched down nearly 0.1 percent in early trading to 7,333.23. U.S. shares were also set to drift lower with Dow futures slipping nearly 0.3 percent at 19,783.00. S&P 500 futures were also down 0.3 percent at 2,265,60.
BREXIT WORRIES: British Prime Minister Theresa May is set to deliver a speech outlining her vision of Britain's post-EU future, and market players are worried what she says may indicate a "hard" approach to the nation's exit. Her office has said she will call for a "truly global Britain" that is more open to the world when she lays out plans for negotiations with the European Union.
ITALY: A downgrade Friday by DBRS Ratings of Italy's sovereign credit rating was also casting a shadow. DBRS cited political uncertainties and weakness in Italy's banking system as renewed concerns given Italy's slow growth and high public debt.
TAKATA'S TUMBLE: Japanese air bag maker Takata Corp.'s stock suffered after the company agreed in the U.S. last week to a guilty plea and a $1 billion fine for concealing a deadly defect in millions of air bags. Takata shares finished down 10.1 percent. Three former Takata executives were also indicted. Automakers have recalled 42 million cars equipped with 69 million Takata air bag inflators in the U.S., the largest automotive recall in U.S. history.
ASIA'S DAY: Japan's benchmark Nikkei 225 lost 1.0 percent to 19,095.24. Australia's S&P/ASX 200 added 0.5 percent to 5,748.20. South Korea's Kospi lost 0.6 percent at 2,064.17. Hong Kong's Hang Seng slipped 1.0 percent to 22,718.15, while the Shanghai Composite dropped 0.3 percent to 3,103.43. Shares in Southeast Asia were also mostly lower.
THE QUOTE: "Asian markets are facing headwinds from rising political uncertainty in the West, which gave investors good reasons to take profits," said Margaret Yang Yan, market analyst at CMC Markets Singapore.
ENERGY: Benchmark crude fell 8 cents to $52.29 a barrel in electronic trading on the New York Mercantile Exchange. It fell 1.2 percent Friday. Brent crude, which is used to price oils sold internationally, lost 9 cents to $55.36 a barrel in London.
CURRENCIES: The dollar fell to 114.24 yen from 114.58 yen. The euro fell to $1.0588 from $1.0643.
___
Follow Yuri Kageyama on Twitter at https://twitter.com/yurikageyama
Her work can be found at http://bigstory.ap.org/content/yuri-kageyama