Global shares mostly higher, shrugging off NKorea concerns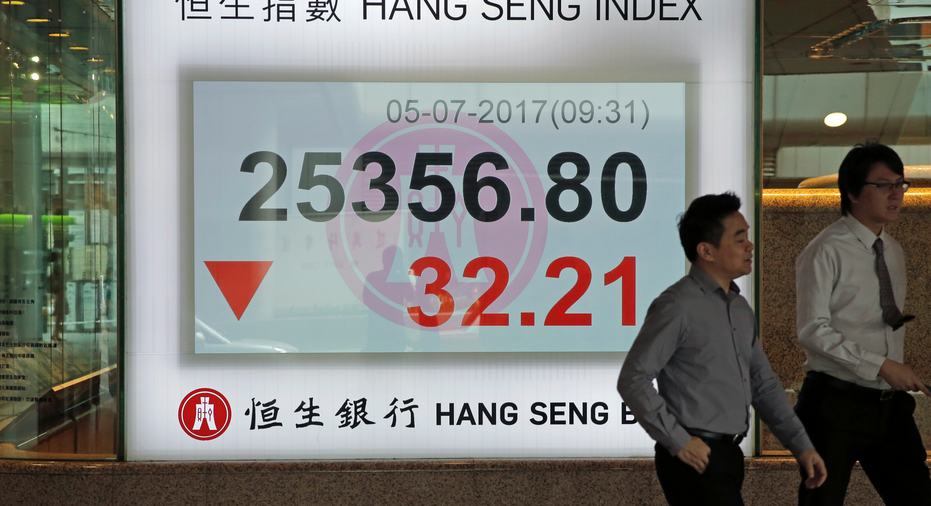 Shares rose Wednesday, reversing early losses as investors shrugged off concerns over North Korea's launch of a long-range missile a day earlier. Trading was thin following the U.S. Independence Day holiday. Investors are looking ahead to the Group of 20 summit later this week in Hamburg, Germany.
KEEPING SCORE: Germany's DAX rose 0.2 percent to 12,465.80 and the CAC 40 of France also gained 0.2 percent, to 5,185.60. The FTSE 100 of Britain likewise added 0.2 percent, to 7,373.20. Shares in New York also were poised for a slow start, with S&P futures up 0.03 percent to 2,425.80, while Dow futures were flat.
NORTH KOREAN MISSILE: A day after Pyongyang successfully test fired its first intercontinental ballistic missile, North Korean state media boasted about the accomplishment. The U.S. and ally South Korea scrambled to respond to the test, firing "deep strike" precision missiles into South Korean waters, and the United Nations Security Council was set to hold an emergency meeting.
MARKET VIEW: "While North Korea's military ambitions are a background threat for markets, we don't think that this particular geopolitical event is at the stage yet where it will cause a spike in volatility," said Kathleen Brooks of City Index. "Far more important at this stage of the economic cycle is what global central bankers will do next."
G-20 SUMMIT: Leaders of the Group of 20 are expected to put forth competing visions of world trade when the summit begins Friday, with U.S. President Donald Trump's "America First" colliding with the European Union's push for broad trade deals like the one with Japan.
ASIA'S DAY: Japan's benchmark Nikkei 225 index gained 0.3 percent to 20,081.63 and South Korea's Kospi added 0.3 percent to 2,388.35. Hong Kong's Hang Seng rose 0.5 percent to 25,521.97 and the Shanghai Composite index in mainland China jumped 0.8 percent to 3,207.13. Australia's S&P/ASX 200 fell 0.4 percent to 5,763.30, paring back gains made Tuesday ahead of the central bank's decision to stand pat on interest rates. Taiwan's benchmark gained and indexes in Southeast Asia also were mostly higher.
ENERGY: Benchmark U.S. crude lost 11 cents to $46.96 a barrel in electronic trading on the New York Mercantile Exchange. It gained $1.03 on Tuesday. Brent crude, used to price international oils, rose 3 cents to $49.64 a barrel in London.
CURRENCIES: The dollar rose to 113.55 yen from 113.28 yen, while the euro rose to 1.1355 from $1.1348.