Global shares follow U.S. tech stocks lower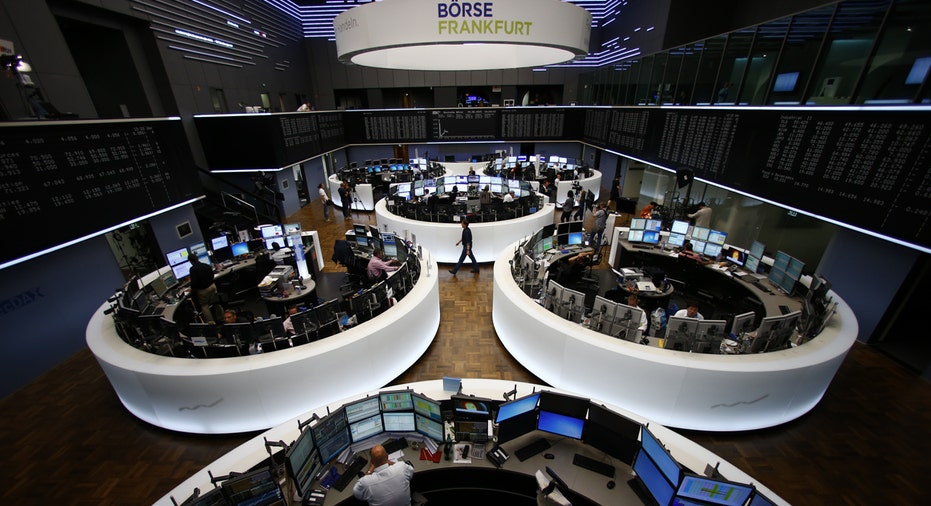 Stocks around the world fell Friday as a selloff that started in U.S. tech shares rippled overseas.
The Stoxx Europe 600 was down 1.1% in morning trading with every sector in negative territory, following widespread losses across Asian markets. Futures pointed to a 0.3% fall for the S&P 500 and a 0.9% loss for the Nasdaq 100 index, after the year's best performers posted their worst day in three weeks.
U.S. technology stocks slid abruptly Thursday after reaching a series of record highs. While there wasn't a clear catalyst for the sudden move lower, a more than 20% run-up in tech shares so far this year may have made the sector more vulnerable to swift moves, analysts said.
Shares of Amazon.com Inc. also dropped sharply after U.S. markets closed when it said quarterly profit fell 77%, adding to the downbeat tone around the sector.
In Europe, shares of STMicroelectronics fell 2.1% Friday, while Dialog Semiconductor shed 1.1%.
Japan's Nikkei Stock Average and Hong Kong's Hang Seng Index each fell around 0.6% amid pressure on technology companies, while a 4% drop in index heavyweight Samsung Electronics sent Korea's Kospi down 1.7%. Australia's S&P/ASX 200 index slid 1.4%, wiping out the prior three days 'gains.
Adding to pressure on overseas bourses, the WSJ Dollar Index edged down 0.1% Friday after the Republican effort to dismantle the Affordable Care Act collapsed when a slimmed-down Senate measure to pare back selected pieces of the 2010 health-care law failed.
Some investors had viewed health care efforts as a proxy for the wider Trump agenda of tax cuts and infrastructure spending, although expectations among investors were low going into the vote.
"The bearish case for the U.S. dollar remains intact," Piotr Matys, strategist at Rabobank, said after the bill was rejected. The decision implies the administration is less likely to make progress on other fiscal measures, he added.
Key for the dollar later Friday will be the release of the advance estimate of U.S. gross domestic product for the second quarter, which is expected to confirm the economy recovered from a stumble in the first three months of the year.
"We're definitely looking for a good read," said Jason Ware, chief investment officer at Albion Financial Group. "You get the consumer right, you get the economy right so that's what we'll pay attention to" in the report, he said.
Elsewhere in currencies, the euro was up 0.3% at $1.1712 and the British pound was up 0.2% at $1.3091. The Swiss franc extended its recent streak of declines and was last down 0.7% against the euro, around a two-and-a half-year low.
"It is not at all obvious why the franc is under pressure," said Westpac's Sean Callow, who speculated a factor in Asian-market declines could be low market liquidity.
Government bond yields climbed across the board. Yields on 10-year German bunds rose to 0.570% from 0.526% Thursday, while 10-year Treasurys rose to 2.320% from 2.312%. Yields move inversely to prices.
In European corporate results, shares of UBS Group AG were down 3.9% after the Swiss banking giant said that its net profit rose 14% but investors remained concerned over margins in its wealth management division.
Banco Santander SA posted figures in line with what it had pre-announced early this month, sending shares down 0.8%.
Among gainers, shares of Adidas AG climbed 8.7% after the sportswear and equipment maker raised its earnings and sales guidance for the full year after a strong second-quarter.
Barclays PLC shares were up 0.5% despite swinging to a second-quarter loss as it wrote down the value of its Africa operations, while Credit Suisse Group shares rose 1.8% after its posted better than-expected profits.
Shares of British Airways parent company International Consolidated Airlines Group SA rose 0.3% after its second-quarter net profit surged 20%, while Air France-KLM SA said Friday its second-quarter profit rose strongly, bolstered by higher airfares, with shares up 0.9%.
Lucy Craymer and Demi Guo contributed to this article.
Write to Riva Gold at riva.gold@wsj.com