Global shares fall weighed down by Fed rate hike talk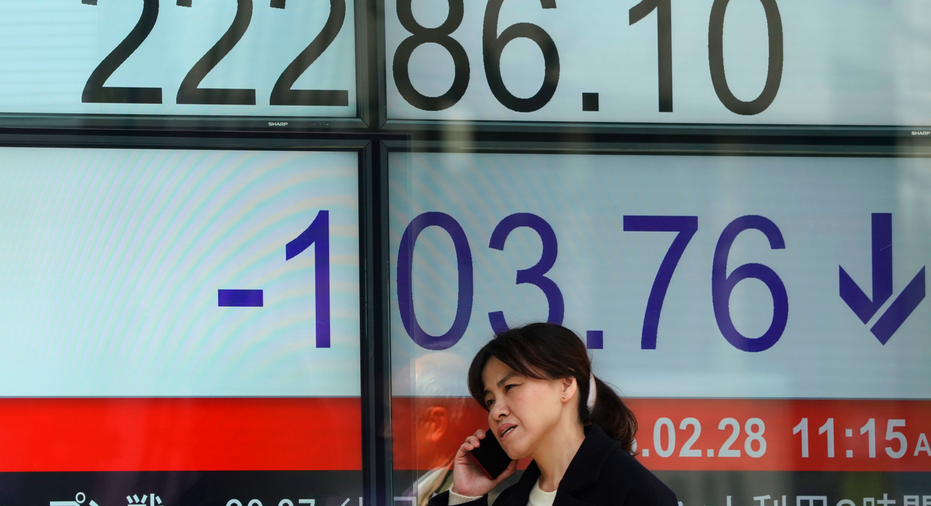 Global shares were subdued Wednesday after a Wall Street retreat in the wake of comments from the new chairman of the Federal Reserve stoked speculation that U.S interest rates will rise faster than anticipated this year.
KEEPING SCORE: In Europe, France's CAC 40 was down 0.3 percent at 5,326, while Germany's DAX fell 0.2 percent at 12,463. Britain's FTSE 100 was flat at 7,284. U.S. shares were set to drift with Dow futures and the broader S&P 500 futures up 0.1 percent.
THE FED: In testimony to Congress, Fed Chairman Jerome Powell emphasized that the central bank plans to raise rates gradually. Nonetheless, his growing optimism about the economy rattled investors on Tuesday. U.S. Treasury yields climbed and stocks fell amid fresh speculation that the Fed would accelerate the pace of hikes in its benchmark policy rate this year. The Dow Jones industrial average closed down 299 points. The e Fed raised rates three times in 2017 and had projected in December that it would raise rates another three times this year. However, many private economists said they now expected the Fed will boost rates four times this year rather than three.
ANALYST TAKE: "The markets are already relatively well positioned for rate hikes, if the Fed raises as planned, but there's still some catching up that will need to happen if four increases do materialize," said Craig Erlam, senior market analyst at OANDA. "The prospect of faster rate hikes in the near-term has been damaging for stock markets recently and explains why once again U.S. indices shed more than 1 percent on Tuesday. This negative view of higher rates fed through to Asian and European stock markets also, both of which are comfortably in negative territory."
CHINA FACTOR: Data on China's manufacturing activity, which showed that it had weakened to its lowest level in more than a year and a half, also dampened sentiment. The official purchasing managers' index slipped to 50.3 in February from 51.3 the previous month, its biggest drop in nearly six years. The last time the index was lower was in July 2016.
ASIA'S DAY: Japan's benchmark Nikkei 225 slipped 1.4 percent to finish at 22,068.24. Australia's S&P/ASX 200 was down 0.7 percent at 6,016.00. South Korea's Kospi lost 1.2 percent to 2,427.36. Hong Kong's Hang Seng was down 1.4 percent at 30,844.72, while the Shanghai Composite index stood at 3,259.41, down nearly 1.0 percent.
ENERGY: Benchmark U.S. crude fell 4 cents to $62.97 while Brent crude, the international standard, dropped 8 cents to $66.44 per barrel.
CURRENCIES: The euro was steady at $1.2222 while the dollar fell 0.2 percent to 107.10 yen.