Global shares fall amid worries over US-China trade, Koreas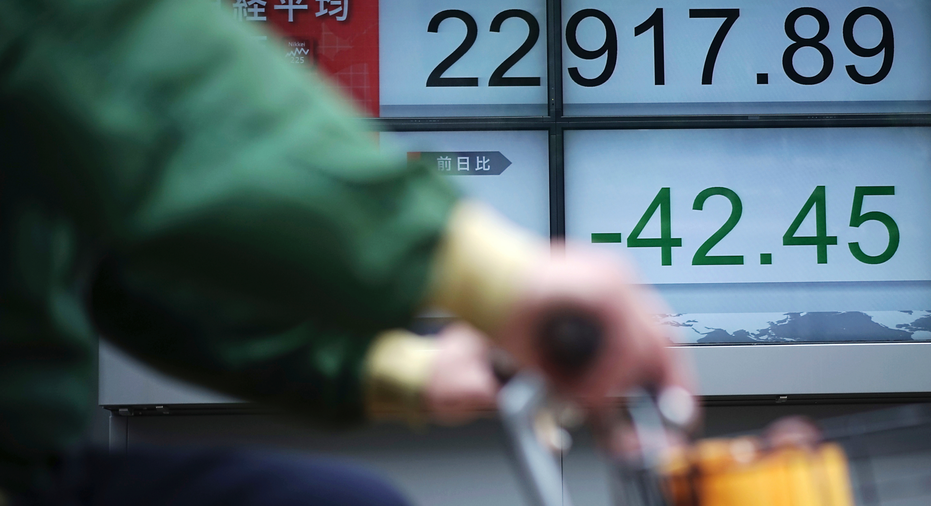 Shares were mostly lower in Europe and Asia on Wednesday after President Donald Trump raised doubts that a summit with North Korean leader Kim Jong Un planned for June 12 will take place as planned.
KEEPING SCORE: France's CAC 40 dipped in early trading, down 1.2 percent to 5,573.71, while Germany's DAX slipped 1.4 percent to 12,983.87. Britain's FTSE 100 edged 0.6 percent lower to 7,832.24. U.S. shares were set to drift lower with Dow futures down 0.6 percent at 24,686. S&P 500 futures shed 0.7 percent to 2,706.70.
ASIA'S DAY: Japan's benchmark Nikkei 225 dipped 1.2 percent to finish at 22,689.74, while Australia's S&P/ASX 200 fell 0.2 percent at 6,032.50. South Korea's Kospi gained nearly 0.3 percent to 2,471.91. Hong Kong's Hang Seng lost 1.8 percent to 30,665.64, while the Shanghai Composite index shed 1.4 percent to 3,168.96.
NORTH KOREA: After meeting with South Korea's president, President Donald Trump suggested that the highly anticipated June 12 U.S. summit with North Korea could be delayed. The summit, planned for Singapore, offers a historic chance for peace on the peninsula but also the risk of a diplomatic failure.
U.S.-CHINA TRADE: Trump said the United States and China are working toward an agreement that would ease U.S. sanctions that were imposed on ZTE Corp. and let the Chinese telecommunications giant stay in business. The deal might require ZTE to revamp its board and to pay a fine of $1 billion or more, Trump said. The talks follow an agreement by both sides to hold off on punitive tariffs they had threatened to impose on up to $200 billion of each other's goods.
THE QUOTE: "Equity markets can be seen continuing to sing to the tune of geopolitics with freshly brewed U.S.-China and U.S.-North Korean concerns," said Jingyi Pan, a market strategist at IG in Singapore.
ENERGY: Benchmark U.S. crude lost 31 cents to $71.89 per barrel. Brent crude, used to price international oils, dropped 52 cents to $79.05.
CURRENCIES: The dollar fell to 109.92 yen from Tuesday's 110.92 yen. The euro slipped to $1.1723 from $1.1826.
____
Follow Yuri Kageyama on Twitter at https://twitter.com/yurikageyama
Her work can be found at https://www.apnews.com/search/yuri%20kageyama