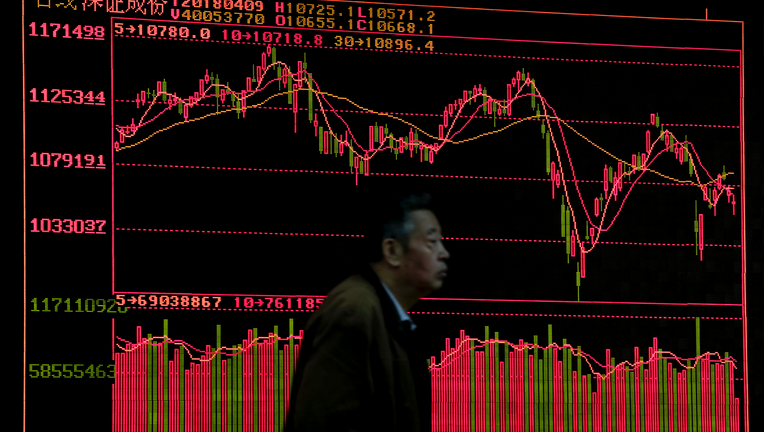 Global stock markets rose Monday amid uncertainty about an escalating U.S.-Chinese tariff dispute after President Donald Trump said a settlement was possible but his advisers said other nations might add to pressure on Beijing.
KEEPING SCORE: Germany's DAX rose 0.5 percent to 12,303.24 and France's CAC 40 advanced 0.2 percent to 5,270.81. London's FTSE 100 slipped less than 0.1 percent to 7,178.19. On Friday, the DAX lost 0.5 percent, the CAC 40 fell 0.3 percent and the FTSE 100 declined 0.2 percent. On Wall Street, the future for the Dow Jones industrial average rose 0.7 percent and that for the Standard & Poor's 500 was up 0.6 percent.
TRADE TENSIONS: Trump said Washington and Beijing can settle their tariff dispute but his economic adviser, Larry Kudlow, said a "coalition of the willing" — including Canada, much of Europe and Australia — was being formed to pressure China. Kudlow said while Washington hoped to avoid taking action, Trump "was not bluffing." Beijing and Washington have threatened to raise tariffs on $50 billion worth of each other's goods. Trump said the U.S. list might be increased by an additional $100 billion of goods, which prompted China's government to say it would "counterattack with great strength."
ANALYST'S TAKE: "The trade tariffs cloud looms into the new week following last Friday's gyrations as President Donald Trump ramped up the tensions with newly proposed tariffs," said Jingyi Pan of IG in a report. "Despite conciliatory messages put through over the weekend, investors are expected to remain on edge at the start of the week with more to look for from China."
ASIA'S DAY: The Shanghai Composite Index rose 0.2 percent to 3,138.29 and Tokyo's Nikkei 225 advanced 0.5 percent to 21,678.26. Hong Kong's Hang Seng climbed 1.3 percent to 30,229.58 and Seoul's Kospi added 0.6 percent to 2,444.08. Sydney's S&P-ASX 200 gained 0.3 percent to 5,808.70 and India's Sensex advanced 0.4 percent to 33,772.50. Benchmarks in New Zealand, Taiwan and Southeast Asia also rose.
WALL STREET: Stocks fell on jitters about the possible impact of the tariff dispute on U.S. exporters. Caterpillar, a construction equipment maker, slid 3.5 percent and aircraft manufacturer Boeing lost 3.1 percent. The Dow dropped 2.3 percent, the S&P lost 2.2 percent and the Nasdaq composite slid 2.3 percent.
ENERGY: Benchmark U.S. crude gained 22 cents to $62.28 per barrel in electronic trading on the New York Mercantile Exchange. The contract plunged $1.48 on Friday to close at $62.06. Brent crude, used to price international oils, added 41 cents to $67.52 in London. It fell $1.22 the previous session to close at $67.11.
CURRENCY: The dollar rose to 107.12 yen from 106.92 yen. The euro edged down to $1.2275 from $1.2282.