Global Markets Plunge Following the Brexit Vote: Here's What You Need to Know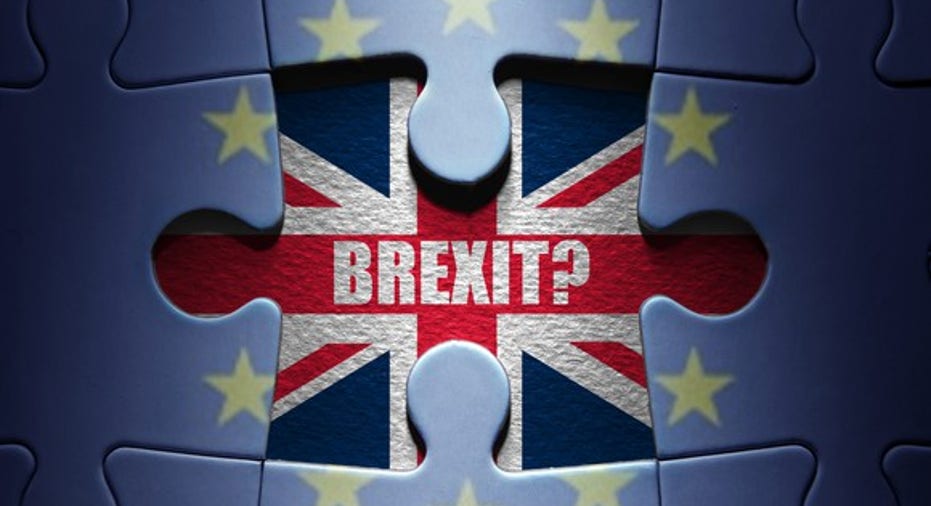 Image source: Getty Images.
If you're waking up this morning and in a bit of shock as to why U.S. and global markets are plunging, you're not alone.
The U.K. Referendum, which has been more affably referred to as the "Brexit" vote, and was to determine whether or not Britain stays within the European Union, was decided last night, and the result came as a complete shock to much of the world.
On one hand, supporters of the remain campaign had suggested that pulling out of the EU would damage Britain's economy. A leave vote would require Britain to rework a number of its trades agreements, which was expected to lead to domestic economic disruption, at least in the short-term, with some analysts going so far as to predict a recession.
On the flipside were the leave supporters, which relied on British sovereignty as the selling point. Being bound by EU decisions didn't set well with this group, meaning these prospective voters were more than willing to deal with short-term economic pain in order to be able to develop long-term economic and social policies of their choosing.
Britain chooses the path less traveled
After counting the ballots into the wee hours of the morning, the U.K. vote showed a decisive victory for the leave campaign by a margin of 51.9% to 48.1%. Not only does this vote ensure that Britain is leaving the EU to pursue its own path, but it opens the door for other nations to consider such a vote, such as the Netherlands. If stronger nations choose to leave the EU, it could be disastrous for some of the weaker EU nations such as Spain, Italy, and Greece, which have come to rely on the strength of the EU to support their high debt levels and economies.
Furthermore, Prime Minister David Cameron, who had been one of the U.K.'s most influential voices urging residents to vote to remain in the EU, announced he would, within a rough time frame of three months, step down as Prime Minister to allow a member of the winning "leave campaign" to guide Britain's policy moving forward. With polling prior to the Brexit vote suggesting a high likelihood of remaining in the EU, the decision to leave caught global investing markets completely off-guard.
As of 7am ET, European markets were getting hammered, with the FTSE 100 in the U.K. off 4.7%, the CAC 40 down 6.7% in France, and the German DAX off 7.3%.
Image source: Getty Images.
U.S. markets shaping up for a rough day
But it isn't just European markets getting slammed. U.S. futures are being clobbered to, albeit to a slightly lesser degree. Dow Jones Industrial Average, Nasdaq Composite, and the S&P 500 are all down between 3.5% and 4.5% in premarket trading just hours before normal trading is to begin.
The financial sector is looking as if it'll be particularly hard hit, which numerous global banks overseas dipping by double-digit percentages. Within the U.S., banks like Citigroup that have higher exposure to European markets are expected to feel the brunt. If the U.K. dips into recession, or the EU sees weakened growth prospects as it deals with the transition of the U.K. out of the EU, it's very possible that Citigroup's ex-U.S.-heavy business model could struggle.
Investment bank Goldman Sachs is also taking it on the chin in premarket trading. Goldman Sachs' first quarter report was weak as a direct result of its struggles to make a market in bond trading due to exceptional market volatility. With that volatility and uncertainty looking as if they'll continue at least for the near future, the investment bank's willingness to stick by its fixed-income strategy could hinder its profitability.
Smart ways to protect your money
Of course, Brexit isn't all bad news, especially for investors who've been hedging their bets leading up to this vote.
Image source: Getty Images.
Safe-haven investments such as gold and silver are soaring. As of 7 am ET, gold was up better than $50 an ounce from its prior-day closing price to nearly $1,320 an ounce, while silver was pushing higher by more than 3% to $17.85 an ounce. Spot gold actually traded north of $1,360 briefly after the Brexit vote was called in favor of the leave campaign, marking its highest value in two years.
These gains in metal prices come at a time when gold and silver miners have also been careful paring back their expenditures to focus only on high ore grade mines and acquisitions. In other words, we're seeing rising underlying commodity prices and falling costs, which could lead to a deluge of profits among gold and silver miners.
For instance, Barrick Gold was up about 9% in premarket trading on account of rising spot gold prices. This year alone Barrick Gold is forecasting a midpoint for its all-in sustaining costs of just $785 an ounce. This would mean there's a more than $500 an ounce buffer between its all-inclusive production costs and the current spot price for gold. It's also been aggressively reducing debt in order to cut its interest payments. Long story short, precious metal miners are probably going to be one of the few bright spots today, and perhaps in the near future.
Image source: Duke Energy.
Today's drop could also be a good time to consider defensive names in the utility sector. Electric utilities often underperform during bull markets because investors jump ship in search of companies with faster growth opportunities. However, during times of uncertainty the steady cash flow and dividend yield of a utility stock can come in handy. Not to mention, with yields on U.S. Treasuries falling in step with the market, income investors could do quite well with utility stocks over the long-term.
A name to consider here might be Duke Energy , which currently has a delectable 4% yield and serves some 7.4 million customers. Britain leaving the EU isn't going to affect what this regulated electric utility is charging its customers, and it's not going to affect the electricity demand of Duke's consumers. If anything, its dividend yield acts as a beacon to attract income seekers who are looking for a safe-haven investment.
In short, it's probably not going to be a pretty day if you're a stock market bull, but there are ways to make and protect your money during turbulent times if you're willing to dig around. Perhaps today is the day to give utilities and the mining sector a deeper dive.
The article Global Markets Plunge Following the Brexit Vote: Here's What You Need to Know originally appeared on Fool.com.
Sean Williamshas no material interest in any companies mentioned in this article. You can follow him on CAPS under the screen nameTMFUltraLong, and check him out on Twitter, where he goes by the handle@TMFUltraLong.The Motley Fool has no position in any of the stocks mentioned. Try any of our Foolish newsletter servicesfree for 30 days. We Fools may not all hold the same opinions, but we all believe thatconsidering a diverse range of insightsmakes us better investors. The Motley Fool has adisclosure policy.
Copyright 1995 - 2016 The Motley Fool, LLC. All rights reserved. The Motley Fool has a disclosure policy.