Global markets mixed ahead of Fed chair testimony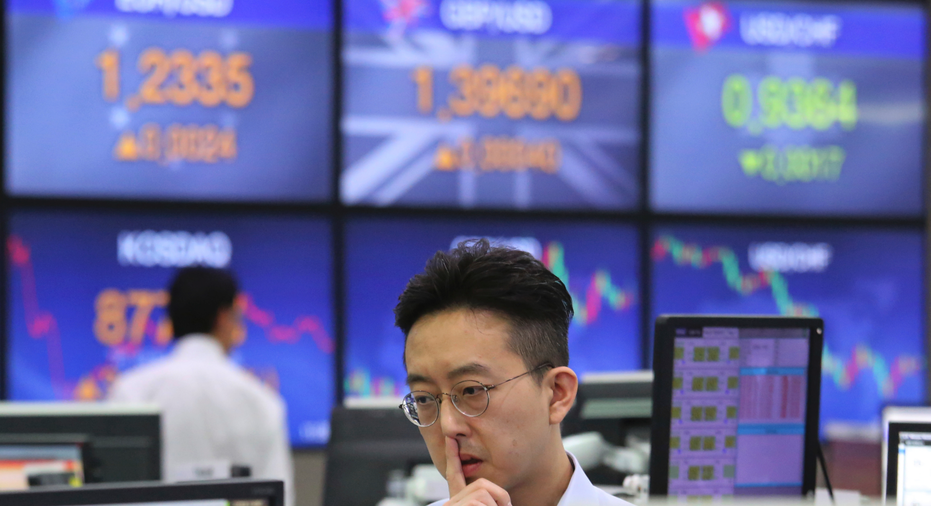 Global stock markets were mixed Tuesday ahead of the Federal Reserve chair's testimony in the U.S. Congress later in the day, his first public appearance as head of the Fed.
KEEPING SCORE: Britain's FTSE 100 added 0.1 percent to 7,298.20 and France's CAC 40 inched up 0.1 percent to 5,350.35. Germany's DAX was flat at 12,525.16. Futures augured a lukewarm start on Wall Street. S&P futures dipped 0.2 percent and Dow futures also fell 0.2 percent.
ASIA'S DAY: Japan outperformed the region, with its benchmark Nikkei 225 jumping 1.1 percent to 22,389.86. South Korea's Kospi finished 0.1 percent lower at 2,456.14. Hong Kong's Hang Seng index dropped 0.7 percent to 31,268.66, while China's Shanghai Composite Index slumped 1.1 percent to 3,292.07. Australia's S&P/ASX 200 gained 0.2 percent to 6,056.90. Stocks in Taiwan and Singapore turned lower while other Southeast Asian countries were higher.
ANALYST'S TAKE: "The focus is no doubt set ahead to Fed Chair Jerome Powell's speech, though the market continues to reflect little concern over the possibility of any overtly hawkish comments," said Jingyi Pan, a market strategist at IG in Singapore.
FED WATCH: Powell's public debut as chair of the Fed starts with his testimony to the House Financial Services Committee. Investors will be looking for clues about when and how quickly the Fed will continue to raise interest rates. In December, the Fed forecast that it would raise rates three times in 2018, but many think it may accelerate that pace. Investors will also want to know whether Powell is becoming convinced that the Fed is finally on the verge of achieving its 2 percent inflation target and if so, whether it might soon feel the need to speed up its rate increases.
OIL: Benchmark U.S. crude fell 19 cents to $63.72 per barrel on the New York Mercantile Exchange. The contract rose 36 cents to settle at $63.91 per barrel on Monday. Brent crude, the international standard, lost 42 cents to $67.09 per barrel.
CURRENCIES: The dollar strengthened to 106.99 yen from 106.93 yen. The euro rose to $1.2331 from $1.2316.