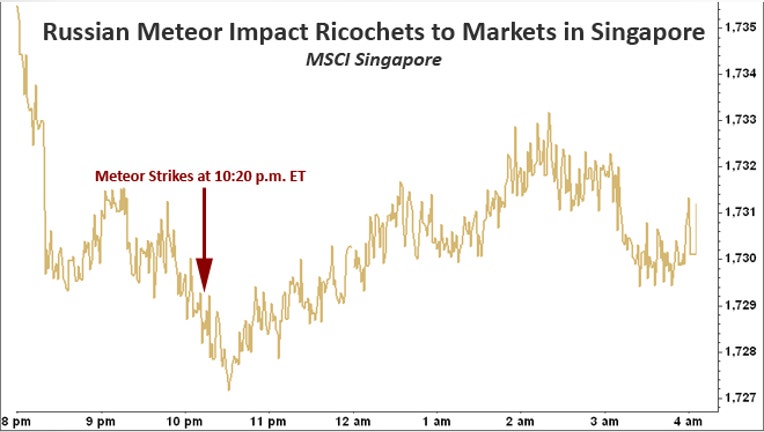 Global markets dipped briefly overnight after reports revealed a flaming meteor plunged into Russia just hours before a more closely watched space rock is slated to graze Earth's atmosphere.
The scary meteor strike occurred near Chelyabinsk, Russia, at about 10:20 p.m. ET Thursday and reports say roughly 1,000 people have been injured, largely from broken glass caused by the enormous blast when the 10-ton object exploded before impact.
Russia's stock market wasn't open for trading when the strike occurred (and Japan's index tumbled on other news), but equities in Singapore slipped to session lows just minutes after the Russia meteor hit.
The MSCI Singapore index retreated from about 1730 to 1727 at 10:30 p.m. ET and then rebounded back above 1730 by 11:15 p.m.
In the U.S., stock futures overnight similarly dipped. S&P 500 futures had been trading at about 1518 late Thursday night but then fell to 1515.40 at midnight on heavier volume as reports swirled about the Russian meteor strike.
"I was standing at a bus stop, seeing off my girlfriend," one local resident named Andrei told Reuters. "Then there was a flash and I saw a trail of smoke across the sky and felt a shockwave that smashed windows."
Reports say around 3,000 buildings sustained damage, mostly from broken windows caused by the shockwaves.
As Russia cleans up from the frightening meteor, stargazers are now turning their attention to 2012 DA14, an asteroid roughly the size of an Olympic swimming pool that is projected to pass by Earth at around 2:24 p.m. ET.
At as close as 17,100 miles, the asteroid is set to blast by Earth closer than any other known object of that size since astronomers began tracking them about 15 years ago.
NASA said there is no chance of the asteroid striking Earth and noted that the Russian meteorite was a completely unrelated object. Videos show the Russian meteorite was traveling from north to south, while DA14's trajectory is south to north.
"No known asteroid has traveled this close to Earth in recorded history. Let's hope the slide rule guys have it nailed," Art Cashin, director of floor operations at UBS (NYSE:UBS), wrote in a note this week.