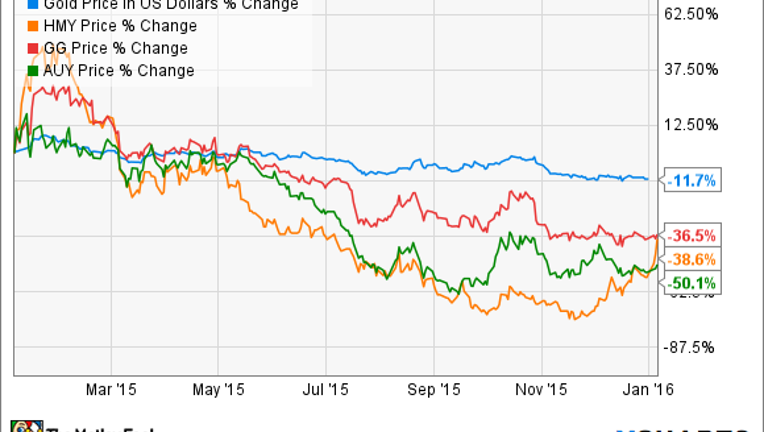 What: Shares of Harmony Gold Mining jumped 13% by 10:45 a.m. EST on Wednesday. That jump is largely due to a 1% pop in the price of gold to just over $1,090 per ounce after global fears sent investors scurrying for safe haven assets.
So what: A number of issues rattled the market on Wednesday morning including a reports of a successful hydrogen bomb test by North Korea, continued concerns of a slowdown in China, and more saber rattling between Saudi Arabia and Iran. These worries caused investors to sell off stocks, with most global averages down more than 1% in early morning trading.
Instead of stocks, some investors fled to gold, which sent gold stocks surging. Joining Harmony Gold in today's rally were larger producers Goldcorp and Yamana Gold , which were both up roughly 4% Wednesday morning. The reason these gold stocks spiked is because higher gold prices leads to improved profitability from producers.
Should fears of a global economic slowdown either due to further weakness in China, or an armed conflict in the Middle East, or Asia continue to be stoked it could send the price of gold much higher in the near-term. Such a scenario would really benefit a gold producers like Harmony Gold, Goldcorp, and Yamana Gold, which have struggled under the weight of the sinking price of gold over the past year:
Gold Price in US Dollars data by YCharts
Now what: The price of gold trades on fear, and lately the market has been spooked by both geopolitics and economic concerns. That said, should those fears abate it could quickly wipe out Wednesday's gold stock rally.
The article Global Jitters Sends Harmony Gold Mining Co.s Stock Up Double Digits originally appeared on Fool.com.
Matt DiLallo has no position in any stocks mentioned. The Motley Fool has no position in any of the stocks mentioned. Try any of our Foolish newsletter services free for 30 days. We Fools may not all hold the same opinions, but we all believe that considering a diverse range of insights makes us better investors. The Motley Fool has a disclosure policy.
Copyright 1995 - 2016 The Motley Fool, LLC. All rights reserved. The Motley Fool has a disclosure policy.