Global Equity Rally Stalls; Central Banks Eyed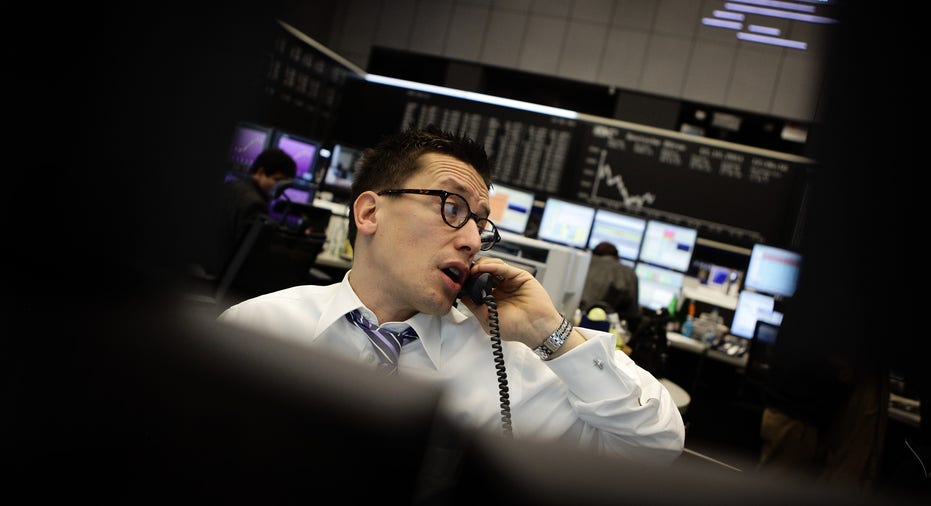 A three-day rally on world equity markets stalled on Wednesday and the euro dipped as investors awaited the next moves by the world's major central banks to tackle declining global economic growth and Europe's fiscal crisis.
Risky assets began rising on Friday after U.S. jobs data eased concerns about global growth but supported hopes of a further policy easing by the Federal Reserve. Markets were also lifted by last week's promise by European Central Bank President Mario Draghi to ease borrowing costs for Spain and Italy.
"Sentiment is still broadly cautious - people realise there are still a lot of hurdles to be overcome. But investors can't ignore potential stimulus from central banks and what impact that's had on stock markets in the past," said Keith Bowman, equity analyst at Hargreaves Lansdown.
The Bank of England sharply cut its forecast for medium-term growth in Britain's economy due to worries that factors hurting growth since the financial crisis may be longer-lasting than first thought.
Investors believe that the gloomy outlook may open the door to further policy easing by the Bank of England later this year.
A batch of Chinese economic data on Thursday will also draw attention to the nation's cooling growth rate and the potential for Beijing to take more action to support activity.
ECB HOPES
European shares, which have taken off since Draghi first signalled a more interventionist stance to defend the euro two weeks ago, have begun a retreat after recording their highest close since March 19 on Tuesday.
The FTSEurofirst 300 index of top European shares was down 0.37 percent at 1,090.12 in early trading, down 0.3 percent at 1,090.82. U.S. stock future also pointed to a weaker start on Wall Street later
Since Draghi's comment that he was prepared to do whatever it took to defend the single currency, the UK's FTSE 100 index has gained 6.2 percent, Germany's DAX has surged 8.8 percent and the French CAC index has soared 12 percent.
Standard Chartered Bank, under fire from accusations it violated U.S. laws by hiding $250 billion in transactions tied to Iran, clawed back some of its huge losses, to be up 6.1 percent and top the FTSEurofirst 300 leader board.
The British bank's shares dived 16.4 percent on Tuesday in hefty volume after the accusations by New York's top bank regulator, which also threatened to revoke its state banking licence.
MARKETS TURN WARY
The euro, which has also bounded higher since Draghi's comments, was down 0.25 percent at $1.2371, turning lower after the recent gains took it to a one-month high of $1.2444.
Investors were becoming wary of pushing the euro much higher until they see more details of the ECB's latest proposal to tackle the three year-old debt crisis that has threatened the survival of the 17-nation currency bloc.
So far Draghi has said the plan was to ensure effective transmission of the central bank's easier monetary policy stance by purchasing the shorter-term debt of struggling euro zone nations.
But he said any action had to be in conjunction with the euro zone's bailout funds and under strict conditions imposed after the targeted country had sought help.
"We think there will be a reality check in time," said Sarah Hewin, senior economist at Standard Chartered Bank in London. "Any action from the ECB is really reliant upon euro area governments first taking action. And indeed countries that require assistance will have to ask for a bailout, so there are many steps before you get to the ECB moving in to buy bonds."
In the debt market Germany's sale of 3.4 billion euros of 10-year government bonds attracted more demand than a similar auction last month, indicating investors' appetite for safe haven assets hasn't eased much since Draghi's moves.
The Bund auction drew bids of 1.8 times the amount allotted, compared with 1.5 at an auction on July 11. After the sale 10-year German bond yields were 7 basis points lower at 1.41 percent, up from a record low of 1.126 percent in July.
Bund prices were also support by a media report quoting a member of Chancellor Angela Merkel's Christian Democrats party as saying Germany will not back more financial aid for Greece.
Ten-year Spanish government bond yields were up 11 basis points to the 7 percent danger level, beyond which funding costs are perceived to be unaffordable in the long run. Equivalent Italian yields were up 5 basis points to 6.01 percent.