GlaxoSmithKline's Search for a New CEO May Revive Underlying Uncertainties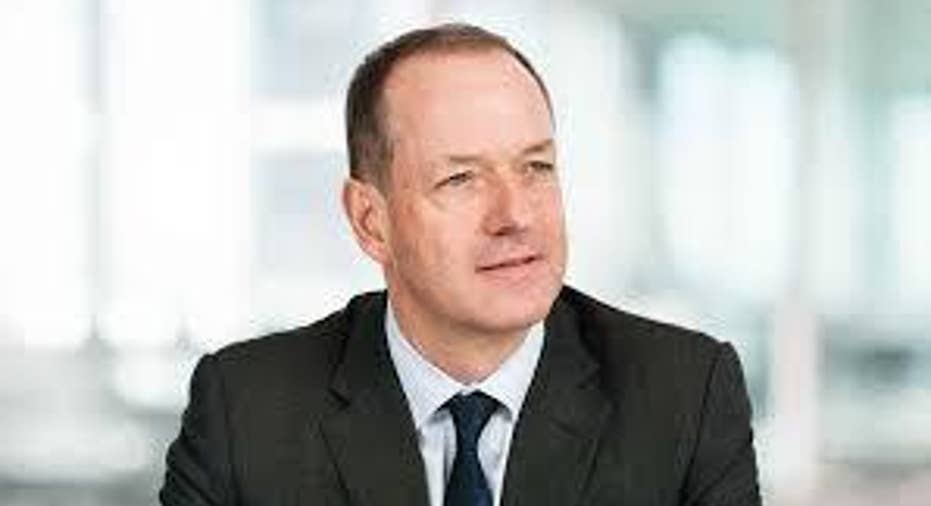 Image source: GlaxoSmithKline.
GlaxoSmithKline shareholders, you can officially write it in stone: Current CEO Andrew Witty, who's manned the helm since 2008, is retiring on March 31, 2017.
Details emerge about Witty's imminent retirement Witty's retirement announcement doesn't come as a complete shock since Wall Street and investors were told in January that GSK was looking for a replacement. On Thursday, however, the details emerged as to when Witty would officially step down, and that the company would be looking both internally and externally for a replacement.
CEO Andrew Witty. Image source: GlaxoSmithKline.
Additionally, investors were let in on the fact that Witty isn't stepping aside because of external pressures. Some on Wall Street have called for GSK to break up its business into smaller components. Doing so, it's believed, could unlock value and allow investors to get a better bead on how GSK it growing and earning money. For what it's worth, Witty has said a break-up isn't currently on the table, but it might be many years down the road.
Witty has also taken heat for bribery allegations at GSK between 2004 and 2010. GSK employees purportedly treated doctors to dinners and vacations in order to persuade them to use GSK drugs. In September 2014, China found GSK guilty of these allegations, fining the company nearly half a billion dollars.
Witty's departure may lead to an uncertain future In some contexts, Witty's departure gives GSK a chance at a fresh start. It can wipe the slate clean of its recent criticism and start anew. However, Witty's imminent departure also comes at a critical time in the company's ongoing transformation, and it's bound to illuminate a handful of underlying uncertainties.
The big question mark surrounding the departure of a CEO, even one where there will be a year-long transition, is whether or not a company strays from its current business plan. GSK's lagging sales over the prior three years, courtesy of sales weakness from inhaled COPD and asthma medicine Advair, which has lost patent exclusivity, have given some investors all the more reason to show Witty the door. But, we're also beginning to see the fruits of Witty's years of transformative deals and drug development.
Image source: GlaxoSmithKline.
Witty's deals and developments take shape For instance, GSK completed a three-part asset swap with Novartis last year that completely shifted GSK's focus and made the company far more revenue-balanced. As a refresher, Novartis acquired GSK's cancer products and small-molecule cancer pipeline for about $16 billion. GSK, in turn, purchased Novartis' vaccine segment, minus influenza, for roughly $7 billion. Finally, the two companies joined forces and created a consumer healthcare joint-venture. GSK also cleaned up, netting around $9 billion in net cash following completion of the deal.
The new GSK gets a substantial amount of revenue from outside its pharmaceuticals business. In GSK's most recent presentation, it lists vaccine revenue at 19% of total sales and consumer healthcare products at 26%. Although these may be lower-margin segments, they may offer more predictable cash flow. Consumer healthcare also tends to offer strong pricing power.
Image source: GlaxoSmithKline.
Newly approved therapeutics over the past three years are also outpacing the decline in revenue being witnessed from Advair, Lovaza, and other non-exclusive drugs. After patiently waiting for its business to turn around, Witty noted at the J.P. Morgan Healthcare Conference in January that new pharma drugs amount to about a seventh of its total revenue, which is comparably higher than all of its Big Pharma peers. GSK has worked out the kinks with Breo Ellipta (low levels of insurer coverage) that stymied its initial uptake, and new-to-brand prescriptions for Anoro Ellipta and Incruse Ellipta have shot higher since November, suggestion we should see some serious sales improvements within the next year.
What you should know It's unclear how well a new CEO will be able to handle this major transition in both GSK's segmented operations as well as its next-generation therapies that have recently come to market, or are expected to come to market in the near future.
After eight years of Witty's leadership, Wall Street and investors understand what to expect. However, if an external hire winds up taking the helm at GSK, uncertainties surrounding its slower-than-expected next-generation respiratory product growth, and the imminent introduction of generic Advair, could again bog down GSK's valuation.
Do I consider this a reason for GSK shareholders to run for the hills? Not exactly. GSK does have a number of components within its business model that can operate successfully even if the leadership isn't top-notch. Consumer healthcare, to some extent vaccines, and legacy pharmaceutical products should continue to produce solid results no matter who GSK's board elects to anoint as CEO once Witty steps aside.
The concern is what happens with new product launches and future licensing/collaboration deals. Uncertainty surrounding new launches and newly introduced pharmaceuticals could work to stymie GSK's valuation in 2017 or beyond until its new CEO proves himself or herself and offers a clearly defined long-term strategy like those we've become so accustomed to hearing from Witty.
My suggestion? Keep your ear to the floor since GSK's replacement for Witty will likely have some bearing on the company's ability to grow profits and value in the coming years.
The article GlaxoSmithKline's Search for a New CEO May Revive Underlying Uncertainties originally appeared on Fool.com.
Sean Williamshas no material interest in any companies mentioned in this article. You can follow him on CAPS under the screen nameTMFUltraLong, track every pick he makes under the screen name TrackUltraLong, and check him out on Twitter, where he goes by the handle@TMFUltraLong.The Motley Fool has no position in any of the stocks mentioned. Try any of our Foolish newsletter servicesfree for 30 days. We Fools may not all hold the same opinions, but we all believe thatconsidering a diverse range of insightsmakes us better investors. The Motley Fool has adisclosure policy.
Copyright 1995 - 2016 The Motley Fool, LLC. All rights reserved. The Motley Fool has a disclosure policy.