Given Up on Natural Gas Prices? Here's a Significant Source of Hope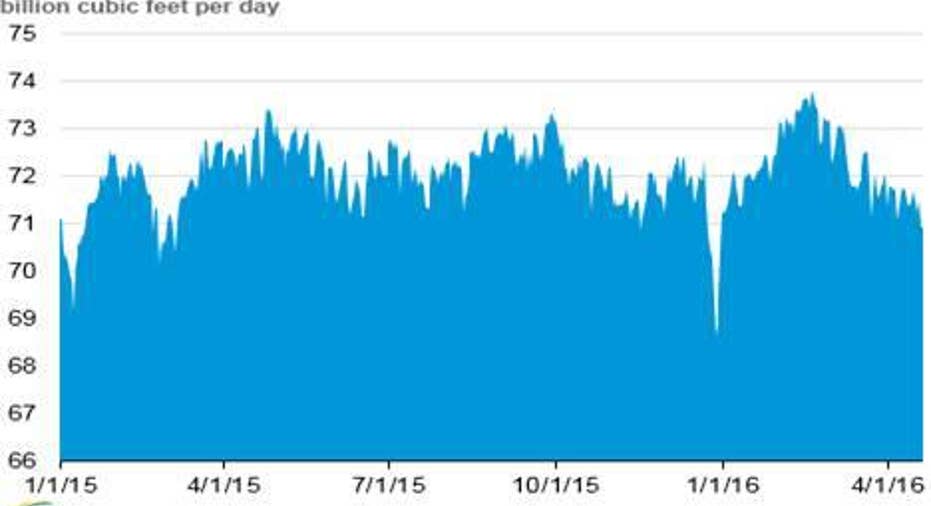 With the massive amount of shale gas the United States is sitting on, there's probably not going to be an opportunity to be long-term bullish on natural gas prices for a long time to come. If prices go up, the oil and gas industry has the raw materials available to immediately drill that price back down.
That doesn't mean there won't be periods where investors can be bullish on natural gas for the shorter term. The price of natural gas has to stay at least a level at which the oil and gas producers can make some money drilling new wells.
Significant natural-gas producer Cabot Oil & Gas (NYSE: COG) just held its first-quarter 2016 earnings call and provided some interesting comments that suggest now is the time try and profit from a short term bull run for natural gas.
The Marcellus is the keyProducing natural gas from shale was a game changer for the industry. The Barnett and Haynesville shales turned the natural gas market on its head initially. The true disruptor, however, came in the form of the Marcellus.
The amount of natural gas in the Marcellus is enormous. The wells are prolific, and the economics of production from the play are superior. From a standing start in 2010, the Marcellus alone now accounts for 20% of all U.S. natural gas production. That is just incredible.
If natural gas prices are going to improve, something must stop the Marcellus monster.
Cabot Oil & Gas provides some number-crunchingIn the company's first-quarter 2016 earnings call, Cabot management revealed that it had done some homework on where Marcellus and Utica shale gas production is headed in 2016.
Cabot's engineers examined the production data of more than 4,000 natural gas wells located in northeastern Pennsylvania. These wells produce from mainly the Marcellus and Utica. From this well data, Cabot's engineers built production estimates looking forward for all wells in the region.
What Cabot's engineers concluded is that production from the area was set to decline by 25% from the start of 2015 through the end of 2016. With Cabot expecting that only 120 additional natural gas wells will be brought on production over the remainder of 2016, the company believes that Marcellus production is set to fall.
A look at the actual activity levels in the Marcellus would certainly suggest that a fall in production has to happen.
Source: Cabot Oil & Gas corporate presentation.
During the first quarter of 2015, there were 17 rigs active in this northeastern Pennsylvania region. This year that number is down to just four.
Southwestern Energy confirms itThe 2016 production guidance from one of Cabot's Marcellus competitors lends even more support to an outlook of declining production. In the Southwestern Energy (NYSE: SWN) Q4 2015 earnings call held in late February, the company provided specific guidance on production. Southwestern expects production to be down 25% year on year by the end of this December.
That sounds like a big production decline, but you don't know the half of it. Southwestern has been a growth machine over the past decade, taking natural gas production higher eightfold.
Source: Southwestern corporate presentation.
This is one of the giants of the shale gas business, seeing its production roll over in a major way.
It is time to get some natural gas exposureAll of this information points to the fact that Marcellus production growth is not just ending but that production is also going into decline. Natural gas production outside the Marcellus has been in decline for some time.
According to energy reporting firm Bentek Energy, U.S. natural gas production as a whole was down 1.2 billion cubic feet per day year on year in April.
Similar to the situation for oil, there is a lot of natural gas in storage in the United States. The past winter was unseasonably warm and is the cause of most of this scenario. By early next winter, if weather is more normal, these production declines are going to start getting a lot more notice, which will be very bullish for prices.
Investors can get this exposure by owning pure-play natural gas producers like Southwestern Energy and Cabot Oil and Gas. The smart way is to build a basket of these producers to put into your portfolio rather than just owning one or two of them. That way you don't take on nearly as much specific company risk but do still get direct exposure to natural gas prices rising.
The article Given Up on Natural Gas Prices? Here's a Significant Source of Hope originally appeared on Fool.com.
TMFWolfpack has no position in any stocks mentioned. The Motley Fool has no position in any of the stocks mentioned. Try any of our Foolish newsletter services free for 30 days. We Fools may not all hold the same opinions, but we all believe that considering a diverse range of insights makes us better investors. The Motley Fool has a disclosure policy.
Copyright 1995 - 2016 The Motley Fool, LLC. All rights reserved. The Motley Fool has a disclosure policy.