Gilead Sciences Just Shocked Investors, And It Wasn't Good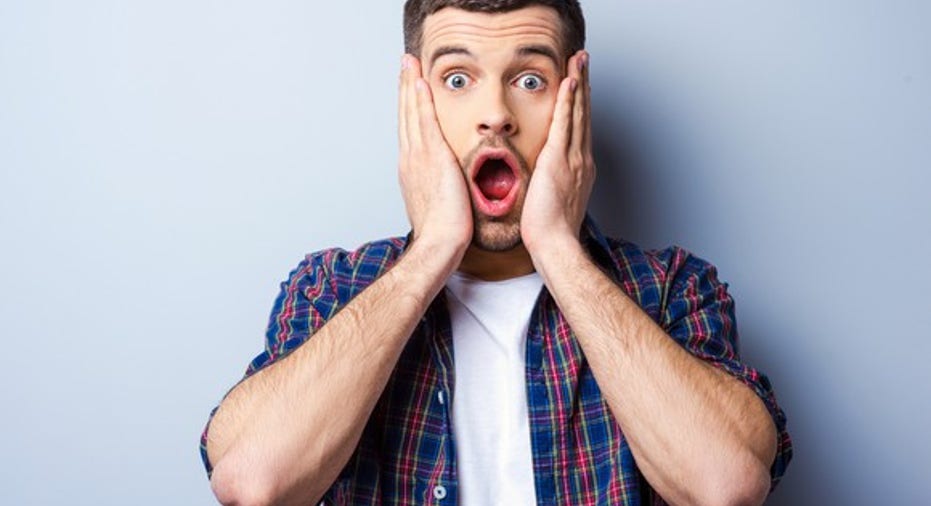 Gilead Sciences' (NASDAQ: GILD) shares have been in a free fall since 2015, and guidance released alongside its fourth quarter financials this afternoon suggests that sales and profit won't help its shares rebound anytime soon.
Deeply disappointing
Gilead Sciences is the globe's top maker of medicine used to treat HIV, but investors really cheered the company when it tackled hepatitis C, a common liver disease affecting hundreds of millions globally.
Image source: Getty Images.
Prior to its launching new hepatitis C therapies that deliver functional cure rates in over 90% of patients in as little as 8-weeks, treatment could consist of a side-affect laden cocktail with coin-flip cure rates and treatment duration of up to 48-weeks.
Gilead Sciences Sovaldi and Harvoni marked a major advance in treatment and rapid adoption of their use resulted in roughly $20 billion in combined sales during their first full year on the market.
The meteoric rise in revenue, however, ended last year as the number of advanced cases dropped, and thus, new patient starts fell.Last year, 231,000 patients began treatment for their hepatitis C, down from 256,000 patients in 2015.The launching of competing hepatitis C drugs is also weighing on the company's results, because it's causing a drop in net prices for Gilead Sciences' drugs.
Based on the company's2017 outlook, there's no telling where sales will finally find a floor.
Management expects just 150,000 to 175,000 patients will start treatment in 2017, and that drop, plus pricing pressure, has management predicting hepatitis C sales will fall to between $7.5 billion and $9 billion from $14.8 billion in 2016 and $19.1 billion in 2015.
The steep drop in hepatitis C revenue has management expecting to deliver total product sales of between $22.5 billion and $24.5 billion this year, down from $30 billion in 2016 and $32.2 billion in 2015.
Can it get worse?
It's anyone's guess what the hepatitis C market will look like over the coming years, but there's a tremendous amount of research going on in the indication, and that innovation could cause more of Gilead Sciences market share to slip away.
In the short-term, AbbVie (NYSE: ABBV)is expecting a FDA decision on its second-generation hepatitis C therapy soon, and if approved, it could close the gap with Gilead Sciences in terms of market share. In trials, AbbVie's once-daily, pan-genotype, combination therapy delivered robust efficacy over as little as 8-weeks. Depending on it's prescribing label, an approval could pull it neck and neck with Gilead Sciences.
Further out, Johnson & Johnson (NYSE: JNJ) is working with Achillion Pharmaceuticals (NASDAQ: ACHN) on hepatitis C solutions that could improve patient adherence and outcomes by reducing treatment duration to as little as six weeks.
It's not all bad, is it?
HIV drugs were a bright spot in Gilead Sciences 2016 performance. New formulations of the company's multi-drug cocktails that are safer are being used in more patients, and as a result, sales of Gilead Sciences' HIV medicines increased by double-digits last year.
Gilead Sciences' revamped product line generated sales of $3.4 billion in Q4, up from $3 billion a year ago, and $12.9 billion in 2016, up from $11.1 billion in 2015.Because of these new HIV therapies, Gilead Sciences forecasts that non-hepatitis C revenue will be between $15 billion and $15.5 billion this year.
However, HIV sales growth will be more than offset by the decline in hepatitis C sales, and that means that Gilead Sciences shares will be driven higher or lower by its pipeline. Gilead Sciences spent $3.7 billion on R&D last year, and investors are eager to see that spending pan out in the form of new products.
Unfortunately, Gilead Sciences isn't expected to report a lot of phase 3 data this year that investors can cheer. It does expect to announce late-stage interim data for GS-5745 in gastric cancer in Q3, but investors will have to wait until 2018 to see data on filgotinib, which is potentially the company's most intriguing pipeline prospect. Filgotinib is being evaluated in ulcerative colitis and rheumatoid arthritis, two high value indications that could move the needle for the company.
Overall, an argument can be made that the company's shares are cheap, but ultimately, that will only proven to be true if the company can return to growth, and right now, it's not evident how, or when, that will happen.
10 stocks we like better than Gilead SciencesWhen investing geniuses David and Tom Gardner have a stock tip, it can pay to listen. After all, the newsletter they have run for over a decade, Motley Fool Stock Advisor, has tripled the market.*
David and Tom just revealed what they believe are the 10 best stocks for investors to buy right now... and Gilead Sciences wasn't one of them! That's right -- they think these 10 stocks are even better buys.
Click here to learn about these picks!
*Stock Advisor returns as of February 6, 2017
Todd Campbell owns shares of Gilead Sciences.His clients may have positions in the companies mentioned.The Motley Fool owns shares of and recommends Gilead Sciences. The Motley Fool recommends Johnson and Johnson. The Motley Fool has a disclosure policy.