Gift Cards Sales Are Surging: An Under-the-Radar Way to Profit?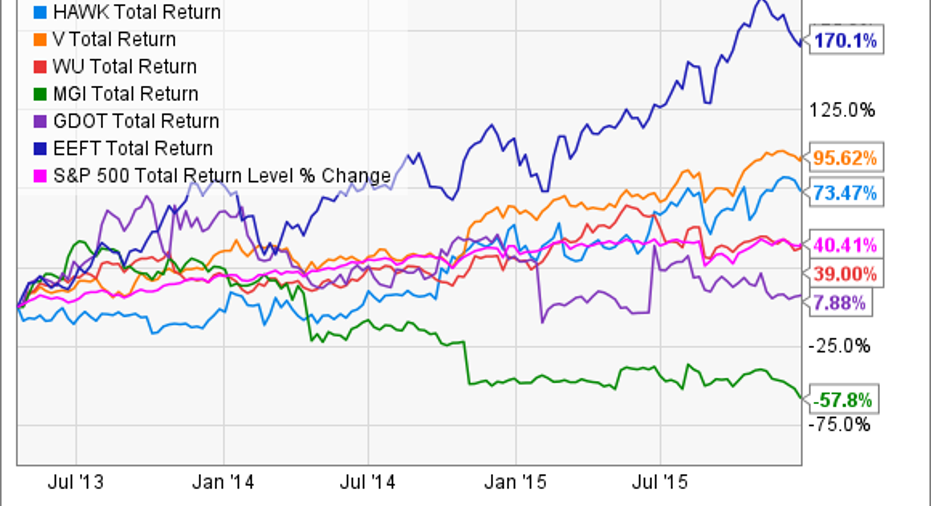 While Star Wars and Legos toys are stealing the headlines this holiday season, gift cards remain the most-wanted holiday present, and their popularity continues to grow each year. As investors, this question comes to mind: Is there a way to profit from this trend?
We're going to explore Blackhawk NetworkHoldings, a leading player in the gift card industry.
Image source: Blackhawk Network.
Just how popular are gift cards?
U.S. spending on gift cards is predicted to hit$130 billion this year, a more than 6% percent increase over 2014.
Online gift card sales are predicted to rise 26% this year to $7.1 billion.
U.S. consumers spend an average of $213 per year on gift cards.
U.S. consumers who buy gift cards this holiday season are expected to spend an average of $153 on them.
83% of corporations use gift and prepaid cards for employee incentives.
Blackhawk Network's businessBlackhawk Network pioneered placing a variety of gift cards in high-traffic retail locations like grocery stores.It sells more than 600 brands of cards at over 19,800 retail locations in 24 countries.The Pleasanton, California-based company began life in 2001 as a division of grocery giant Safeway -- though it became fully independent in 2014 after Safeway divested of the remaining shares it held after Blackhawk's April 2013 IPO.
It's a decent-sized company, sporting a market cap of $2.4 billion and generating annual revenue of $1.7 billion for the trailing-12-month period. However, Blackhawk flies somewhat under the radar of individual investors, which is probably largely because it's a spinoff that's only been trading since 2013.
In addition to prepaid gift cards, Blackhawk also distributes debit cards and prepaid wireless or cellular cards used to load airtime onto prepaid phones. It also offers related prepaid financial services products, such as Green Dotand NetSpend, which are general purpose reloadable cards. Additionally, it offers rebate, incentive, and reward processing and validation services. It owns Cardpool, an online gift card exchange site, and GoWallet, where people can perform a variety of gift card-related activities. It also offers card production and packaging services to its prepaid gift and telecom content providers.
Competition andbenefitingfrom a network effectBlackhawk faces a number of competitors across different business sectors, including some big-name companies whose products it distributes in select locations. According to Blackhawk's fiscal year 2014 10-K filing, it considers Visa, Western Union, MoneyGram, Green Dot, NetSpend, Euronet Worldwide, and Incomm to be its major competitors. It calls out Citibank Prepaid Solutions as a key competitor in its incentives and rewards business.
That said, Blackhawk's extremely broad offering of prepaid gift cards and related products make it somewhat unique. It seems to be the go-to partner for companies that want their gift cards displayed in high-traffic retailing locations around the globe. Its extensive distribution network, in fact, seems to provide it with a network effect, which isn't surprising since it was the first-mover in this space.
Blackhawk has been growing significantly faster than others in its general industry, including companies smaller than it, such as MoneyGram. In the most recent quarter, Blackhawk's revenue jumped 31%, while Visa's revenue increased 11%, Western Union's dropped 3%, MoneyGram's rose 3%, Green Dot's was flat, and Euronet's increased 6%.
Stock price performance and key financial data
Data source:YCharts. Top-performing Visa and Euronet are Motley Fool recommendations.
Some key financial data:
Revenue growth has been strong: Year-over-year revenue growth for the most recent four quarters was 26%, 37%, 31%, and 31%.
Non-GAAP earnings-per-share growth has also been robust: Year-over-year growth for the most recent four quarters was 40%, 240%, 36%, and 52%.
GAAP EPS, however, has been a mixed bag, because the company is in an acquisition mode.
Free cash flow has been greater than reported net income, which is a positive, and somewhat typical of companies in the financial services and related spaces.
Debt-to-equity ratio is 0.55, which some might consider a tad high, though Blackhawk remains in a major growth mode, so this is to be expected.
Current ratio is 0.90, and as a general rule, we like to see at least a 1.0. That said, 0.90 is OK for a company with a fairly strong cash flow.
While EPS growth has averaged 9.8% per year over the past five years, analysts are forecasting average EPS growthacceleratingto 18.1% over the next five years.
Bottom lineBased on this brief analysis, Blackhawk Network Holdings is a stock that's worth further exploration. It's one of the leaders in a growing category and seems to be benefiting from a network effect, which is a powerful competitive advantage that is oftentimes lasting.
The article Gift Cards Sales Are Surging: An Under-the-Radar Way to Profit? originally appeared on Fool.com.
Beth McKenna has no position in any stocks mentioned. The Motley Fool owns shares of and recommends Visa. The Motley Fool recommends Euronet Worldwide. Try any of our Foolish newsletter services free for 30 days. We Fools may not all hold the same opinions, but we all believe that considering a diverse range of insights makes us better investors. The Motley Fool has a disclosure policy.
Copyright 1995 - 2015 The Motley Fool, LLC. All rights reserved. The Motley Fool has a disclosure policy.