Giants Will Go Hog Wild Over Redskins, RGIII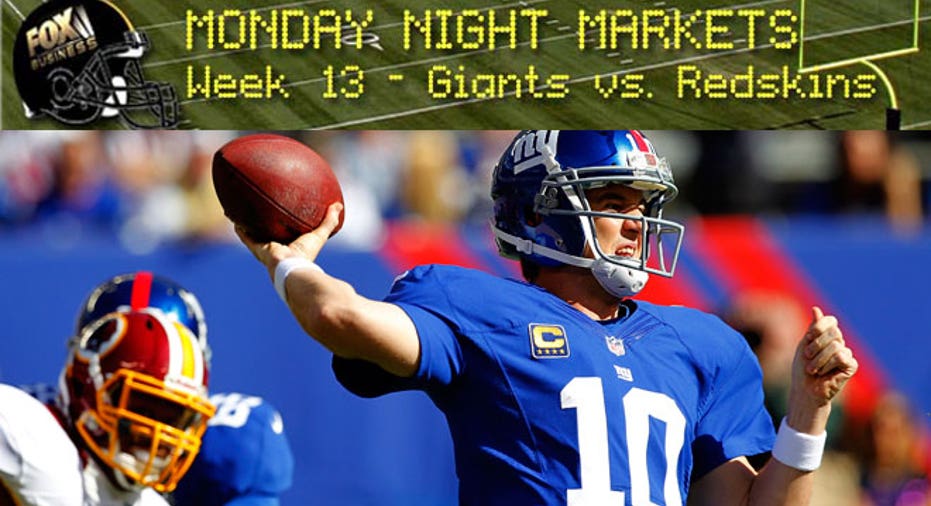 Week 13 of the NFL season closes out with an NFC East divisional battle as the New York Giants (7-4) head to FedEx Stadium to take on the Washington Redskins (5-6) The Giants come in atop the NFC East after a decisive win over the Green Bay Packers last week, which put to rest many questions about the team before their bye week.
QB Eli Manning, whose performance had been slumping for several weeks, rebounded -- throwing for three scores and a QB rating of 114.4, his best this season. The Giants' running game took a hit with the loss of RB Andre Brown to a broken fibula though so rookie RB David Wilson will fill in as a complement to Ahmad Bradshaw who has been battling a foot injury. With the ground game impacted, look for Manning to test the Redskins 31st-ranked pass defense with shots to receivers Victor Cruz and Hakeem Nicks against a questionable Washington secondary.
On the defensive side, the name of the game will be containing Redskins QB Robert Griffin III and RB Alfred Morris. Griffin put up 258 yards through the air and burned the Giants for another 89 on the ground in their last meeting in October. The Giants are the first team to get a second crack at RGIII so look for DEs Justin Tuck, Osi Umenyiora and Jason Pierre Paul to adjust to contain the elusive thrower while mixing in LB Mathias Kiwanuka, who turned it on against Green Bay for two sacks.
The Redskins have beaten NFC East rivals in the past two weeks with wins over Dallas and Philadelphia and look to extend that streak to three in tonight's match-up against the Giants. Rookie QB Robert Griffin III is 3rd in the league with an overall QB rating of 104.6. The past two weeks he's been on fire with a rating of 131.8 against Philly and 158.3 against Dallas with 4 touchdowns in each game.
The Redskins will mix it up with a heavy dose of RB Alfred Morris who had 120 yards rushing against the Giants in their last meeting. With speedster WR Aldrick Robertson able to stretch the field RGIII should have some opportunities to his Santana Moss and Josh Morgan underneath. One of the key players to watch is LT Trent Williams who is tasked with protecting RGIII's blind side from the ferocious Giants pass rush.
On the other side, the Redskins may look to force Manning into mistakes to make up for their 31st-ranked pass defense by getting more pressure behind LB Ryan Kerrigan who has 6.5 sacks this season. With Giants RB Andre Brown out, Washington's 3rd-ranked run defense will try to shut down Bradshaw and Wilson and keep the ball in Eli Manning's hands.
FOX Business has evaluated the win/loss and stock-market statistics over the past 20 seasons of Monday night NFL games and come up with a Monday Night Markets (MNM) score for each team based on their record and the prior week's market activity. Let's take a look at what the markets have to say.
The Dow Industrials scratched out a 0.12% gain last week and the S&P 500 was up as well closing out the week with a 0.5% gain with both indexes now being up two consecutive weeks. Market enthusiasm from upbeat reports on durable goods orders, home prices and consumer confidence were tempered by disappointing personal income and spending data as well as concerns around a compromise being found in fiscal cliff negotiations.
Over the past 20 years, the Giants have played 25 Monday night games and based on FOX Business' calculations have a Monday night rank of .571 when the Dow closes the prior week up and .538 when the S&P 500 is up giving them a MNM rank for this week of .555.
During the same 20-year period, the Redskins have played 23 Monday night games and have a rank of .200 when the Dow is up and .237 when the S&P 500 is up giving them an MNM rank this week of .237.
Monday Night Markets picks the New York Giants on the road over their NFC East rivals, the Washington Redskins.
Week 13 FBN Staff Picks:
Giants @ Redskins
The Monday Night Markets (MNM) rank is derived by taking the number of games won during each market condition of up or down during a twenty-year period, over the total number of games played. Each result for the Dow and S&P are averaged to determine a final rank between 0 and 1.