Get a Room, Sirius XM and Pandora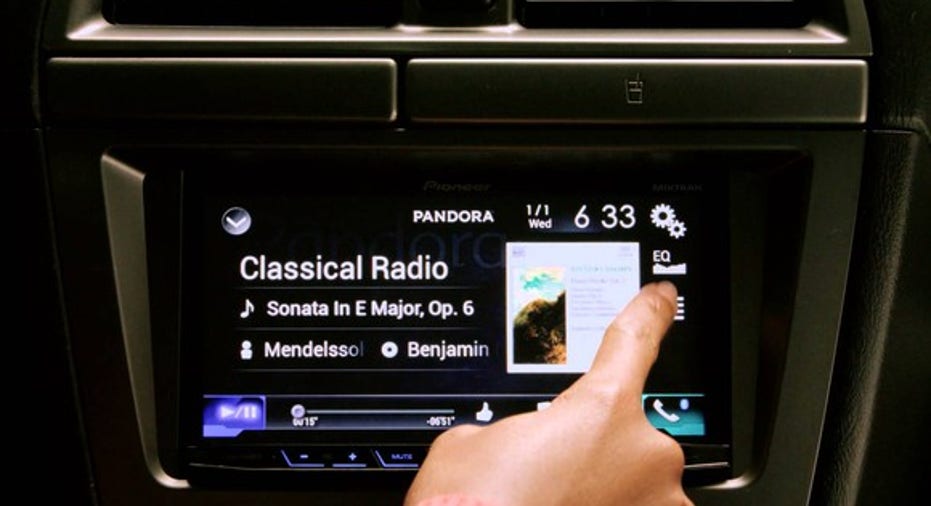 Buyout talks may be picking up betweenSirius XM Radio (NASDAQ: SIRI)andPandora (NYSE: P), according to a New York Post report. Sources are saying that Sirius XM has restarted negotiations with Pandora's investment bankers, discussing the size of a potential offer. No actual offer has been made.
Sirius XM -- through majority stakeholder Liberty Media (NASDAQ: LSXMA) -- hasn't been shy about wanting the streaming platform. Price has always been the sticking point. The satellite radio giantreportedlyoffered $15 a sharefor Pandora last summer. It wasn't enough, but Sirius XM has only grown more cocky as Pandora's stock shrinks. Liberty Media chairman Greg Maffei said that Sirius XM was worth closer to $10 a share earlier this year, but he just may be negotiating in public.
Image source: Pandora.
Turning up the volume
Pandora stock hit a fresh 52-week low on Wednesday, something that won't give the out-of-favor music discovery site a lot of leverage in these negotiations. The stock closing below $9 for the first time in more than a year also has to have Sirius XM drooling.
The timing couldn't be better for an acquisition.Pandora announced last week that it lined up $150 million in financing from private equity firm KKR, but it promised to explore strategic alternatives in the 30 days leading up to the close of the KKR capital infusion. In short, if Sirius XM via Liberty Media or anyone else has an interest in snapping up Pandora the clock is ticking before a dilutive convertible debt offering makes it that much harder.
Pandora is headstrong, but even if it was open to a deal it wouldn't come cheap. Pandora's undeniably in a funk. Revenue growth slowed to the single digits in its latest quarter, the first time that we've seen that out of Pandora. User growth had been stagnant in recent periods, but now it's officially going the wrong way. Pandora's active listeners have fallen from 79.4 million to 76.7 million over the past year. It finally rolled out a premium on-demand service to combat Spotify's market-chomping popularity in March, but the sign-ups for the free trial haven't been encouraging.
These may seem to be dark days for Pandora, but never underestimate the power of a big brand that trails only Spotify in terms of total users. Sirius XM will have to pay a reasonable premium, in part because we don't know how long it will take for antitrust regulators to clear a potential pairing. It took Sirius and XM a year-and-a-half to complete their merger in 2008, and that created a monopoly. Pandora obviously is a fading star in this niche, but regulators may take their time to make sure that they're not giving Sirius XM too much power.
Sirius XM and Pandora belong together, so it may as well happen. There's too much to gain. Sirius XM's success in premium radio has not translated into success in streaming, and with Pandora it's the other way around. They would be stronger together. Time is on their side, but that clock is counting down to a dilutive financing that wouldn't be necessary given Sirius XM's free cash flow-generating prowess.
10 stocks we like better than Sirius XM RadioWhen investing geniuses David and Tom Gardner have a stock tip, it can pay to listen. After all, the newsletter they have run for over a decade, Motley Fool Stock Advisor, has tripled the market.*
David and Tom just revealed what they believe are the 10 best stocks for investors to buy right now... and Sirius XM Radio wasn't one of them! That's right -- they think these 10 stocks are even better buys.
Click here to learn about these picks!
*Stock Advisor returns as of May 1, 2017
Rick Munarriz has no position in any stocks mentioned. The Motley Fool owns shares of and recommends Pandora Media. The Motley Fool has a disclosure policy.