Germany, France start work on 'road map' for EU future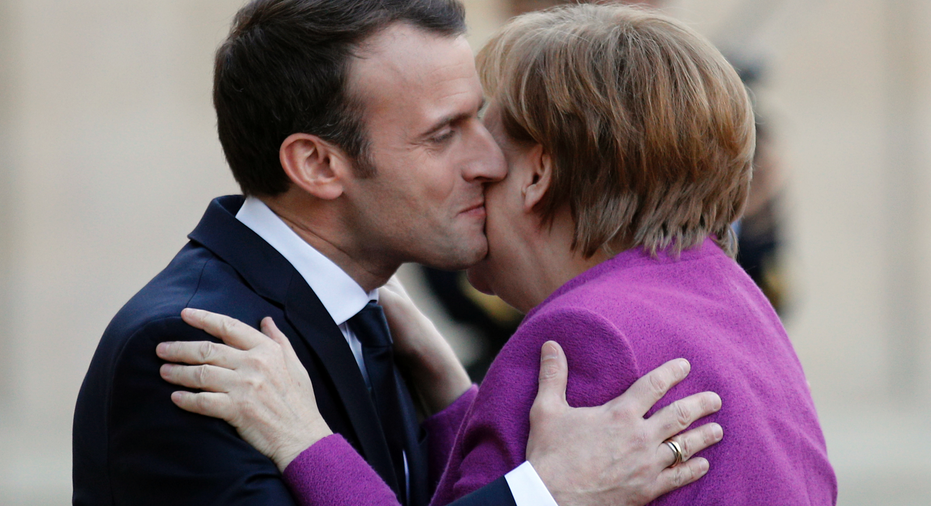 The German and French leaders started working Friday toward what French President Emmanuel Macron said will be an "ambitious, clear road map" for Europe's future, months after Macron first laid out his proposals for reforming the European Union.
Macron hosted German Chancellor Angela Merkel on her first trip abroad after she was sworn in for a fourth term this week, ending months of postelection political drift in Germany.
The leaders showed solidarity with Britain after the nerve agent attack on a former Russian spy and his daughter, which Western nations suspect Russia was behind. Merkel said the EU is looking for "the most appropriate response."
Germany and France have long played a key role as leading powers in the EU, which Macron wants to reform dramatically, along with the euro currency union.
Macron said a new vision for Europe is "indispensable" as the continent faces mounting populism, seen most recently in Italy's election, and the Euroskepticism highlighted by Britain's vote to leave the EU.
"We will propose an ambitious, clear roadmap" covering everything from defense to migration to education and culture, Macron said ahead of a dinner with Merkel. EU leaders are to hold their next summit next week.
Macron laid out his proposals in September at the Sorbonne University, calling Europe slow, weak and ineffective.
He proposed a joint budget for countries sharing the euro currency that would allow investment in European projects and help stabilize the eurozone in case of economic crisis. He suggested greater harmonization of EU tax policies — notably on corporate taxes, and taxing internet giants where they make money and not where they are registered.
To deal with Europe's migrant influx, Macron wants a European asylum agency and standard EU identity documents, and in defense a shared European military intervention force and defense budget.
Germany has yet to respond in detail because it had a caretaker government for several months until this week.
"We're not always of the same opinion ... but I think we can advance together," Merkel said. "It's more necessary than ever."