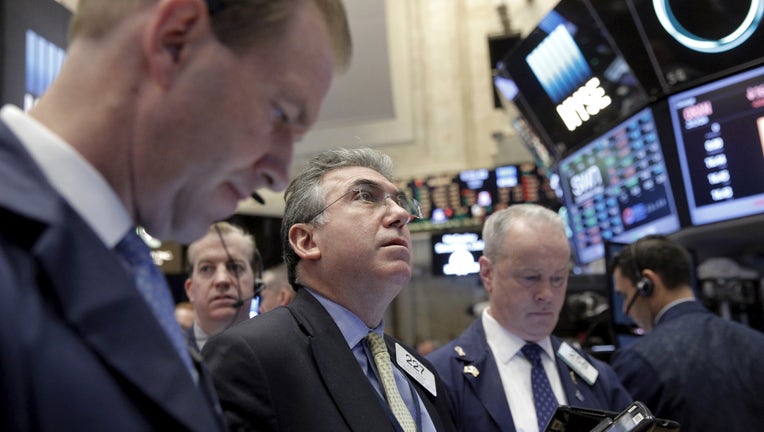 U.S. stocks closed near the lows of the session on Thursday after the White House confirmed the American military dropped the largest non-nuclear bomb in eastern Afghanistan.
The Dow Jones Industrial Average erased 138 points, or 0.67% to 20453. The broader S&P 500 index slipped 15 points, or 0.53% to 2328, while the Nasdaq Composite declined 31 points, or 0.53% to 5805.
All eleven S&P 500 industry sectors ended the session in negative territory; the energy sector suffered the biggest losses as it fell nearly 2%, followed by financials, which saw a 1.25% decline.
U.S. defense officials said the military dropped a 21,000-pound conventional bomb on a tunnel complex in the Nangarhar Province used by ISIS. It was a move that came just days after a Green Beret was killed fighting the terror group there, though a U.S. defense official told Fox News said the strike was not done in retaliation but was "the right weapon for the right target." The bomb, called a Massive Ordinance Air Blast – also referred to as the Mother Of All Bombs – was first tested in 2003 but had not been used for combat before Thursday.
"Equities remain remarkably resilient amidst a growing list of concerns," said U.S. Bank Wealth Management chief equity strategist Terry Sandven. "We continue to believe that the macro environment remains supportive of higher equity prices, boosted by the Goldilocks-like pace of economic growth, rising earnings, and absent a looming recession or widespread in action."
As investors digested the news, fleeing risk assets, they jumped into safe havens including gold and government debt. The precious metal added 0.83% on the session to $1,285 a troy ounce, helped by commentary from an interview President Donald Trump gave the Wall Street Journal late Wednesday in which he said the U.S. dollar was "getting too strong. Those remarks helped boost the prices of other metals including silver as the greenback declined 0.25% against a basket of global currencies.
Gold, which has posted two-consecutive weeks of gains, saw its biggest one-week percentage gain since February amid rising geopolitical tensions in Syria and North Korea.
Meanwhile, the yield on the benchmark 10-year U.S. Treasury note declined 0.064 percentage points to 2.23% while the longer-term 30-year bond yield paced 0.042 percentage points lower to 2.88%. Yields move inversely to prices.
U.S. stocks had been in positive territory earlier in the session after a report from the University of Michigan showed consumer sentiment unexpectedly strengthened in April on optimism over current economic conditions and as three of the nation's largest U.S. banks kicked off first-quarter earnings season. Despite reporting better-than-expected results, shares of JPMorgan (NYSE:JPM), and Citigroup (NYSE:C) declined alongside a more than 2% drop of Wells Fargo (NYSE:WFC) shares.
More from FOXBusiness.com