Genesee & Wyoming Inc's Q1 Results Boosted by Acquisitions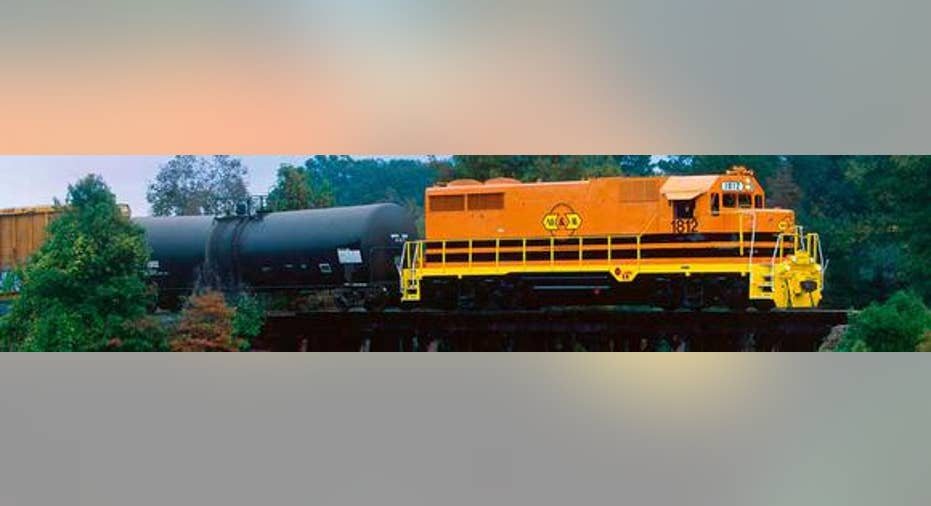 Image source: Genesee & Wyoming.
On the surface,Genesee & Wyoming's first-quarter results looked strong, with both revenue and earnings up double digits. However, that growth is largely attributable to an acquisition the company completed over the past year. That created a pretty wide divergence between reported results and the company's underlying operations, which continue to be weighed down by weakness in certain parts of the global economy.
Genesee & Wyoming results: The raw numbers
| | Q1 2016 Actuals | Q1 2015 Actuals | Growth (YOY) |
| --- | --- | --- | --- |
| Revenue | $482.6 million | $397.0 million | 21.6% |
| Income from operations | $57.0 million | $72.6 million | -21.5% |
| EPS | $0.47 | $0.42 | 11.9% |
Data source: Genesee & Wyoming.
What happened with Genesee & Wyoming this quarter?Genesee & Wyoming's results weren't quite as good as the headline numbers indicated:
While revenue growth looked robust at 21.6%, that's due primarily to the acquisition of Freightliner.
Operating revenue at the company's North American railroads declined 5.6% to $299.8 million, while adjusted income from operations was flat at $70.7 million thanks to its cost reduction efforts. Weighing on revenue were very weak coal shipments, which were down 36% year over year due to cheap natural gas prices and a warm winter, as well as a 14% decline in agricultural products revenue due to low crop prices and a strong dollar.
The company's Australian segment was even weaker, with operating revenue slumping 13.6% to $51.8 million to go along with a 36% plunge in adjusted operating income, which fell to $10.2 million. Genesee & Wyoming was affected by the bankruptcy of a key iron ore mining/steel manufacturing customer during the quarter.
These weaknesses were completely offset by gains in the company's U.K./Europe segment, which saw revenue skyrocket from $19.5 million to $131 million due to the Freightliner acquisition. That being said, results in this segment were actually below expectations due to weak coal shipments and lower intermodal traffic.
Genesee & Wyoming reported a 21.5% drop in income from operations partially due to taking $21.1 million in charges relating to the bankruptcy of an Australian customer. If we adjust for these one-time charges, income from operations would have only declined 8.2%.
Meanwhile, earnings per share would have been much higher after adjustments, coming in at $0.77 per share. However, that adjusted number represented a 7.2% year-over-year decrease as opposed to the 11.9% increase in the reported number, which benefited from the lack of a loss on the settlement of foreign currency exchange contracts that had affected the prior period.
What management had to sayCEO Jack Hellmann,commenting on the company's results, said, "G&W's core financial results for the first quarter of 2016 were slightly better than our expectations, although our reported results were negatively affected by our last remaining iron ore customer in Australia entering voluntary administration. Effective management of operating costs in both North America and Australia more than offset weak results from our U.K./Europe Operations."
As Hellmann noted, all things considered, the quarter wasn't too bad thanks to the company's cost-cutting efforts. Still, operating conditions are tough across the globe for rail operators. Union Pacific , for example, saw its coal revenue plummet 43% to go along with a 9% drop in intermodal revenue and a 6% drop in agricultural revenue. That's forcing Union Pacific to likewise focus on reducing costs to mitigate this weakness, with the company furloughing workers and placing locomotives in storage.
Looking forwardThose weak business conditions don't seem to be abating. Hellmann noted this by saying that, "As we look ahead to the remainder of 2016, our outlook for North America and the U.K./Europe is broadly unchanged" from its prior outlook. That outlook saw weakness in coal and steel segments in North America leading to a slight drop in Genesee & Wyoming's operating income to go with flat operating income in the U.K./Europe. However, he went on to say, "Our outlook for Australia is modestly weaker," which is ominous because the company already expected a decline in operating income due to issues with commodity producers in that country.
Overall, this weak operating environment is expected to lead to a 12% decline in Genesee & Wyoming's adjusted earnings per share in 2016. However, thanks to its cost-cutting measures, free cash flow is expected to increase by 8%. Furthermore, that strong cash flow keeps the company in the position to continue to evaluate acquisition and investment opportunities in order to take advantage of the currently weak operating environment.
The article Genesee & Wyoming Inc's Q1 Results Boosted by Acquisitions originally appeared on Fool.com.
Matt DiLallo has no position in any stocks mentioned. The Motley Fool recommends Genesee & Wyoming. Try any of our Foolish newsletter services free for 30 days. We Fools may not all hold the same opinions, but we all believe that considering a diverse range of insights makes us better investors. The Motley Fool has a disclosure policy.
Copyright 1995 - 2016 The Motley Fool, LLC. All rights reserved. The Motley Fool has a disclosure policy.