General Motors Wraps Up Record Year, Still Gets No Love From Mr. Market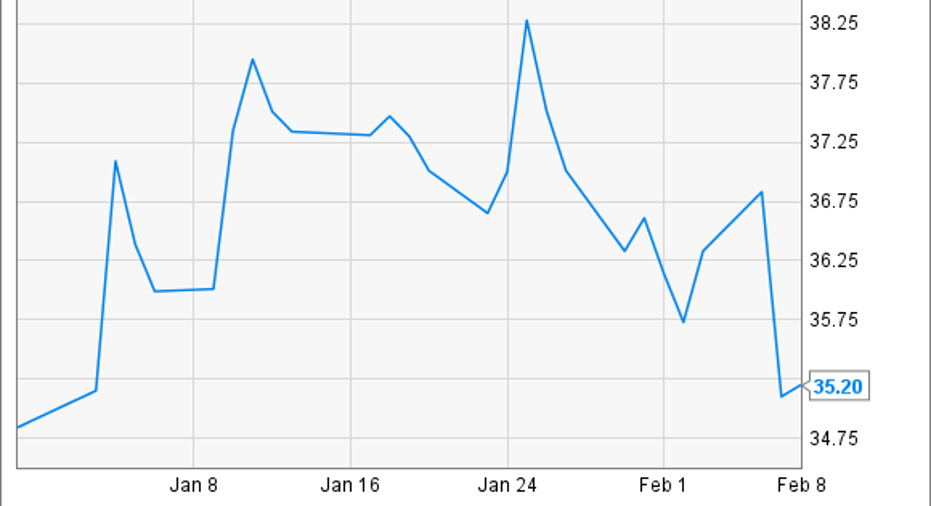 General Motors (NYSE: GM) ended 2016 with a relatively solid fourth-quarter earnings report. This allowed the company to post full-year adjusted earnings per share of $6.12. That was up from $5.02 in 2015 and easily exceeded GM's original guidance for annual adjusted EPS of $5.25-$5.75.
However, investors didn't seem to think much of GM's results. Shares of the top U.S. automaker fell 5% on Tuesday following the earnings report, and have now declined more than 8% since reaching a multiyear high in late January.
General Motors YTD Stock Performance data by YCharts.
It's true that U.S. auto sales have peaked. Additionally, the General faces choppy conditions throughout much of the rest of the world. Nevertheless, GM shares remain significantly undervalued due to investors' skepticism.
Weak points in the earnings report
To be fair to the GM bears, there were some significant flaws in the company's Q4 earnings report. Most importantly, many analysts noted that GM benefited from a tax adjustment that boosted EPS last quarter. On a pre-tax basis, earnings missed analysts' forecasts.
Additionally, operating income declined by about $200 million year over year in the critical North American region, following a string of record results. A U.S. inventory buildup helped GM during the quarter (and throughout 2016); its profit in North America would have declined even more otherwise.
There are other warning signs for General Motors in the U.S. market. First, auto sales growth has slowed to a crawl. Second, competition is ramping up, forcing automakers to offer bigger sales incentives. Third, after rebuilding its inventory last year, GM clearly has too much stock of certain vehicles now.
Conditions are even worse outside the U.S. While business is improving in South America, GM lost money there last year. It also posted another loss in Europe, due to $300 million of Brexit-related currency headwinds. GM doesn't expect to reach profitability in Europe until at least 2018. Pricing pressure in China is getting worse, due to rising competition. Lastly, GM faces even tougher conditions in its other international markets.
Don't worry about trouble abroad
Collectively, GM's international markets are barely profitable. They produced an operating profit of about $500 million last year. However, they're not deteriorating any further. On GM's recent earnings call, CFO Chuck Stevens said he expected better earnings in South America in 2017 and roughly comparable earnings in Europe and China.
GM has offset pricing pressure in China by adding more crossovers and SUVs to its lineup there. Image source: General Motors.
General Motors' captive finance subsidiary, GM Financial, is also expected to continue its steady earnings growth this year. As a result, the total profit contribution from business segments other than GM North America shouldn't decline in 2017, and it may actually improve.
It's all about the crossover refresh
The real risk for General Motors is that profitability slips in North America, the region that generates virtually all of its earnings. However, while high vehicle inventory, slowing market growth, and rising incentives are all notable headwinds, a refreshed Chevy crossover lineup could more than offset these factors.
Crossovers have been the fastest-growing market segment recently, as consumers migrate from small cars to roomier vehicles. Yet GM allowed its crossover lineup to get stale in recent years. The Chevy Equinox and Chevy Traverse haven't been redesigned in nearly a decade. The Equinox also straddles two distinct market segments: small and midsize crossovers.
This has had a noticeable impact on sales. The relatively new Chevy Trax subcompact crossover posted strong 25% sales growth last year. By contrast, sales of the Chevy Equinox -- GM's highest-volume model aside from the Silverado pickup -- plunged by double digits. The Chevy Traverse large crossover also posted a sales decline in 2016.
Fortunately, a redesigned Chevy Equinox will hit dealer lots this spring, and the next-generation Chevy Traverse will arrive later in the year. Furthermore, GM may be preparing a brand-new crossover to slot in between the Equinox and Traverse, thereby improving Chevy's market coverage. This new model could arrive in late 2017 or 2018.
The Chevy Equinox is getting a much-needed redesign this year. Image source: General Motors.
GM has been losing share (and probably facing pricing pressure) in crossovers due to its aging product lineup. That problem will be fixed over the next year, which could lead to a huge improvement in profitability in those segments, offsetting headwinds elsewhere.
GM stock is still too cheap
The auto industry is a cyclical business. Sooner or later, GM's earnings per share will start to recede. However, that point could still be two or three years away.
In the meantime, GM expects to generate EPS of $6.00-$6.50 in 2017, up slightly year over year at the midpoint. The stock trades for less than six times the lower end of that guidance range. Furthermore, GM is returning billions of dollars of cash to shareholders through a dividend that yields more than 4% and a big share buyback program.
Investors have persistently doubted General Motors' ability to meet its earnings targets in recent years. GM has proven them wrong over and over again. It looks like this process could play out once again in the next couple of years.
10 stocks we like better than General MotorsWhen investing geniuses David and Tom Gardner have a stock tip, it can pay to listen. After all, the newsletter they have run for over a decade, Motley Fool Stock Advisor, has tripled the market.*
David and Tom just revealed what they believe are the 10 best stocks for investors to buy right now... and General Motors wasn't one of them! That's right -- they think these 10 stocks are even better buys.
Click here to learn about these picks!
*Stock Advisor returns as of February 6, 2017
Adam Levine-Weinberg owns shares of General Motors. The Motley Fool recommends General Motors. The Motley Fool has a disclosure policy.