General Motors Sales Soar in December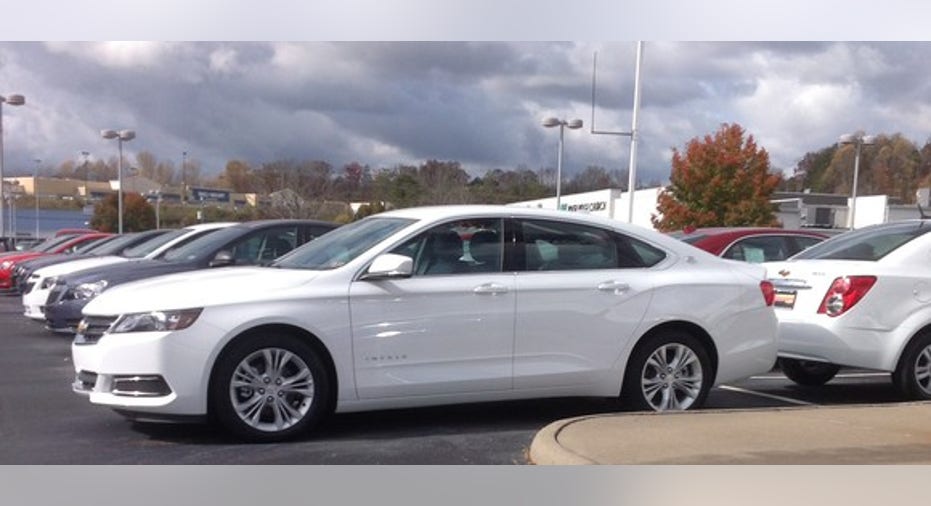 In recent months, investors have grown nervous about whether General Motors' (NYSE: GM) earnings momentum is sustainable. While the company is on track to report record earnings for 2016, that was driven in part by overproduction. As a result, U.S. dealer inventories have been well above normal levels for the past several months.
GM dealer lots have been overflowing with cars lately. Image source: The Motley Fool.
However, GM achieved a very strong U.S. sales performance in December. This -- along with production cuts scheduled for early 2017 -- puts the company in position to deliver solid earnings again in the coming year.
Stellar sales in December
On Wednesday morning, General Motors reported a stunning 10% year-over-year jump in vehicle deliveries for the month of December. Analysts had expected (on average) a much more modest 4.4% increase.
GM wasn't alone in posting better-than-expected sales results. However, its sales performance easily outpaced that of its main competitors. For example, December deliveries increased just 0.3% year over year at Ford Motor (NYSE: F).
While demand for small and midsize cars has been weak all year, GM saw big sales gains in this part of its vehicle lineup last month. Sales of the Chevy Spark city car more than tripled year over year, while sales of the Volt hybrid and the Malibu midsize model nearly doubled. By contrast, Ford reported yet another double-digit decline in car sales.
Meanwhile, most of GM's SUVs and crossovers also logged double-digit sales gains. Full-size trucks were the only weak spot for the General last month. Combined deliveries of the Chevy Silverado and GMC Sierra totaled 77,562 in December, down 14% from an extremely strong 90,430 deliveries a year earlier.
Discounts helped GM move more cars
A big reason for GM's sales outperformance relative to Ford was a greater reliance on discounting. Incentive spending rose to 13% of average transaction prices (ATPs) for General Motors in December, compared with 10.9% a year earlier.
Chevy sales jumped last month due to the availability of big discounts. Image source: The Motley Fool.
Furthermore -- in a reversal from the trends seen in the first half of 2016 -- GM reported an increase in deliveries to rental car companies last month, compared with a steep decrease at Ford. (In fact, looking at just retail deliveries, sales grew faster at Ford than at General Motors last month.) This probably drove the big increase in GM's car sales last month, as models like the Chevy Malibu are traditional rental car company standbys.
In any case, this unfavorable mix shift caused GM's ATPs to slip by about $600 year over year in December, compared with a $1,400 increase at Ford.
Clearing inventory was the priority
When it comes to factors like product mix, retail sales, ATPs, and incentive spending, General Motors' December performance doesn't look as good as Ford's. However, the increase in discounting and sales to rental car companies helped GM reduce dealer stocks by more than 29,000 units last month. That was a critical priority, as the sales pace tends to slow significantly in January and February.
Furthermore, GM will cut 1,300 workers at a car plant near Detroit in March. The company also recently scheduled between one and three weeks of downtime during January at five U.S. factories that produce cars.
The increase in rental car sales and higher incentive spending in December could put pressure on profitability in Q4. However, these tactics worked very well, allowing GM to start reversing its 2016 inventory buildup. The combination of strong December sales and scheduled production cuts this month positions General Motors to have another successful year in 2017.
10 stocks we like better than General Motors When investing geniuses David and Tom Gardner have a stock tip, it can pay to listen. After all, the newsletter they have run for over a decade, Motley Fool Stock Advisor, has tripled the market.*
David and Tom just revealed what they believe are the 10 best stocks for investors to buy right now... and General Motors wasn't one of them! That's right -- they think these 10 stocks are even better buys.
Click here to learn about these picks!
*Stock Advisor returns as of January 4, 2017
Adam Levine-Weinberg owns shares of General Motors. The Motley Fool owns shares of and recommends Ford. The Motley Fool recommends General Motors. The Motley Fool has a disclosure policy.