General Motors' Profit Jumps 34% on Strong SUV and Truck Demand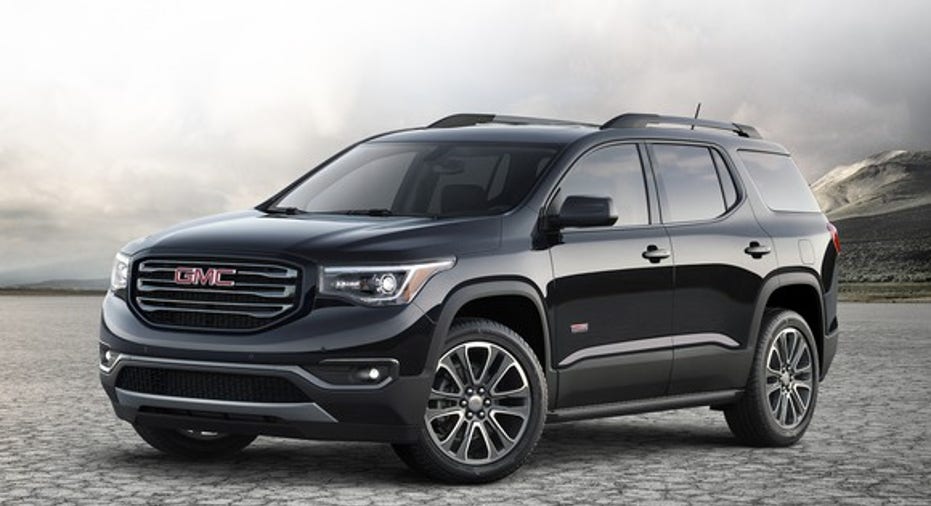 General Motors' (NYSE: GM) first-quarter net income rose 34% to $2.6 billion on strong sales of high-profit trucks and SUVs in the U.S. and China.
GM's result was an upbeat surprise that came amid concerns that the U.S. new-car market is slowing. On a per-share basis, GM earned $1.70, well ahead of the average estimate of $1.46 among Wall Street analysts polled by Thomson Reuters. GM's $41.2 billion in revenue was also well ahead of the consensus $40.32 billion estimate.
GM earnings: The raw numbers
| | | | |
| --- | --- | --- | --- |
| Metric | Q1 2017 | Q1 2016 | Change (YOY) |
| Revenue | $41.2B | $37.3B | 10.6% |
| EBIT-adjusted | $3.4B | $2.7B | 27.9% |
| EBIT-adjusted margin | 8.2% | 7.1% | 1.1 ppts |
| Net income | $2.6B | $1.95B | 33.5% |
| Automotive operating cash flow | $1.4B | $(0.4B) | $2.0B increase |
Data source: General Motors. "EBIT-adjusted" is GM's non-GAAP expression of EBIT (earnings before interest and tax) minus one-time items and with some other small adjustments. "Automotive operating cash flow" excludes results related to GM's captive-financing unit. Ppts = percentage points. YOY = year over year.
U.S. sales of GM's crossovers, including the recently launched GMC Acadia, rose 16% in the first quarter. Image source: General Motors.
The nutshell summary: Why GM's profit jumped
Simply put, GM is selling a lot of high-profit-margin trucks and crossover SUVs right now. That's true in the U.S., and it's also true (of crossovers in particular) in China. GM's EBIT-adjusted profit in North America was $3.4 billion. Equity income from GM's Chinese joint ventures totaled $504 million, down just a hair from $518 million a year ago despite intensifying pricing pressures in that market.
In North America, GM is also building up its inventories of pickup trucks and some SUV models ahead of scheduled factory downtime later this year. GM said its U.S. dealer inventory increased by 262,000 units during the quarter.
Because GM recognizes revenue on wholesale deliveries, rather than retail sales, those vehicles added to dealer inventories helped to boost first-quarter results.
A look at how GM's business units performed
Here's a quick look at how each of GM's business units performed in the first quarter. Note that GM reports its individual business units' profit numbers on an EBIT-adjusted basis.
As noted above, GM North America earned $3.4 billion, up $1.1 billion from a year ago. Revenue rose 11% to $29.3 billion. Wholesale deliveries rose 7.6% to about 940,000 vehicles, while retail sales rose 2.1% to about 816,000. Demand for crossover models launched after the first quarter of 2016 (Cadillac XT5, GMC Acadia, and Buick Envision) helped boost results.
GM's margin in North America was very strong at 11.7%, ahead of the first-quarter margins reported by Detroit rivals Fiat Chrysler Automobiles (NYSE: FCAU) (7.25% in North America) and Ford Motor Company (NYSE: F) (8.3% in North America) earlier in the week.
GM Europe lost $201 million, versus a $6 million loss a year ago. Revenue fell 4.3% to $4.5 billion. Wholesale deliveries were flat at about 293,000, though retail sales rose 1.9% to about 320,000. Stronger pricing (on the all-new Opel Astra) helped, but it was more than offset by currency headwinds and challenges related to the U.K.'s decision to exit the European Union.
GM reached an agreement during the quarter to sell its Opel and Vauxhall brands to French automaker PSA Peugeot Citroen in a deal valued at $2.3 billion. Opel and Vauxhall accounted for 97% of GM's retail sales in Europe in the first quarter.
GM's International Operations unit includes its vast operation in China, as well as its operations in the Middle East, Australia, and the rest of Asia. The unit earned $319 million in the first quarter, down 16% from a year ago, on revenue of $2.5 billion (down 7.4%).
GM's joint ventures in China generated $504 million in equity income, down just 2.7% despite considerable pressure on pricing. Much-improved (and aggressively priced) offerings from domestic Chinese automakers have put pressure on pricing in some market segments (especially smaller crossovers) over the last several quarters. But GM has pushed back with its own strong crossovers, particularly the upscale Buick Envision, helping to keep margins strong (9.3% in the first quarter versus 9.7% a year ago). Wholesale shipments from GM's China joint ventures were up 0.6% to about 992,000 vehicles.
Outside of China, the unit didn't fare as well. Wholesale shipments of 113,000 were down 13%, as challenging economic conditions in the Middle East have depressed new-vehicle sales in the region.
GM South America lost $115 million, versus a $67 million loss a year ago. Most automakers in the region have faced significant challenges as severe recessions in key markets like Brazil have hurt new-vehicle sales across the industry. But GM is making the most of it: Wholesales rose 21% to about 138,000, retail sales rose 13% to about 148,000, and GM's market share rose 10 basis points to 15.7%.
GM Financial earned $260 million, up 15.5% from a year ago, on record revenue of $2.9 billion (up 38%). It's a good story: GM Financial is capturing a greater percentage of GM's retail sales, while credit losses and delinquencies remain stable.
The compact Buick Envision crossover is a huge seller in China. Image source: General Motors.
Special items, debt, and liquidity
GM had no special items in the first quarter.
As of March 31, GM had $20.4 billion in cash available to its automotive business, down from $21.6 billion at year end. GM generated $1.4 billion in operating cash flow, spent $2 billion on capital expenditures, and paid out about $600 million in dividends.
GM also had $14 billion in available credit lines at the end of the quarter, unchanged from year-end, for total liquidity of $34.4 billion.
GM's long-term debt totaled $11 billion as of March 31, up slightly from $10.8 billion at year-end.
Looking ahead: GM's full-year guidance is unchanged
GM reiterated its 2017 full-year guidance earlier in April. For 2017, GM expects:
Revenue to be higher than the $166.4 billion it generated in 2016.
EBIT-adjusted profit and margin will be similar to 2016's ($12.5 billion, 7.5%).
Free cash flow will be around $6 billion, versus $6.9 billion a year ago.
Earnings per share will rise to between $6.00 and $6.50 from $6.00 in 2016, thanks to an ongoing share-repurchase program.
10 stocks we like better than General MotorsWhen investing geniuses David and Tom Gardner have a stock tip, it can pay to listen. After all, the newsletter they have run for over a decade, Motley Fool Stock Advisor, has tripled the market.*
David and Tom just revealed what they believe are the 10 best stocks for investors to buy right now...and General Motors wasn't one of them! That's right -- they think these 10 stocks are even better buys.
Click here to learn about these picks!
*Stock Advisor returns as of April 3, 2017.
John Rosevear owns shares of Ford and General Motors. The Motley Fool owns shares of and recommends Ford. The Motley Fool has a disclosure policy.