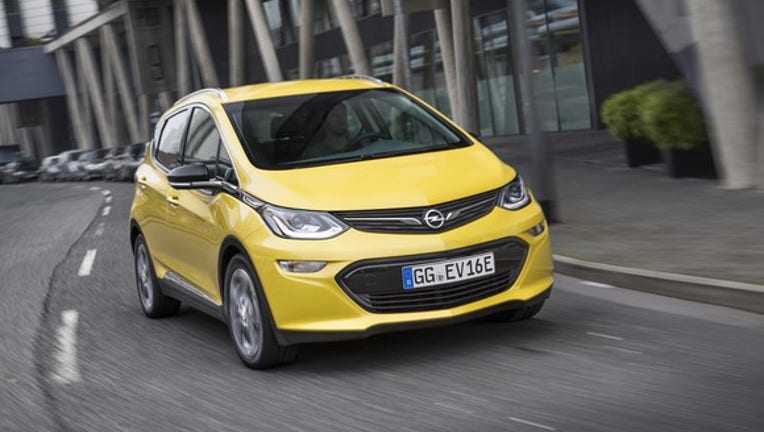 General Motors (NYSE: GM) and French automaker Peugeot S.A. (NASDAQOTH: PUGOY), more commonly referred to as "PSA Group," will hold a joint press conference in Paris early on Monday morning to discuss -- well, they haven't said exactly what they'll discuss.
But multiple reports have indicated that GM has struck a deal to sell its European unit, Opel, to PSA. This is a huge deal with huge implications. Itcreates a formidable new regional competitor, takes one of the world's largest automakers almost entirely out of the world's third largest auto market, and could trigger a wave of transformative consolidation across the global autoindustry.
A full analysis will have to wait until we see the details. But we know enough now to take a first look. Here's what we know and what it's likely to mean for GM investors.
The technical center at Opel headquarters in Ruesselsheim, Germany. Image source: General Motors.
A few details of the deal have leaked
Only a few details have leaked since PSA's board approved the deal on Friday, but it's enough to give us the general shape of the deal and understand some of its implications.
A report in the French business newspaper Les Echos is the source for just about everything we know about the specifics of the deal as I write this on Sunday morning.
The likely purchase price
According to the Les Echos report, the total cost for PSA to buy Opel is expected to be between 1.6 billion and 1.8 billion euros. About half of that payment will be in cash, the report said, and the remainder in Peugeot stock.
But that doesn't mean that GM just gets to take the money and be done forever with Opel. Again according to the Les Echos report, GM has agreed to keep the pension obligations for Opel employees in Germany and the U.K. on its balance sheet. That's about 7 billion euros' worth of obligations for which PSA will have no responsibility.
Rights to the GM technology in Opel's current models
This was apparently a key sticking point in the deal. Obviously, Opel's current vehicle lineup includes a lot of GM's proprietary technology. GM wants to protect its patents, but it will take several years to replace Opel's current model portfolio with PSA-developed successors.
Duringthe negotiations, GM reportedly concerned about competing with its own technology and products. Some of Opel's models are essentially identical to Buick models, aside from trim and a few details. GM didn't want to find itself trying to sell Buicks in directcompetition with their Opel twins, particularly in China, where Buick is an important high-volume brand.
There's apparently a special provision in the deal that specifically addresses GM's electric-vehicle technology. PSA wanted the right to sell Opel's electric car, the Ampera-e. (It's a rebadged version of the Chevrolet Bolt EV.) GM is especially protective of its electric-car technology: The Bolt is more advanced than any other electric vehicle currently being offered by a mass-market automaker.
The Opel Ampera-e is a rebadged Chevrolet Bolt EV. Like the Bolt, the Ampera-e is made in Michigan, not in an Opel factory. Image source: General Motors.
The compromise is that PSA will have limited access to GM's U.S. patents over time, and GM will build the Ampera-e for PSA/Opel to sell for a few years. But PSA will be restricted from selling GM-developed Opel vehicles in certain parts of the world.
What PSA gets out of the deal: Scale
Generally speaking, larger automakers have better economies of scale. PSA does much of its business in Europe, where giant Volkswagen AG (NASDAQOTH: VLKAY) is the dominant player. VW sold over 10.3 million vehicles worldwide last year, giving it massive global scale that PSA, which sold 3.15 million vehicles in 2016, can't match.
But adding Opel is a bold move that should bring PSA a lot closer to VW in Europe. PSA sold 1.93 million vehicles in Europe last year, while VW sold 4.2 million. But Opel sold about 1.16 million. Combining Opel and PSA gives a total of 3.09 million, enough to make PSA-plus-Opel Europe's second-largest automaker with about 16% of the European market -- and in theory at least, much better able to compete with VW.
According to the Le Echo report, PSA thinks it will get synergies of between 1.5 billion and 2 billion euros a year out of the deal, once Opel's products are transitioned to PSA platforms. That will probably take four to five years to happen.
What GM gets out of the deal: An instant boost in profitability
On one hand, the deal makes GM a smaller automaker. On the other hand, it'll instantly be a more profitable one. Opel hasn't turned a profit since Bill Clinton was president, losing money every year since 1999 -- over $20 billion in total, $257 million last year.
It's hard to say exactly what removing Opel will do for GM's finances. Opel constitutes most of GM's European operation, but not all, and it's tightly integrated with GM's worldwide product-development efforts.But we can do a back-of-the-envelope analysis by taking Europe out of GM's 2016 results. Here's what that looks like:
| Metric | Actual 2016 Result | Without Europe/Opel |
| --- | --- | --- |
| Revenue | $166.38 billion | $147.67 billion |
| Vehicles sold | 10.008 million | 8.849 million |
| EBIT-adjusted | $12.53 billion | $12.79 billion |
| EBIT-adjusted margin | 7.53% | 8.66% |
Data source: General Motors. "EBIT-adjusted" is GM's non-GAAP expression of operating profit minus one-time items and other minor adjustments related to GM's corporate structure. The hypothetical post-sale total for global vehicle sales removes Opel and Vauxhall sales, but not European sales of GM's global brands, which may continue after the sale.
Long story short: GM's profit margin instantly jumps more than a full point.
Under CEO Mary Barra, GM has made a series of moves that have shown that it's serious about maximizing its profitability, even at the expense of sales volumes. The sale of Opel would be the most dramatic such move yet -- but it's entirely consistent with Barra and her team's statements over the past couple of years.
As GM President Dan Ammann put it in a presentation to investors last year:
From the GM perspective, that will turn out to be the story of this deal.
Is GM's decision to sell Opel a good thing for GM investors?
Will the deal be good for GM investors? We don't yet know all of the details, but from what we do know, the answer seems to be a clear and emphatic "yes."
As we've seen, removing Opel instantly boosts GM's overall profitability. Selling Opel also frees Barra and her team to spend more time and focus on more profitable opportunities, something that's more significant than I think most investors realize.
Analysts expected the next-generation Buick Regal to be a near-twin of the all-new Opel Insignia Grand Sport. It's unclear if that plan will continue. Image source: General Motors.
It's true that GM will give up some sales volume and some scale, and it may have to restructure its Buick lineup to removeoverlaps with Opel. We don't yet know what the non-competition provisions in the deal look like, but in time, GM may be able to rebuild a larger presence in Europe around its Chevrolet and Cadillac brand with a more favorable cost structure. That could restore at least some of the sales volumes, more profitably.
Of course, a return to Europe will only happen if Barra and her team decide that they can generate a good return on the investments needed to do that. If not, GM will continue to look elsewhere for profitable opportunities -- and shareholders should applaud.
10 stocks we like better than General MotorsWhen investing geniuses David and Tom Gardner have a stock tip, it can pay to listen. After all, the newsletter they have run for over a decade, Motley Fool Stock Advisor, has tripled the market.*
David and Tom just revealed what they believe are the 10 best stocks for investors to buy right now... and General Motors wasn't one of them! That's right -- they think these 10 stocks are even better buys.
Click here to learn about these picks!
*Stock Advisor returns as of February 6, 2017
John Rosevear owns shares of General Motors. The Motley Fool recommends General Motors. The Motley Fool has a disclosure policy.