General Motors' Earnings Rise 47% as Profit Margins Jump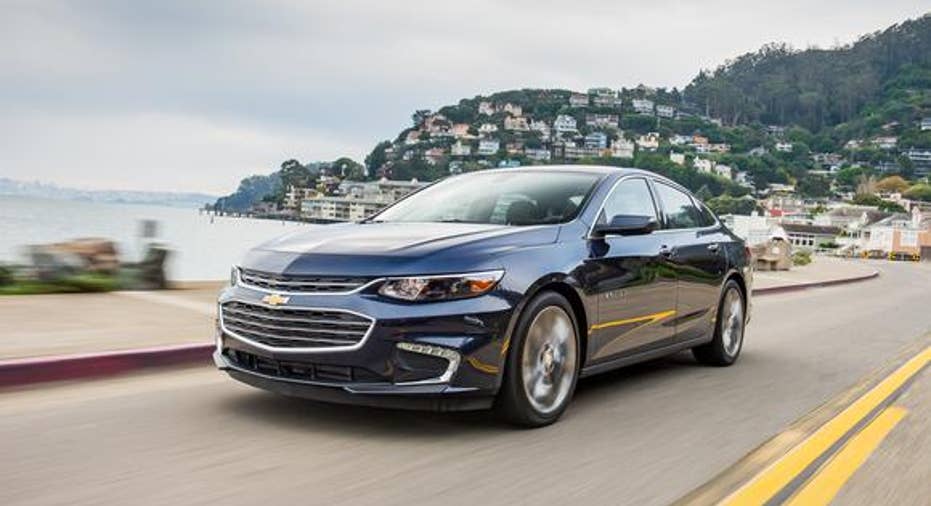 New GM products like the Chevrolet Malibu sedan are more profitable than the models they replaced. That was one factor in GM's big year-over-year gain. Image source:General Motors.
General Motors reported its first-quarter 2016 earnings before the bell on April 21. Here's what investors need to know.
The key numbers:
| | Q1 2016 | Q1 2015 |
| --- | --- | --- |
| Revenue | $37.3B | $35.7B |
| EBIT-adjusted | $2.7B | $2.1B |
| EBIT-adjusted margin | 7.1% | 5.8% |
| Net income | $1.95B | $945M |
| EPS (excluding special items) | $1.26 | $0.86 |
| Adjusted free cash flow | $(1.5B) | $(1.7B) |
| Return on invested capital | 28.5% | 19.5% |
What happened at GM around the world during the quarterGM's worldwide sales actually fell 2.5% during the first quarter, to 2.36 million vehicles. But despite the drop, which GM attributed to challenging conditions in South America and Asia as well as a weak market for small commercial vehicles in China, GM managed a substantial year-over-year increase in profit.
That profit increase happened for a couple of reasons. First, GM is selling more of its most profitable products. In both the U.S. and China, more and more GM customers are choosing crossover SUVs instead of sedans -- and helped in part by the availability of low-interest financing, they're choosing more upscale vehicles. Both trends deliver more profit per sale to GM.
Second, several of GM's most recent models deliver more profit per sale than the models they replaced. In part, that's because GM is able to get better prices for fresher, more competitive products -- but it's also because GM designed the vehicles to be a little less expensive to produce. The models in question include some of GM's largest-selling vehicles -- the Chevrolet Malibu and Cruze, and (in Europe) the Opel Astra.
The upshot is that GM is making significantly more profit per sale, on average. In the first quarter, that increase was more than enough to offset the impact of the small global decline in overall deliveries. It also helped GM reduce losses in both South America and Europe.
GM is also making substantial investments in its future. During the first quarter, the company announced a $500 million investment in ride-hailing service Lyft and the acquisition of San Francisco-based self-driving start-up Cruise Automation.
What GM's management had to say"We're growing where it counts, gaining retail share in the U.S., outpacing the industry in Europe and capitalizing on robust growth in SUV and luxury segments in China," CEO Mary Barra said in a statement. "This strong quarter also reflects the excellent progress we're making to improve results in our more challenged global markets. Importantly, the continued success of our core business is enabling us to invest in advanced technology and innovations that will help shape the future of personal mobility."
GM's cash and debt positions as of the end of the first quarter of 2016 GM ended the quarter with $18.5 billion in cash and another $12.1 billion in available credit facilities, for a total of $30.6 billion in liquidity available to its core automotive businesses. Against that, GM had $10.8 billion in well-structured long-term debt.
GM made a $1.5 billion "discretionary contribution" to its global pension funds during the quarter. Its global pension plans are now underfunded by $19.4 billion, down from $21 billion at year-end.
GM repurchased about $300 million of its own common stock during the quarter, and paid out roughly $600 million in dividends to shareholders.
What's ahead for General Motors GM CFO Chuck Stevens once again reiterated the company's upbeat guidance for 2016. GM expects improved pre-tax earnings, margin, and free cash flow, with earnings per share (excluding special items) expected to fall between $5.25 and $5.75 for the full year. GM earned $5.02 per share on the same basis in 2015.
The article General Motors' Earnings Rise 47% as Profit Margins Jump originally appeared on Fool.com.
John Rosevear owns shares of General Motors. The Motley Fool recommends General Motors. Try any of our Foolish newsletter services free for 30 days. We Fools may not all hold the same opinions, but we all believe that considering a diverse range of insights makes us better investors. The Motley Fool has a disclosure policy.
Copyright 1995 - 2016 The Motley Fool, LLC. All rights reserved. The Motley Fool has a disclosure policy.