General Motors' Chevy Volt Is Crushing the Nissan Leaf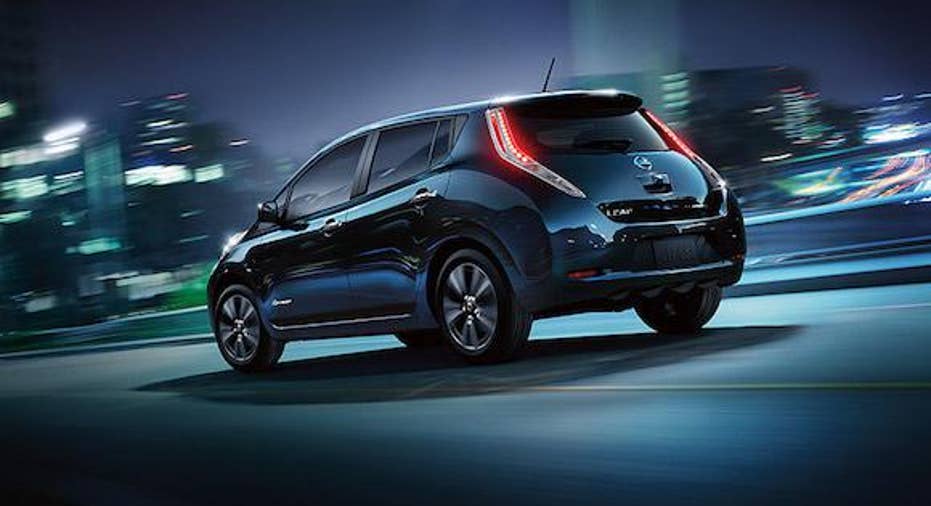 2017 Chevy Volt. Image source: General Motors.
Automakers have just turned in their monthly U.S. sales reports for the month of April. Within the environmentally friendly subset of electric vehicles and plug-in hybrids, General Motors is crushing it. The Chevy Volt grabbed the title of best all-time plug-in seller from the Nissan Leaf last month, and held on to the crown for April.
It seems like the new 2017 model year refresh for the Volt is already paying dividends.
One of these is not like the otherGeneral Motors sold 1,983 Volts in April, up an impressive 119% year over year. Leaf sales, in contrast, are heading the other way. The Japanese automaker sold just 787 Leafs in April, down by nearly half from a year ago.
| Model | April 2015 U.S. Sales | April 2016 U.S. Sales | Change (YOY) |
| --- | --- | --- | --- |
| Chevy Volt | 905 | 1,983 | 119% |
| Nissan Leaf | 1,553 | 787 | (49%) |
Data source: Company reports.
It's worth noting that both the Volt and Leaf have been recently refreshed, but the Volt received more of a visual update.
2016 Nissan Leaf. Image source: Nissan.
The 2016 Leaf that launched last year received a larger 30 kWh battery for higher SV and SL trim levels in order to achieve an EPA-rated range of 107 miles. Higher trims also include a standard CHAdeMO quick charge port. The base model keeps the 24 kWh battery and 84-mile range. But the 2016 model year is largely unchanged aesthetically.
The 2017 Volt just started hitting dealerships in February. Technically, the 2016 Volt was the second generation, but it was a truncated model year with limited distribution. With the second generation, General Motors increased its all-electric range up to 53 miles, and added additional passenger seating in the second row in order to address a common customer complaint regarding the first-generation Volt.
The times, they are a-changin'More broadly speaking, the U.S. market for PHEVs and EVs is soaring, hitting five consecutive record sales months, according to InsideEVs. That's an important start for 2016 considering the fact that the plug-in market contracted to approximately 116,000 units in 2015 due largely to falling gas prices.
While Tesla is typically the elephant in the room when it comes to EVs, the company does not regularly disclose U.S. sales figures like its traditional peers. But considering Model 3 reservation numbers combined with the U.S. market's increased adoptions of EVs and PHEVs, this is a trend that no automaker can ignore.
The article General Motors' Chevy Volt Is Crushing the Nissan Leaf originally appeared on Fool.com.
Evan Niu, CFA owns shares of Tesla Motors, andhas the following options: long January 2018 $180 calls on Tesla Motors. The Motley Fool owns shares of and recommends Tesla Motors. The Motley Fool recommends General Motors. Try any of our Foolish newsletter services free for 30 days. We Fools may not all hold the same opinions, but we all believe that considering a diverse range of insights makes us better investors. The Motley Fool has a disclosure policy.
Copyright 1995 - 2016 The Motley Fool, LLC. All rights reserved. The Motley Fool has a disclosure policy.