General Motors' CEO: 2016 Was Great, and 2017 Will Be Even Better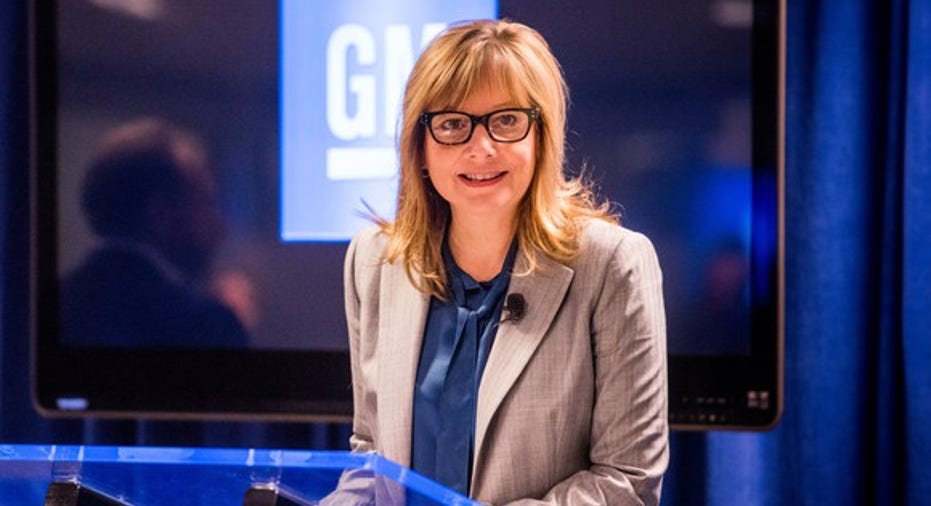 GM CEO Mary Barra expects a slew of new crossover SUVs -- and a share buyback -- to boost GM's earnings per share in 2017. Image source: General Motors.
General Motors (NYSE: GM) had a good year in 2016 -- and CEO Mary Barra said this week that she expects 2017 to be even better.
Barra: GM had a very good 2016
The results won't be official until GM releases its fourth-quarter earnings report on Feb. 7, but Barra began a Tuesday press conference by dropping some very upbeat hints about GM's full-year result.
GM's guidance for 2017: Revenue and profits to grow further
Barra, joined by GM president Dan Ammann and CFO Chuck Stevens, went on to present GM's 2017 guidance. Their message, in a nutshell: 2017 should be even better than 2016, at least on a per-share basis.
First and foremost, GM expects its earnings per share to rise to between $6.00 and $6.50 for the full year. That's higher than the consensus analyst estimate of $5.76 based on polling by Thomson Reuters (before the press conference).
GM also expects 2017 revenue to be higher than 2016, Barra said, and EBIT and EBIT margin to be equal to, or better than, 2016 results. GM will also generate free cash flow of about $6 billion in 2017, she said.
"Our overall financial outlook for 2017 is based on expected strong performance in North America and China, strong growth of GM Financial, continued cost efficiencies, improvement in South America, and an ongoing strong vehicle launch cadence," Barra said.
How can EPS rise if EBIT is flat?
That begs an obvious question: If GM's 2017 EBIT is equal to its 2016 result, how can earnings per share be higher?
The answer is that GM is planning a new share buyback as a way of returning profits to its investors. Barra said that, because of the company's strong 2017 outlook, GM's board voted to add $5 billion to the company's existing common stock repurchase program.
That $5 billion is in addition to $9 billion worth of ongoing buybacks authorized since Barra met with activist shareholders early in 2015. It brings the total that GM will spend on stock buybacks to $14 billion.
Hasn't the U.S. new-car market peaked? How will GM improve on 2016?
It probably has peaked. But GM expects to make more money in North America -- and possibly to boost its sales -- because it has some important new models coming to market. Here's what GM said in a statement it distributed to reporters at the press conference:
Generally speaking, trucks and SUVs (including "crossovers") are more profitable than sedan models. And it's nearly always true that new products generally sell better and generate more profit per sale than the products they replace, at least for a few years. The takeaway from that GM statement is this: Even if overall sales are flat, GM will be selling a higher percentage of its most profitable products.
And GM expects things to be a little better than "flat," at least in the U.S. "We see from a [U.S.] macroeconomic point of view pretty robust underpinnings for another good year -- absent some external shock to the system," Ammann said.
More profit growth past 2017
Barra said that GM expects an additional $2 billion in annual pre-tax profit from what she calls "adjacencies" by 2019. By "adjacencies," she means businesses that are "adjacent" to GM's core business of selling vehicles.
Simply put, that $2 billion will come primarily from the expansion of GM Financial, the growing Maven ride-sharing business, and expanded offerings from GM's OnStar service.
Barra also boosted expectations for GM's ongoing cost-saving effort. GM now expects to achieve a total of $6.5 billion in "cost efficiencies" from the beginning of 2015 through 2018. That's up $1 billion from earlier guidance. About $4 billion of those savings have already been realized, she said.
The upshot: GM's growth plan is on track
Barra has said repeatedly that GM isn't just a company paying a nice dividend, it's also an unfolding earnings-growth story. Investors might have raised an eyebrow (or two) at that a couple of years ago, but it's becoming clear that the story is really unfolding more or less as Barra has predicted. For those of us who own GM shares, there's a lot to like here.
10 stocks we like better than General Motors When investing geniuses David and Tom Gardner have a stock tip, it can pay to listen. After all, the newsletter they have run for over a decade, Motley Fool Stock Advisor, has tripled the market.*
David and Tom just revealed what they believe are the 10 best stocks for investors to buy right now... and General Motors wasn't one of them! That's right -- they think these 10 stocks are even better buys.
Click here to learn about these picks!
*Stock Advisor returns as of January 4, 2017
John Rosevear owns shares of General Motors. The Motley Fool recommends General Motors. The Motley Fool has a disclosure policy.