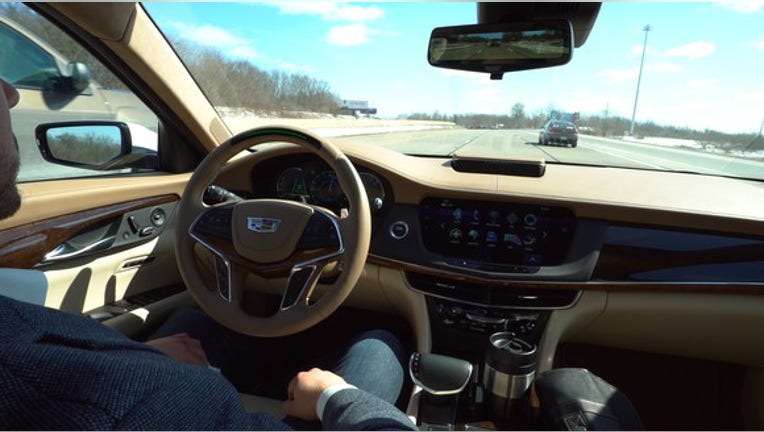 Self-driving technology -- at least, the stuff you'll soon be able to buy -- takes another step forward: General Motors (NYSE: GM) said its hands-free, highway-driving system, Super Cruise, will come to market later this year as an option on the Cadillac CT6 luxury sedan.
At first glance, Super Cruise seems similar to Tesla's (NASDAQ: TSLA) Autopilot, the best-known "hands-free," driver-assist system. But it's a bit different: Super Cruise adds some new pieces to existing driver-assist systems to create a genuine Level 3 partial self-driving system -- and that raises some interesting questions.
GM's Super Cruise highway-assist system will debut later this year as an option on the big Cadillac CT6 sedan. Image source: General Motors.
What GM said about Super Cruise
In what might be a subtle dig at Tesla, GM said Super Cruise is "the industry's first true hands-free driving technology for the highway:"
One of those two new systems is clearly a good thing. We know that the first full self-driving systems will require highly detailed maps of the areas in which they operate, to supplement the information from the car's sensors. GM has created such a map for Super Cruise: Its "precision LiDAR map data" includes finely detailed maps of all highways in the U.S. and Canada, which the system can use to double-check (or back up) its sensor readings. That's a welcome addition.
It's the "driver attention system" that will raise eyebrows, at leastamong self-driving experts. Here's why.
Almost self-driving -- but not quite
First, let's define some terms. Under the classification system for vehicle-automation systems developed by the Society of Automotive Engineers and adopted around the world, GM's Super Cruise appears to be a Level 3 system. That's the highest level below fully self-driving systems, in which no human intervention is necessary.
A Level 3 system is defined as one that can drive itself under certain conditions. But -- and this is a big "but" -- the human driver has to be alert and ready to take over on short notice, if something comes up that the system isn't equipped to handle. That, in turn, means the system has to keep tabs on its drivers to ensure they are payingattention and ready to take over if needed.
That's where GM's "driver attention system" comes in. The system uses a small camera and infrared sensors to track the driver's head position whenever Super Cruise is operating. If it determines that the driver has looked away from the road ahead for too long, it prompts the driver to return his or her attention to the road.
Lights built into the steering wheel's rim alert drivers to the status of the Super Cruise system -- and help keep the driver's eyes from wandering off of the road. Image source: General Motors.
If the driver doesn't respond immediately, the system keeps driving the car while it works through a series of escalating alerts to get the driver's attention. The alerts include lights, sounds, and "tactile alerts" transmitted by the car's seats -- each one (hopefully) harder for the driver to miss. (If the driver is still unresponsive, the system brings the car to a safe stop and uses GM's OnStar system to call for help.)
Some automakers aren't even trying Level 3
Partial self-driving systems came under scrutiny after a fatal accident involving a Tesla last year. In that incident, a Tesla Model S on Autopilot ran full-speed into a tractor-trailer truck crossing the road. The Tesla's driver, whose attention may have been turned away from the road, did not survive the collision.
That accident made it clear that automakers offering partial self-driving systems needed to find ways to ensure that drivers were paying attention -- at least enough attention to grab the controls quicklyif something (like a white truck crossing the highway on a bright sunny day, as in the Tesla incident) came up that the system couldn't handle.
And that has proven to be a challenge that at least some other automakers, including a big GM rival with good technology, are choosing not to try to tackle. Ford (NYSE: F) said last year that it had decided not to develop a Level 3 systemat all, because its research had shown that drivers found the required attention-checking systems to be -- yes -- too annoying.
Has GM solved the driver-attention problem?
Will drivers find Super Cruise's attention monitoring and reminders to be too much? Given that GM hasenough confidence in Super Cruise to launch it on a high-end Cadillac, I expect GM believes it has found a way to effectively nudge drivers without causing too much irritation.
We'll know soon: Your humble Fool will get a close-up look at GM's new Super Cruise system later this week. I'll let you know exactly what I think after I check it out.
10 stocks we like better than General MotorsWhen investing geniuses David and Tom Gardner have a stock tip, it can pay to listen. After all, the newsletter they have run for over a decade, Motley Fool Stock Advisor, has tripled the market.*
David and Tom just revealed what they believe are the 10 best stocks for investors to buy right now... and General Motors wasn't one of them! That's right -- they think these 10 stocks are even better buys.
Click here to learn about these picks!
*Stock Advisor returns as of April 3, 2017
John Rosevear owns shares of Ford and General Motors. The Motley Fool owns shares of and recommends Ford and Tesla. The Motley Fool has a disclosure policy.