General Electric-backed Carbon Launches Speedy 3D-Printing Production Solution "SpeedCell"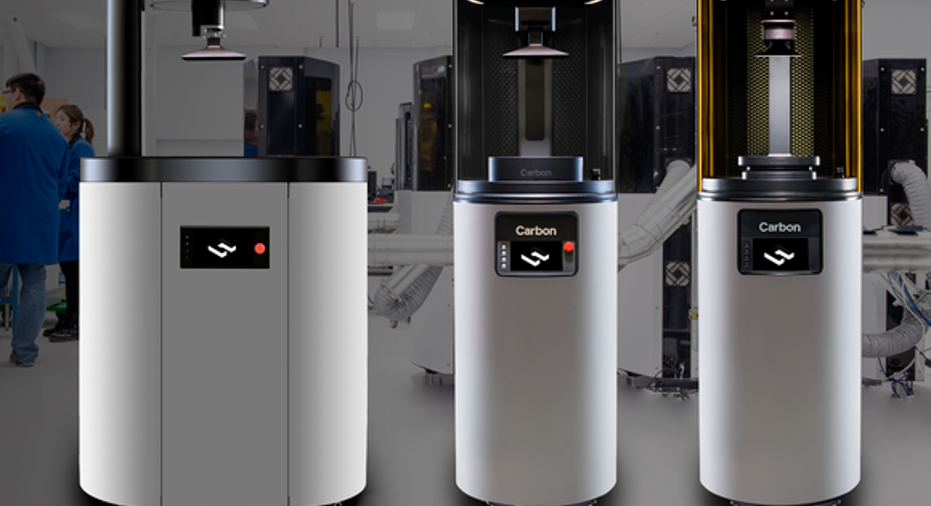 Venture capital-backed 3D printing company Carbon commercially launched its SpeedCell system today. SpeedCell is "a system of securely connected products designed to upend traditional methods of manufacturing."The first components include two new products that Carbon says enable companies to manufacture at scale: the M2, an industrial-grade 3D printer, and the Smart Part Washer, which enables cleaning and finishing of parts.
Here's what 3D printing watchers and investors in 3D Systems (NYSE: DDD) and Stratasys (NASDAQ: SSYS) should know.
Image source: Carbon.
Carbon's SpeedCell
According to the company's fact sheet, Carbon's SpeedCell is "an end-to-end manufacturing solution comprised of hardware, software, materials, service, and support that integrates product design and engineering" with manufacturing. It's available in two configurations: Design SpeedCell and Production SpeedCell.
The Design SpeedCell pairs one M-series 3D printer (the M1 or M2) with a Smart Parts Washer. It "[a]llows designers and engineers to rapidly iterate on product concepts ...minimizing or sometimes [fully eliminating] the prototyping and tooling stages ...[and s]eamlessly works with Production SpeedCells located internally, externally or with third parties" (such as service bureaus or contract manufacturers). The Production SpeedCell is designed for manufacturing applications, and couples multiple M2 printers with a Smart Part Washer. The SpeedCells are "compatible with a robotic interface to enable automated part removal after it's done printing."
Co-founder and CEO Dr. Joseph DeSimone said in the press release:
Like Carbon's flagship M1 3D printer, which it launched last April, the M2 is internet-connected, available through a subscription-pricing model, and can reportedly produce parts that have the mechanical properties, resolution, and surface finish needed for production applications.The M2's build volume, however, is twice as large as the M1's, so it can be used to print larger parts or more parts per build. Its dimensions are 190 mm wide x 118 mm deep x 326 mm high -- equivalent to about 7.5 x 4.7 x 12.9 inches.
Like the M1, the M2 also has robust software capabilities. Internet-connected 3D printers allow Carbon to monitor numerous data points produced by each printer in a day. In a Tesla-like way, Carbon can send out software fixes if it detects an issue, as well as software updates. Neither 3D Systems nor Stratasys offers internet-connected 3D printers.
Carbon said that theintroduction of SpeedCell was "in direct response to the needs of [our] customers and strategic partners, including BMWand General Electric. ...Fast Radius, in partnership with UPS, is a new Carbon customer and one of Carbon's SpeedCell launch partners. ... Additional SpeedCell launch partners include [BMW] and production partners Dinsmore and Associates, Primary Manufacturing, Sculpteo, and The Technology House."
SpeedCell subscription pricing, which includes service and support, is as follows:
M1: $40,000/year
M2: $50,000/year
Smart Part Washer: $10,000/year
SpeedCell Bundle (available until the end of 2017): Includes a free Smart Part Washer with three or more M-series printers
Image source: Carbon.
Bakground on Carbon and CLIP
Carbon, founded in 2013, caused a splash in the 3D printing world when DeSimone unveiled and demonstrated CLIP at the 2015 TED conference.The company's since been on the fast track. It's racked up $221 million in funding from top venture capital firms, including Sequoia, Northgate, and Silver Lake Partners, and big-name tech and industrial companies, including Google Ventures (Alphabet's venture capital arm) and General Electric's VC arm. Early-access customers for the M1 included Ford, Johnson & Johnson,and BMW. Former Ford CEO Alan Mulally and former DuPont CEO Ellen Kullman joined Carbon's board.
CLIP "grows" polymer parts continuously by harnessing UV light and oxygen, whereas other commercialized 3D-printing techs pause briefly after each layer is printed. It's largely the elimination of the pausing which provides CLIP with its considerable speed advantage. CLIP was reportedly 25 to 100 times faster than the leading 3D-printing technologies PolyJet, selective laser sintering (SLS), and stereolithography (SLA) when tested by an independent lab hired by Carbon in 2015.
Just as important as speed, CLIP reportedly has immense materials possibilities and can produce objects with mechanical properties and surface finishes like injection-molded parts.
Final thoughts
SpeedCell appears to be an impressive offering, and its launch moves Carbon closer to its goal of upending traditional manufacturing. Moreover, it's also laudable that Carbon has picked up another top-tier customer and partner in UPS.
I've been bullish on Carbon since watching DeSimone's TED presentation and interviewing him afterward. That said, it's highly unlikely that one 3D-printing technology will ever be the best fit for all applications involving polymers. CLIP, for instance, cannot produce multimaterial or multicolor objects. These are capabilities that 3D Systems and Stratasys possess, and that some customers will likely continue to want for the final stage of prototyping, as well as for certain production applications.
10 stocks we like better than 3D SystemsWhen investing geniuses David and Tom Gardner have a stock tip, it can pay to listen. After all, the newsletter they have run for over a decade, Motley Fool Stock Advisor, has tripled the market.*
David and Tom just revealed what they believe are the 10 best stocks for investors to buy right now... and 3D Systems wasn't one of them! That's right -- they think these 10 stocks are even better buys.
Click here to learn about these picks!
*Stock Advisor returns as of February 6, 2017
Suzanne Frey, an executive at Alphabet, is a member of The Motley Fool's board of directors. Beth McKenna has no position in any stocks mentioned. The Motley Fool owns shares of and recommends Alphabet (A and C shares), Ford, Johnson and Johnson, and Tesla. The Motley Fool owns shares of General Electric. The Motley Fool recommends 3D Systems, BMW, Stratasys, and United Parcel Service. The Motley Fool has a disclosure policy.