General Dynamics Stock Soars, Gulfstream Business Doesn't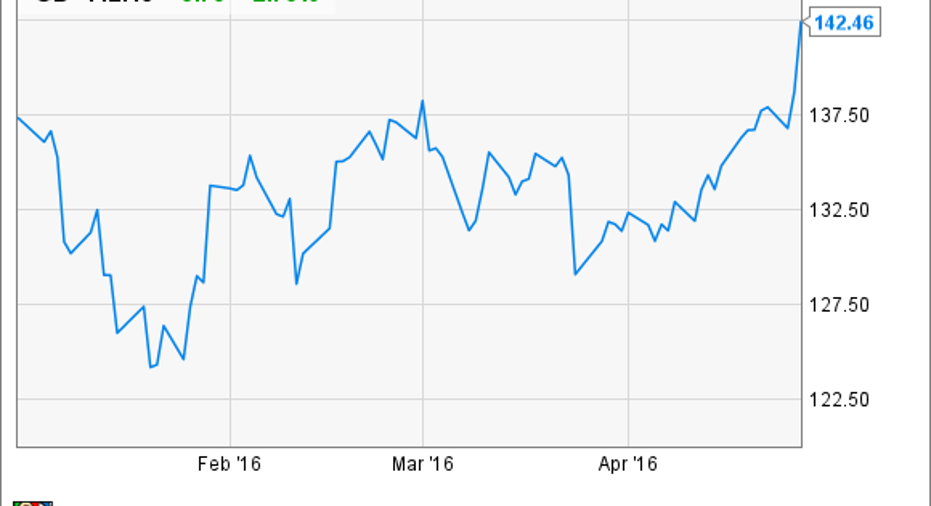 General Dynamics stock moved up sharply on earnings Wednesday. But is there a time bomb buried in these results?GD data by YCharts.
Less than 24 hours ago, we told you what analysts expected General Dynamics stock to report in its fiscal first quarter 2016. This morning, General Dynamics beat those expectations with a stick.
With the final numbers now in hand, let's take a look at how the quarter went down.
The news In fiscal Q1 2016, General Dynamics reported:
Q1 2016 revenue declined 1% year over year to $7.7 billion -- right in line with estimates.
Operating profit margins on that revenue, though, expanded by 40 basis points to 13.6%.
And as a result, despite revenue slipping, operating profits grew 2% to $1.05 billion.
Once again, share buybacks became a force multiplier for General Dynamics, with the result that...
Profits per diluted share jumped 9% to $2.34 per share.
Pretty terrific results, right? Well, by and large, yes -- but with a few caveats.
Caveats and provisos Chief among the caveats is the fact that free cash flow at General Dynamics continues to fall well short of reported GAAP earnings. In Q1, GD generated just $374 million in real cash profits -- down more than 40% year over year. According to S&P Global Market Intelligence data, General Dynamics has generated barely $1.6 billion in real cash profit over the past 12 months, or barely half of its claimed $3 billion in "net income." On a stock that now sells for more than 27 times free cash flow, that's more than a little concerning.
And another thing: General Dynamics noted that "three of the company's four business groups expanded margins over the year-ago period." (But that means one did not.) It also noted that "order activity across the Gulfstream product portfolio and strong demand for defense products... resulted in a book-to-bill ratio (orders divided by revenue) of one-to-one in the Combat Systemsgroup." (Notice how the company didn't mention the book-to-bill in Gulfstream there?)
Now, far be it from me to suggest General Dynamics is trying to bury its bad news. But if you read the fine print, what you'll find is that General Dynamics' total backlog in Q1 dropped 2% to $64.7 billion, from the $66.1 billion level last seen at the end of 2015. "Total potential contract value," which adds management's guess at how much money it might get from unexercised options and still-running IDIQ contracts,was $89.2 billion -- likewise down 2% from $90.6 billion three months ago.
So, if General Dynamics tells us it had a book-to-bill ratio of 1-to-1 in Combat Systems and "greater than one-to-one" in Information Systems and Technology, the implication -- conspicuous for management's failure to point it out -- is that book-to-bill in Gulfstream must have been less than 1:1. (Digging deep into the tables of figures General Dynamics provided only strengthens the suspicion. There we find that total potential contract value in Aerospace/Gulfstream has declined by 5% since last quarter.)
Note further that this happened at a time when Gulfstream deliveries plunged -- down from 66 new planes delivered in Q1 2015, and down from 75 Gulfstreams delivered last quarter, in Q4 2015, to just 58 in Q1 2016. One would think fewer billed deliveries in the quarter would make it easier for General Dynamics to "book" many more Gulfstreams than it "billed." In fact, the opposite seems to have happened.
Seems to me, even if the rest of General Dynamics is going great guns, Gulfstream is the one part of the business that is not.
The article General Dynamics Stock Soars, Gulfstream Business Doesn't originally appeared on Fool.com.
Rich Smithdoes not own shares of, nor is he short, any company named above. You can find him onMotley Fool CAPS, publicly pontificating under the handleTMFDitty, where he's currently ranked No. 297 out of more than 75,000 rated members.The Motley Fool has no position in any of the stocks mentioned. Try any of our Foolish newsletter services free for 30 days. We Fools may not all hold the same opinions, but we all believe that considering a diverse range of insights makes us better investors. The Motley Fool has a disclosure policy.
Copyright 1995 - 2016 The Motley Fool, LLC. All rights reserved. The Motley Fool has a disclosure policy.