Generac Powers Up on Hurricane, Winter Weather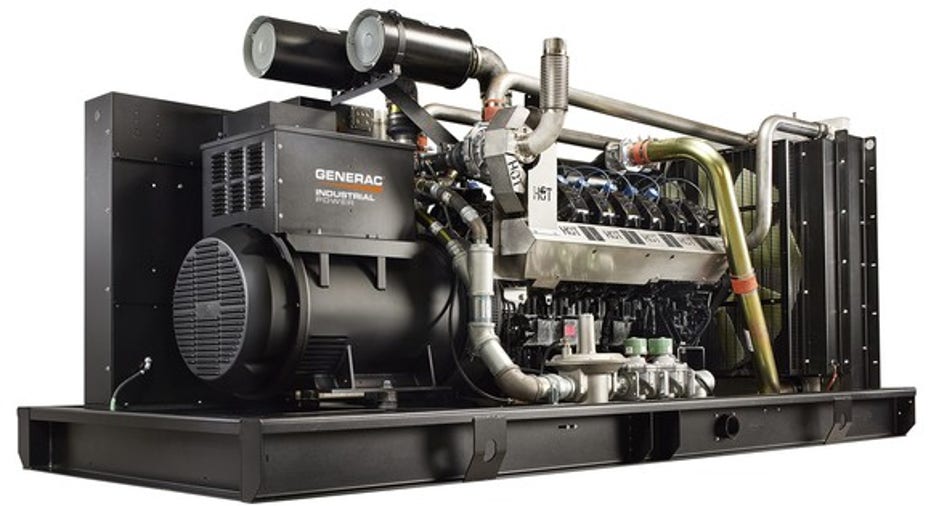 For some companies, bad news is good news, and power generator manufacturer Generac Holdings (NYSE: GNRC) unquestionably sees a positive impact when weather disasters bring power outages that showcase the value of its electricity-generating products. In recent years, weather conditions had been fairly benign, hurting Generac. But 2016 brought some major events that brought Generac back to more normal conditions, and coming into Tuesday's fourth-quarter financial report, Generac investors looked to see sizable gains in revenue and higher profit. The generator manufacturer obliged with better results than most were expecting, and solid guidance for 2017 was also encouraging.
Let's look more closely at Generac Holdings to see how it did and what it's likely to encounter going forward.
Image source: Generac Holdings.
Hurricane Matthew helps push Generac higher
Generac's fourth-quarter results reflected the more favorable conditions for its key market. Revenue jumped nearly 17% to $417.4 million, which represented a slightly faster growth rate than most had expected to see. Adjusted net income rose 9% to $71.4 million, and that produced adjusted earnings of $1.12 per share. That was $0.09 higher than the consensus forecast among investors.
Taking a closer look at the financial results, Generac showed solid performance in all of its major areas. The residential products division had the best growth in the company, as its top line rose more than 20% to make up almost three-fifths of Generac's overall revenue. Even more encouraging was a pickup in activity in the commercial and industrial products segment, which saw sales climb 12%. Revenue gains in the other products category was up double-digit percentages as well.
Generac had particularly strong success in its international market segment, again as a result of the recent acquisition of Italy's Pramac. The purchase of the generator maker sent international sales up by nearly 150%, and international business now makes up almost a fifth of Generac's total sales. The domestic segment saw more measured growth of 4% in its top line. From a profit perspective, the acquisition continued to weigh on pre-tax operating profit internationally, but a nice pickup in profit domestically helped keep the company's overall figures strong.
On a more troubling note, operating expenses were up sharply, offsetting gains in gross margin. Additional recurring operating expenses from Pramac as well as higher amortization sent operating expenses up by more than a fifth, outpacing the rise in revenue and weighing somewhat on Generac's bottom line.
CEO Aaron Jagdfeld explained Generac's resurgence. "Hurrican Matthew drove significant shipments of residential products during the quarter," Jagdfeld said, "as our team executed well to fulfill the increased demand from this event." The CEO also believes that strong cash flow was instrumental in providing strategic flexibility to capture opportunities in the market.
What does Generac expect in 2017?
Generac is looking forward to its prospects for the year. In Jagdfeld's words, "Our market position for residential products remains strong, and we believe demand trends in a number of our [commercial and industrial] markets are at or near the bottom." As a result, Generac expects organic growth in 2017 and sees good long-term prospects going forward.
In particular, Generac expects net sales to climb 5% to 7% in 2017 compared to last year, with organic sales rising 1% to 3%. Those numbers were slightly better than the consensus forecast for a 4.8% rise in Generac's top line, and net income margins of 7.5% to 8% would be solid as well. The company was quick to note that the outlook counts on events that are similar to 2016, with the exception of the extraordinary impact of Hurricane Matthew.
Generac investors responded somewhat favorably to the news, and the stock climbed about 1.5% in pre-market trading following the announcement. Given how harsh the latest part of winter has been from a weather standpoint, Generac could easily see even more tailwinds helping its business to start out 2017 well.
10 stocks we like better than Generac HoldingsWhen investing geniuses David and Tom Gardner have a stock tip, it can pay to listen. After all, the newsletter they have run for over a decade, Motley Fool Stock Advisor, has tripled the market.*
David and Tom just revealed what they believe are the 10 best stocks for investors to buy right now... and Generac Holdings wasn't one of them! That's right -- they think these 10 stocks are even better buys.
Click here to learn about these picks!
*Stock Advisor returns as of February 6, 2017
Dan Caplinger has no position in any stocks mentioned. The Motley Fool recommends Generac Holdings. The Motley Fool has a disclosure policy.