Gatorade Unveils 'Smart' Bottle, Yogurt: Exclusive Details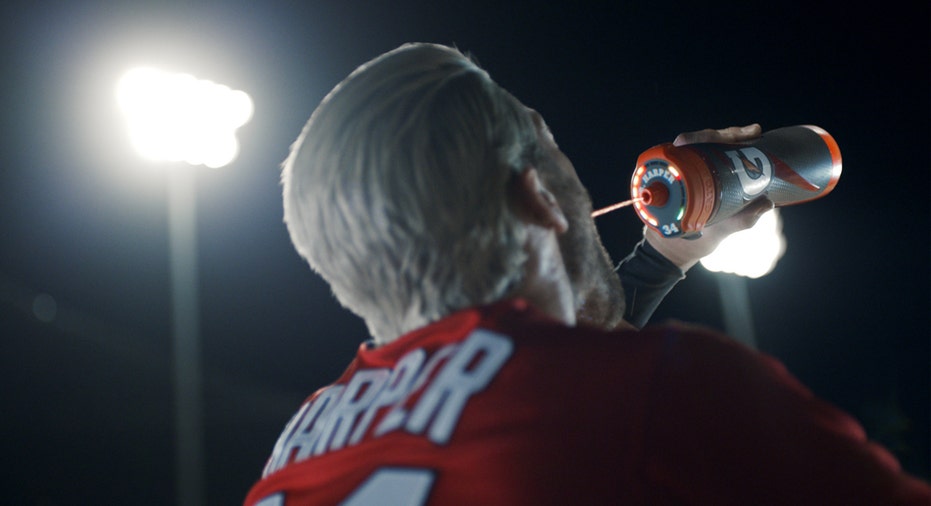 Gatorade isn't just a sports drink any more. The venerable beverage brand unveiled several new upcoming products Thursday in a commercial that featured Houston Texans defensive end J.J. Watt, Washington Nationals outfielder Bryce Harper and several other top athletes.
Items in Gatorade's "innovation pipeline" include a tech-based water bottle that allows for personalized hydration, a protein-infused yogurt meant for overnight recovery and a 2.5-ounce "nitrate shot" to improve athlete endurance. Gatorade plans to sell all three products, and others, to professional sports teams and the general public within the next two years.
The new food items and tech-based offerings are the brand's latest effort to diversify its revenue stream. In essence, Gatorade is attempting to expand the timeframe in which consumers look to use its products. Its sports drink is a staple on the sidelines and in the locker room, but Gatorade wants to become a 24-hour-a-day source of nutrition and wellness for everyday athletes.
"What will make you a better athlete is not just what you drink on the field. It's what you put in your body throughout the day," Xavi Cortadellas, Gatorade's senior director of global innovation and design, told FOXBusiness.com. "We want to help athletes better fuel themselves, to have better health and nutrition. The more regimented they are on what they are eating and what they are drinking, the better athletes they'll be."
Gatorade has had a stranglehold on the sports beverage industry for decades. The company is responsible for an estimated 78% percent of sales in a $7.21 billion market, according to the Wall Street Journal. But as of now, Gatorade's business model is almost entirely reliant on its trademark product, which accounts for 95% of its sales. Gatorade has added protein bars and other offerings to its portfolio in recent years, but so far they've remained a small part of its overall business.
"Smart" Water Bottle
The new water bottle is the centerpiece of Gatorade's "Gx" sports drink customization platform, which Cortadellas and his team envision as a "complete ecosystem" for athlete hydration. Brazil's national soccer team began testing the product in the summer of 2014, and several other professional sports teams followed suit.
Gatorade sports scientists test pro athletes on an individual basis to determine unique hydration needs. Next, they create a "fuel profile" for the athlete, customized by his or her unique physiology, by sport and even by the local climate. The company has developed several new sports drink formulas, available in small "flavor pods," that address a player's specific biological requirements. The bottle also uses a chip-infused "smart cap" that tracks how much fluid the player has drank and how much the player needs to drink to stay hydrated. The cap lights up when a player needs to drink more.
Some professional sports teams are already using the "smart cap," but the product won't immediately be available to the general public. Instead, Gatorade will begin selling a customizable version of its water bottle on its website in September 2016. Consumers can personalize their bottles with their names and buy the "flavor pods" of their choice. Pricing isn't fixed yet, but Cortadellas estimates the simpler bottle will sell online for between $20 and $30, FOXBusiness.com exclusively learned.
Gatorade aims to make the "smart cap" version of its bottle available to the general public by sometime in 2017. It's also developing a "digital sweat patch," which will help everyday athletes track their performance and determine their fueling needs.
New Snacks
In the new commercial, Los Angeles Lakers rookie D'Angelo Russell samples a spoonable product that Cortadellas calls a "night protein yogurt." The snack is meant to be a treat after a long workout, providing both a palate-pleasing flavor and slow-burning casein protein that aids recovery overnight.
"The idea is, you take this product before you go to bed or late in the day and that will help repair your muscles while you're sleeping," Cortadellas said.
A 2.5-ounce "nitrate shot," which provides a caffeine-free energy boost, is also in development. Nitrates help to improve endurance and allow the body to exert energy for a longer period of time before becoming fatigued. WNBA star Elena Delle-Donne drinks a prototype version of the shot in the commercial.
While some of the products in development could ultimately be shelved if issues arise, Cortadellas and his team remain confident they'll be able to bring them to the general public within the next few years.
"We just need to see what the pro teams and pro players are doing, work with these guys and try to share some of this knowledge and some of the science with everyday athletes," Cortadellas said. "In our innovation pipeline, that's definitely the driver of all the stuff that we are doing."