Gasoline ETF Strengthens as Hurricane Matthew Looms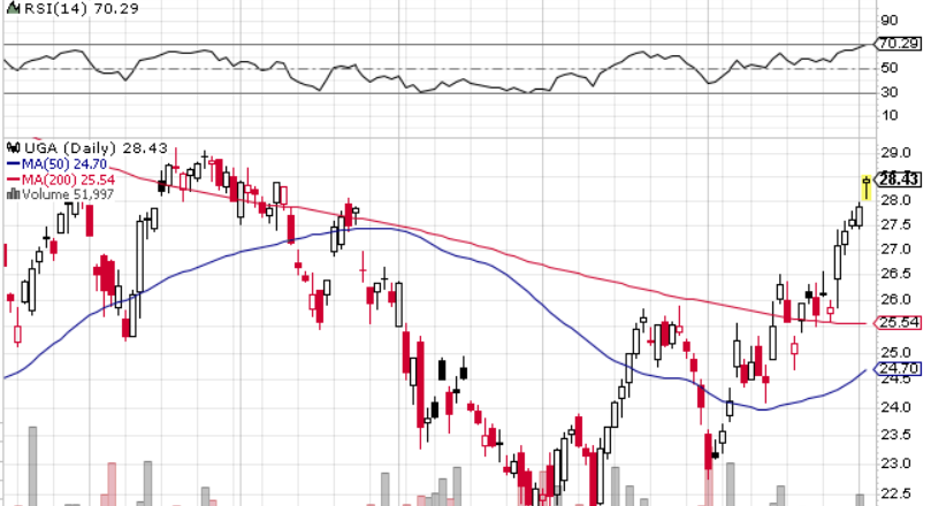 Gasoline futures and a related exchange traded fund continued to rally as Hurricane Matthew threatens the East Coast.
The United States Gasoline Fund (NYSEArca: UGA) gained 2.0% as RBOB gasoline futures rose 2.1% to $1.5017 per gallon. UGA has increased 20.5% over the past month, but it is still down 4.7% year-to-date.
SEE MORE: Surprise Decline in Crude Stocks Fuel Oil ETF Rally
Gasoline prices have been gaining momentum as the strengthening storm system is projected to head northward along the East Coast, potentially hitting New York Harbor, a delivery point for Nymex contracts, Bloomberg reports.
The hurricane would disrupt shipments over the short-term as tankers change course to avoid the storm.
Hurricane Matthew is flying through the Caribbean with winds of 250 miles per hour, and computer models project it will hit the eastern seaboard by the weekend, writes George Orwel for DTN Progressive Farmer.
Along with the potential disruptions to oil pipelines, the storm may also divert normal energy imports.
"I think the hurricane will impact oil imports," Phil Flynn, senior market analyst at the Price Futures Group, told DTN.
Furthermore, the gasoline market is finding support from renewed optimism over an Organization of Petroleum Exporting Countries production deal. Speculators expect OPEC to limit output at its policy meeting in Vienna on November 30, Reuters reports.
SEE MORE: Oil, Energy ETFs Surge as OPEC Cuts Output
"While many still express skepticism that this agreement will reduce supply, they are missing the point," Flynn told the Wall Street Journal. "For the first time in almost 8 years the cartel has agreed to limit production. … we will see the cartel once again have the ability to manipulate prices by withholding supply."
For more information on the energy market, visit our energy category.
United States Gasoline Fund
This article was provided by our partners at ETFTrends.