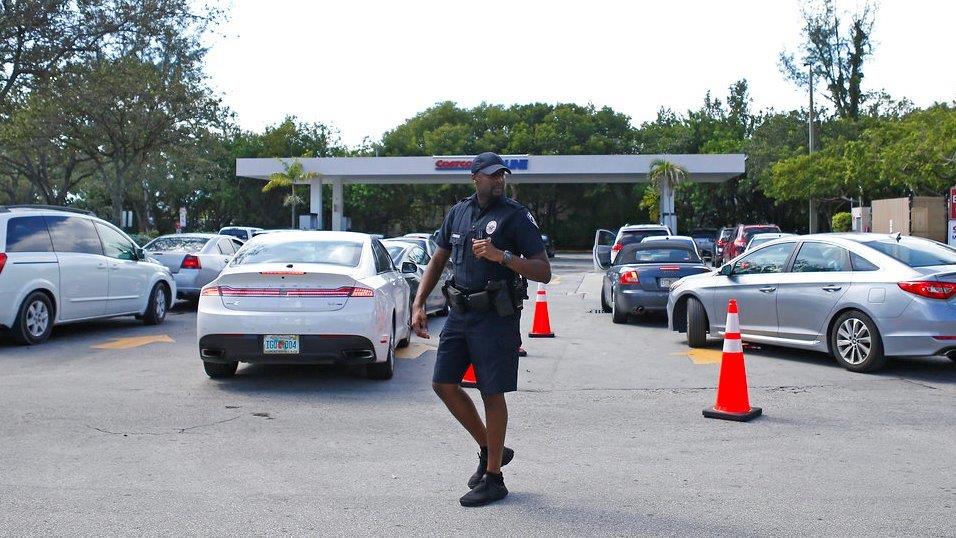 Floridians are facing a worsening gasoline shortage as motorists hitting the road to avoid Hurricane Irma's path.
Around 40% of gas stations in the Miami, Fort Lauderdale, West Palm Beach and Fort Pierce areas were tapped out Friday morning, according to GasBuddy data. Shortages were more widespread in the northern city of Gainesville, where 58% of stations had no fuel left. Further north, Jacksonville and Tallahassee saw at least 20% of stations run out.
GasBuddy, which allows users to report whether stations have fuel, said the Fort Myers-Naples and Tampa-St. Petersburg markets had no fuel at 38% and 35% of stations, respectively. More stations in Georgia and South Carolina are out of fuel as well.
GasBuddy on Friday launched an update to its mobile app that allows drivers and gas stations to report the availability of diesel, in addition to gasoline. The company's fuel availability tracker is also available online.
Irma, a Category 4 hurricane, is expected to make landfall in Florida early Sunday. Roadways were jammed as residents fled areas expected to see extensive flooding. Florida has issued mandatory evacuations in Miami and other cities along the coastline.
Gasoline suppliers have struggled to keep up with demand from evacuees, and prices in Florida rose more than a penny to $2.726 per gallon Friday. In order to quickly restock gas stations, the state is providing fuel trucks with police escorts and lifting restrictions on the number of hours that truck drivers can be on the road. Florida Gov. Rick Scott said Georgia, South Carolina, North Carolina and Alabama agreed to waive their own regulations for fuel trucks, and emergency fuel contractors secured 1.5 million gallons of fuel.
"We're working to move fuel as fast as possible," Gov. Scott said, asking residents to "take only what you need whether it's fuel, water or food."
More fuel is on its way to Florida. A fuel ship from a Mississippi refinery was given a military escort to the Port of Tampa. Another ship was already unloading more than 300,000 barrels of fuel Thursday. Southern Florida relies heavily on fuel that's shipped to its ports, while the Colonial Pipeline supplies markets further north and up the East Coast.
Gov. Scott also asked gas stations to remain open as long as possible, saying police escorts can be provided for employees who need to evacuate.
Supplies at Florida gas stations were likely in a worse position than usual due to Hurricane Harvey, which forced refinery closures that squeezed suppliers and led to a price spikes across the country. The national average for regular gasoline hit $2.679 per gallon Friday afternoon, a 44-cent increase compared to last month.