Gartner Inc. Expects Double-Digit Growth in 2017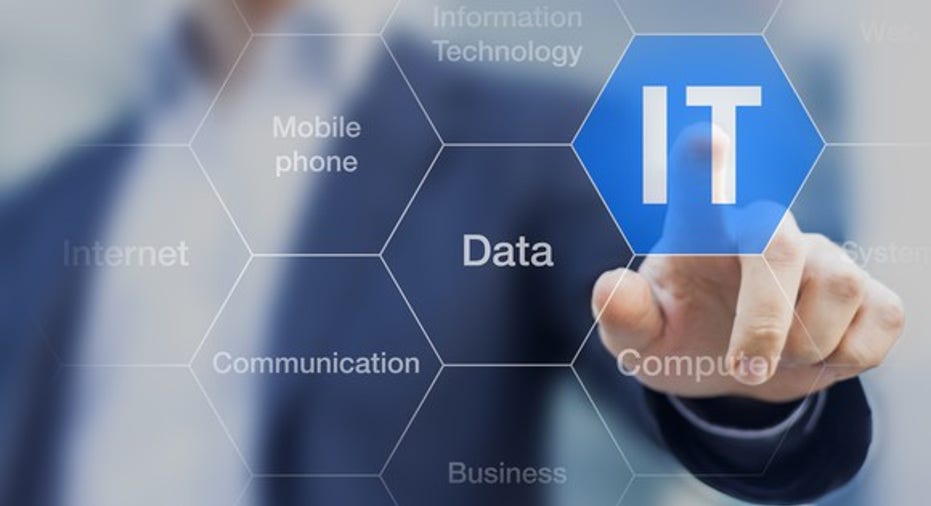 Gartner(NYSE: IT)reported fourth-quarter financial results on Feb. 2. The leading provider of research and analysis to the information technology industry delivered solid revenue growth and gave an optimistic outlook for the year ahead.
Image source: Getty Images.
Gartner results: The raw numbers
| Metric | Q4 2016 | Q4 2015 | Year-Over-Year Change |
| --- | --- | --- | --- |
| Revenue | $703.217 million | $643.768 million | 9% |
| Net income | $66.485 million | $65.763 million | 1% |
| Earnings per share | $0.79 | $0.78 | 1% |
Data source: Gartner Q4 2016 earnings press release.
What happened with Gartner this quarter?
Total revenue rose 9% year over year to$703.2 million -- and 10% excluding the impact of foreign exchange -- driven by strong growth in the research division.
Normalized EBITDA (earnings before interest, taxes, depreciation, and amortization), which excludes stock-based compensation and certain acquisition-related charges, increased 6% to$145.1 million and 3% on a currency-neutral basis.
Earnings per share -- adjusted to exclude acquisition-related items -- jumped 5% to $0.92.
Business segment results
Research revenuejumped 14% (15% in constant currency) to $478.8 million. Gross contribution margin held steady at 68%, as did client retention at 84%, while wallet retention (retention times revenue per customer) declined to 104%, down from 105% in the fourth quarter of 2015. Also, contract value was$1.93 billionatthe end of 2016, a year-over-year increase of 9% (14% in constant currency).
Consulting revenue grew slightly to $88.1 million. Consulting segment gross contribution margin declined to 26% from 30% in the prior-year quarter, and utilization fell to 65% from 67%. Gartner's billable head count for its consultant force at the end of the quarter was 628, which was up from 606 in the year-ago period but down from 630 in the third quarter. Gartner's backlog also decreased, to $103.8 million as of Dec. 31, compared to $117.7 million atthe end of 2015.
Additionally, revenue for Gartner's events business rose 1% to $136.3 million, with gross contribution margin declining to 54% from 57% in the year-ago period.
CEB acquisition
On Jan. 5, Gartner announced that it was acquiring CEB Inc.(NYSE: CEB), the industry leader in providing best practice and talent management insights, for roughly $2.6 billion in cash and stock. Gartner will also assume CEB's approximately $700 million in net debt, placing the enterprise value of the deal at about $3.3 billion. The transaction is expected to close in the first half of 2017.
In commenting on the deal in Gartner's earnings release, CEO Gene Hall said that the company expects the acquisition to "deliver significant value to our shareholders over both the short and long-term."
Looking forward
Gartner issued a preliminary financial outlook for 2017, including:
Total revenue of $2.680 billion to $2.745 billion, up 10% to 12% year over year
Normalized EBITDA of $495 million to $530 million, up 8% to 16%
Adjusted EPS of $3.15 to $3.35, up 6% to 13%
Operating cash flow of $385 million to $415 million, up 5% to 14%
Free cash flow of $348 million to $373 million, flat to up 7%
"And as our 2017 outlook demonstrates, we expect to continue our trend of double-digit growth with strong cash flow generation," said CFO Craig Safian during a conference call with analysts. "We are in a very strong position to capture the vast market opportunity ahead of us and continue to deliver long-term value for our shareholders."
10 stocks we like better than Gartner When investing geniuses David and Tom Gardner have a stock tip, it can pay to listen. After all, the newsletter they have run for over a decade, Motley Fool Stock Advisor, has tripled the market.*
David and Tom just revealed what they believe are the 10 best stocks for investors to buy right now... and Gartner wasn't one of them! That's right -- they think these 10 stocks are even better buys.
Click here to learn about these picks!
*Stock Advisor returns as of January 4, 2017
Joe Tenebruso has no position in any stocks mentioned. The Motley Fool owns shares of and recommends Gartner. The Motley Fool has a disclosure policy.