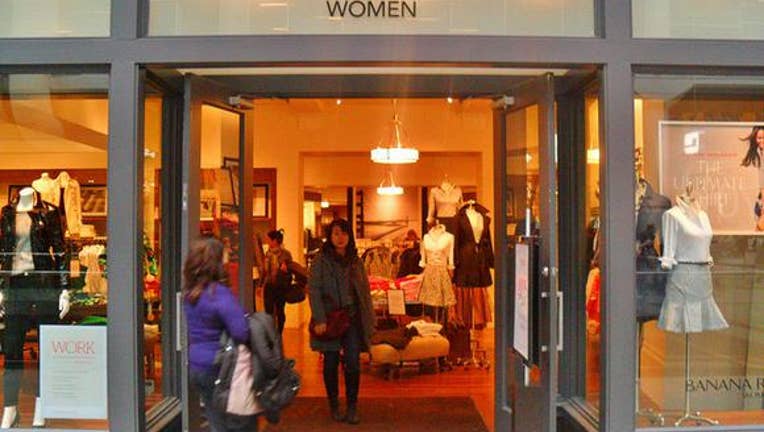 Gap has learned that following the trends isn't always a winning strategy, and is now getting back to basics at its Banana Republic chain.
It was supposed to be the makeover that turned Gap around. The seeming success it enjoyed converting its Old Navy brand into a fast-fashion powerhouse was going to be replicated at its name-brand Gap stores as well as the high-end Banana Republic. Because both of those concepts were in a comparable-store-sales free fall, the retailer was in hurry-up mode to implement it.
Yet as Gap quickly discovered, and others are now finding out, too, turning trendy is no panacea for curing what ails retail. According to an article in industry trade publication Racked, the retailer has largely abandoned the fashion-forward designs at Banana Republic that caused the concept to post in 2015 its biggest drop in sales in over a decade.
Although Gap is keeping some of the trendy fashion designs in some select stores, and online, across most of its retail footprint, Banana Republic is returning to its tried-and-true past.
What happenedThe fast-fashion concept that was supposed to save retail took off as retailers including H&M , Forever 21, Uniqlo, and Zara expanded across the country, opening hundreds of stores, and seeing sales soar as consumers abandoned the logo-centric designs of Abercrombie & Fitch , Aeropostale , and American Eagle .
Teens no longer wanted to be walking billboards for the brands, and were instead choosing the clothes they were seeing on the fashion runways.
H&M was one that seemed to have perfected the ability to take a fashion show design, break it down to its essentials using cheaper materials, and have it available on store racks in a matter of weeks rather than months. The disposable-clothing boom was here!
Between 2011 and 2015, the forward-fashion leader saw revenues grow from 110 billion Swedish krona to almost 181 billion, a better than 13% compounded annual growth rate,making it the second-largest retailer in the world behind Inditex, the Spanish owner of Zara.
At the same time, Abercrombie's sales were shrinking from $4.2 billion to $3.5 billion while Aeropostale's tumbled to $1.8 billion from $2.4 billion.American Eagle saw its sales barely budge until last year when they grew to $3.5 billion, a 7% gain driven by the very changes the industry was forced to make to fend off the inroads being made by cheap threads.
Next, retailers started to transition some of their own brands to the fast-fashion concept. Abercrombie & Fitch was perhaps the first to strike as it converted its California surf-inspired chainHollister concept, but struggled to make the process work. It may have only just turned the corner, though, as it reported earlier this month that Hollister has finally been able to record back-to-back quarters of same-store-sales growth, allowing comps to come in flat for the fiscal year compared to a 10% drop in 2014.
While Gap converted the Old Navy chain, other more stodgy retailers joined in as well. Sears Holdings , for example, said it was going to launch the fast fashion line Now & HereandJ.C. Penney launched a brand called Belle + Skye.
Yet these changes are coming just as disposable clothes may have hit their peak. Uniqlo announced last year it was scaling back the number of new stores it would open in 2015, going from a planned 15 stores to just five, and its styles have become more mainstream rather than fashion-forward. Zara has also announced its expansion plans would slow from 8% to 10% annually to a more modest 6% to 8% a year.
Gap, it seems, is now learning that lesson, too. Having "confused" its customers with the shift in styles, it is stepping on the brakes and going back to what its customers knew and expected. It suggests this may be the new trend in retail that others will soon follow.
The article Gap Inc. Has Learned a Hard Lesson. Will Others Follow? originally appeared on Fool.com.
Rich Duprey has no position in any stocks mentioned. The Motley Fool has no position in any of the stocks mentioned. Try any of our Foolish newsletter services free for 30 days. We Fools may not all hold the same opinions, but we all believe that considering a diverse range of insights makes us better investors. The Motley Fool has a disclosure policy.
Copyright 1995 - 2016 The Motley Fool, LLC. All rights reserved. The Motley Fool has a disclosure policy.