GameStop Corp. Projects a Profit Decline in 2017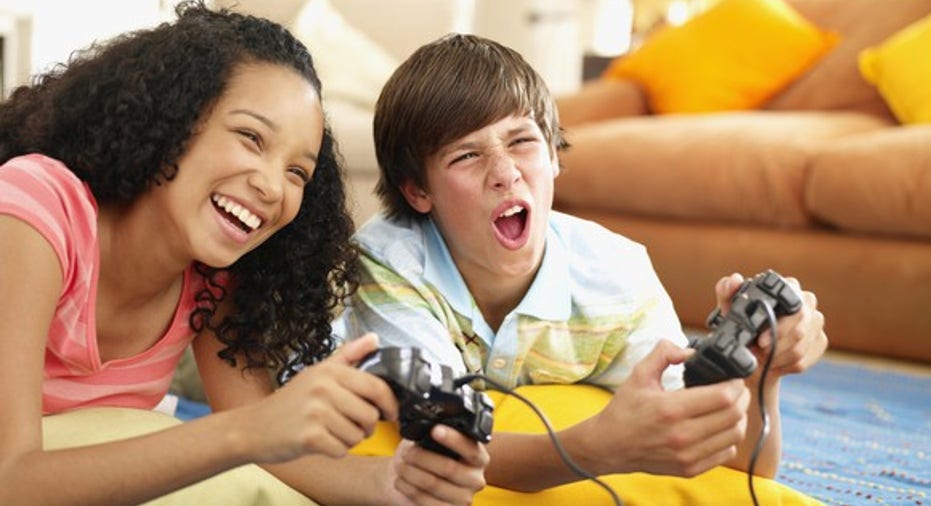 GameStop (NYSE: GME) this week announced quarterly results for the key holiday shopping period that, as expected, included sharp declines in its core video game business. The specialty retailer managed a few important wins, including improved profitability and spiking revenue from divisions that exist outside of the slumping video game segment. Yet management also issued a conservative profit outlook for the year ahead.
More on that forecast in a moment. First, here's how the headline fourth-quarter results stacked up against the prior-year period:
| Metric | Q4 2016 | Q4 2015 | Change (YOY) |
| --- | --- | --- | --- |
| Revenue | $3.05 billion | $3.53 billion | (13.6%) |
| Net income | $209 million | $249 million | (16.1%) |
| Earnings per share | $2.04 | $2.38 | (14.3%) |
Data source: GameStop's financial filing.
What happened this quarter?
Overall sales dipped 14% as a big decline in comparable-store sales was partially offset by rising demand in the technology brands segment that houses GameStop's consumer electronics business.
Image source: Getty Images.
Other highlights of the quarter include:
Comparable-store sales fell 16%, which was near the lower end of management's January guidance that called for declines of between 16% and 18%. GameStop suffered from weak demand for major game releases as well as significant pricing pressure as rivals offered huge discounts on gaming consoles through the holiday season crush.
The profitable pre-owned software business fared relatively well, falling 7%.
The tech brands segment rose 44% to $256 million. Collectibles, GameStop's other promising new business line, jumped 28% to $212 million. Overall, sales from non-physical gaming segments increased to 37% of sales from 25% a year ago.
Gross profit margin jumped to 33% of sales from 30%, and that growth ensured that the company generated the same $1 billion of gross profit that it produced on a larger revenue base last year.
Asset impairment charges tied to the closing of a few underperforming tech brands stores, plus higher overall expenses, pushed net income lower as net margin ticked down to 6.9% of sales from 7%.
What management had to say
"GameStop's transformation continued to take hold in 2016," CEO Paul Raines said in a press release, "as our non-gaming businesses drove gross margin expansion and significantly contributed to our profits."
On the other hand, "the video game category was weak, particularly in the back half of 2016, as the console cycle ages," Rains explained. "Looking at 2017, Technology Brands and Collectibles are expected to generate another year of strong growth, and new hardware innovation in the video game category looks promising."
Looking forward
Rains and his executive team plan to keep emphasizing the retailer's healthy business lines this year while cutting costs and trimming down its portfolio of stores. To that end, they see the tech brands segment growing by 20% to at least $120 million in 2017.
Overall revenue is projected to be flat to mark a solid improvement over this past year's 8% drop. Net income will likely end between $320 million and $354 million, which would be a second straight year of declines following 2015's record $400 million haul. That result would leave the 6% dividend yield well covered at less than 50% of earnings.
But whether the company reaches that $400 million profit mark again will depend on the severity of the pullback in physical game retailing, and on GameStop's ability to take advantage of complementary selling opportunities like the consumer products and collectibles segments that have protected profitability as its core industry shrinks. Either way, it promises to be a bumpy ride for shareholders. In announcing its plan to discontinue offering quarterly forecasts on comparable-store sales, GameStop argued that these results are distracting to investors since they "can be volatile given the current business environment."
10 stocks we like better than GameStopWhen investing geniuses David and Tom Gardner have a stock tip, it can pay to listen. After all, the newsletter they have run for over a decade, Motley Fool Stock Advisor, has tripled the market.*
David and Tom just revealed what they believe are the 10 best stocks for investors to buy right now... and GameStop wasn't one of them! That's right -- they think these 10 stocks are even better buys.
Click here to learn about these picks!
*Stock Advisor returns as of February 6, 2017
Demitrios Kalogeropoulos has no position in any stocks mentioned. The Motley Fool has the following options: short April 2017 $28 puts on GameStop. The Motley Fool has a disclosure policy.