Futures Signal Cautious Optimism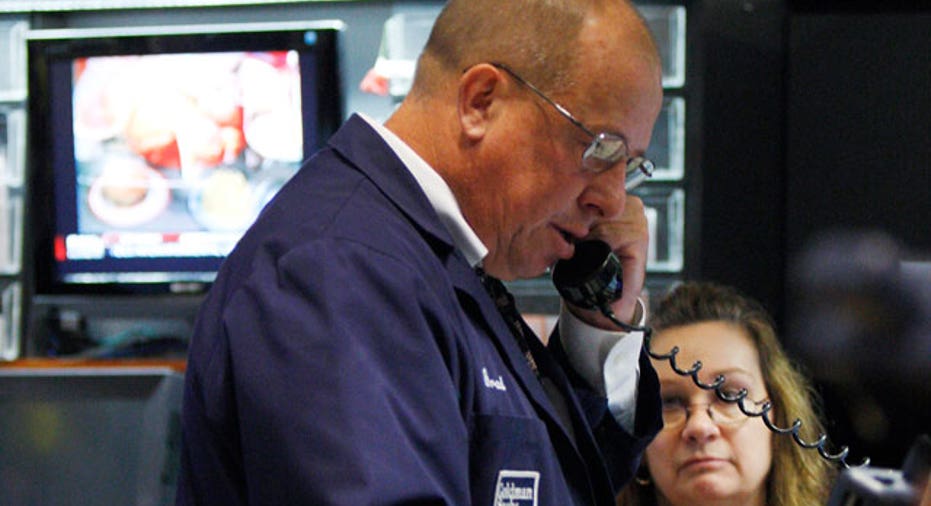 FOX Business: The Power to Prosper
After three days of selling, stock futures ticked higher Wednesday morning as Wall Street attempts to look past continued concerns about Greece's future in the eurozone.
Today's Markets
As of 8:46 a.m. ET, the Dow Jones Industrial Average futures jumped 48 points, or 0.37%, to 12652, the S&P 500 futures gained 6 points, or 0.45%, to 1334.25 and the Nasdaq 100 advanced 12.50 points, or 0.48%, to 2590.75.
The cautious optimism displayed in early action in the wake of of a cluster of new economic reports and upbeat news on the corporate front.
The markets have been in a slump in May, with the blue chips landing on Tuesday at its weakest level since January 19, marking its third-straight decline and ninth drop in 10 days.
Most of the focus has been on Greece, which the markets have been increasingly fearing will have to bow out of the eurozone due to its tumultuous debt crisis and political instability.
Those fears have mounted this week as efforts to form a last-ditch government failed and Greeks withdrew some 700 million euros ($898 million) from local banks on Monday alone, raising the risk of a collapse of the banking system. That massive withdrawal figure is alarming, especially when compared with an average of 1 billion to 2 billion that had been taken out each month.
"Our base case remains that a watered-down way for Greece to stay in the eurozone is still preferable to a disorderly exit," currency analysts at Brown Brothers Harriman wrote in a note. "Any Greek exit is unlikely to provide closure to the crisis, with Spain, Italy, and Portugal likely to come under even greater pressure."
However, European markets stabilized a bit on Wednesday and the beaten-down euro was off just 0.04% to $1.2728 as bond yields in Italy and Spain ebbed lower after spiking earlier this week. Sentiment may have been boosted by a report that German Chancellor Angela Merkel's staff complained to Austria about comments its finance minister made about forcing Greece out of the eurozone.
The premarkets maintained their gains after the Commerce Department said U.S. housing starts rose 2.6% in April to a 717,000-unit pace, besting forecasts for 685,000 units. The government raised its March reading to a 699,000 unit pace.
The Commerce Department also said permits to build new homes declined 7% in April to a 715,000-unit pace, missing estimates for 730,000. However, permits for March were revised up to a 769,000 unit-pace, marking the strongest level since the crisis erupted in September 2008.
Wall Street is likely to be moved by a pair of reports on the real-estate front. Economists expect housing starts jumped 4.7% in April to a pace of 685,000 units after tumbling nearly 6% in March.
Also, a new report on building permits is forecasted to reveal a 4.5% decline to 430,000 for April.
In the commodities complex, crude oil fell $1.12 a barrel, or 1.19%, to $93.23. Gold slumped $16.70 a troy ounce, or 1.09%, to $1,540.40.
Meanwhile, Facebook continues to see strong demand for its massive initial public offering, which is expected to come on Thursday. A day after hiking the price range for the highly-anticipated IPO, the social network bumped up its size by about 25%.
Target (NYSE:TGT) released first-quarter results that  modestly exceeded expectations, sending the discount retailer's shares higher.
Global Markets
The U.K.'s FTSE 100 fell 0.63% to 5403.43, France's CAC 40 gained 0.43% to 3052.20 and Germany's DAX slid 0.63% to 6360.52.
In Asia, Japan's Nikkei 225 slumped 1.12% to 8801.17 and the Hong Kong Hang Seng plunged 3.19% to 19259.83.