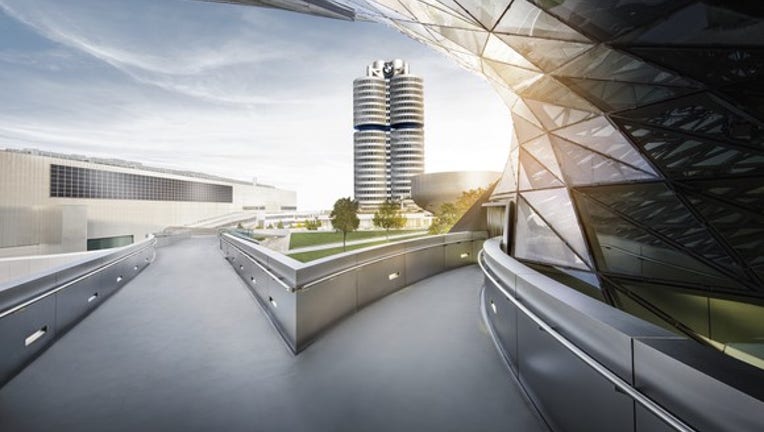 German automaker Bayerische Motoren Werke AG (NASDAQOTH: BAMXF), better known as BMW, reported a 31% jump in first-quarter net income -- but it stuck with conservative full-year guidance despite the profit gain.
BMW earnings: The raw numbers
BMW had released a preliminary first-quarter report on April 20. That report included pre-tax profit numbers, which are repeated here. The net profit figure is new as of May 4.
All results are shown in euros. As of May 4, 1 euro = about $1.09.
| Metric | Q1 2017 | Q1 2016 | Year-Over-Year Change |
| --- | --- | --- | --- |
| Revenue | 23.448 billion | 20.853 billion | 12.4% |
| Earnings before interest and tax (EBIT) | 2.646 billion | 2.457 billion | 7.7% |
| -- Automotive EBIT | 1.871 billion | 1.763 billion | 6.1% |
| -- Automotive EBIT margin | 9% | 9.4% | (0.4 ppt) |
| Pre-tax profit (EBT) | 3.005 billion | 2.368 billion | 26.9% |
| Net profit | 2.149 billion | 1.641 billion | 31% |
Data source: BMW AG. EBT is included for reference, as it is often reported as the headline profit number in the European business media. PPT = percentage points.
BMW's headquarters in Munich, Germany. Image source: BMW AG.
In brief: What drove BMW's profit gain
BMW discussed the key factors driving its first-quarter profit gain in its preliminary report last month. (You can find a summary here.)Basically, a jump in valuation of a mapping service partly owned by BMW (the biggest contributor), profit growth in China, and worldwide sales gains in autos (up 5.3%) and motorcycles (up 5.5%) all contributed to the year-over-year profit increase.
Why margin fell: Heavy spending on future product and tech
While rival Daimler AG (NASDAQOTH: DDAIF) boosted its full-year guidance after reporting stronger-than-expected sales of Mercedes-Benz vehicles, BMW CEO Harald Krueger reiterated his company's earlier cautious guidance for the year despite the strong first-quarter result. While Daimler now expects a "significant" year-over-year increase in earnings for the full year, Krueger stuck with BMW's previous expectation of only a "slight" increase.
Why? Because BMW is spending a lot of money right now:
A year ago, BMW warned investors that its spending would need to rise to keep pace with rivals. Not surprisingly, that has happened. BMW's research and development costs jumped 35% from a year ago in the first quarter, to 1.32 billion euros ($1.44 billion). That increase was the key factor behind the 0.4-percentage-point year-over-year drop in BMW's automotive EBIT margin.
That money is being spent to overhaul BMW's aging product line and to develop the advanced technologies it will need to stay competitive. Remember that BMW's competition includes not only Daimler, but also bigger and better-funded rivals like Volkswagen (NASDAQOTH: VLKAY) subsidiary Audi and General Motors' (NYSE: GM) resurgent Cadillac brand.
BMW's midsize 5 Series sedan is all-new for 2017. Image source: BMW AG.
A lot of new products are headed to market
The "model offensive" that Krueger mentioned started with all-new versions of BMW's 5 Series sedan and the Mini Countryman in the first quarter. Krueger highlighted some of the other new models that are coming:
A plug-in hybrid version of the Mini Countryman in June;
An all-new version of the top-of-the-line Rolls-Royce Phantom later in 2017;
A new BMW X3 crossover SUV later this year;
A new BMW X2 crossover in 2018;
An all-new big crossover SUV, the BMW X7, in 2018;
A Roadster version of the BMW i8 hybrid sports car in 2018;
A battery-electric Mini in 2019;
A battery-electric BMW X3 crossover SUV in 2020;
A battery-electric self-driving BMW flagship sedan, the iNext, in 2021.
As you can see, it's a long list, with a lot of new technology. And in addition, Krueger said that BMW's motorcycle unit (BMW Motorrad) will launch 14 new models or variants in 2017.
BMW's super-luxury Rolls-Royce brand shipped the last of its seventh-generation Phantom sedans in the first quarter. An all-new eighth-generation version of Rolls' top sedan model will debut later this year. Image source: Rolls-Royce Motor Cars/BMW AG.
BMW's CFO: Patience will be required
Chief financial officer Nicolas Peter seemed to be reminding investors to stay patient as he summed up his remarks:
Long story short: While the near term could be bumpy, BMW wants its investors to know that it remains committed to rewarding them over the longer haul.
10 stocks we like better than BMWWhen investing geniuses David and Tom Gardner have a stock tip, it can pay to listen. After all, the newsletter they have run for over a decade, Motley Fool Stock Advisor, has tripled the market.*
David and Tom just revealed what they believe are the 10 best stocks for investors to buy right now... and BMW wasn't one of them! That's right -- they think these 10 stocks are even better buys.
Click here to learn about these picks!
*Stock Advisor returns as of May 1, 2017
John Rosevear owns shares of General Motors. The Motley Fool recommends BMW. The Motley Fool has a disclosure policy.