Fueled by Tax Benefit, Northrop Grumman Stock Powers Ahead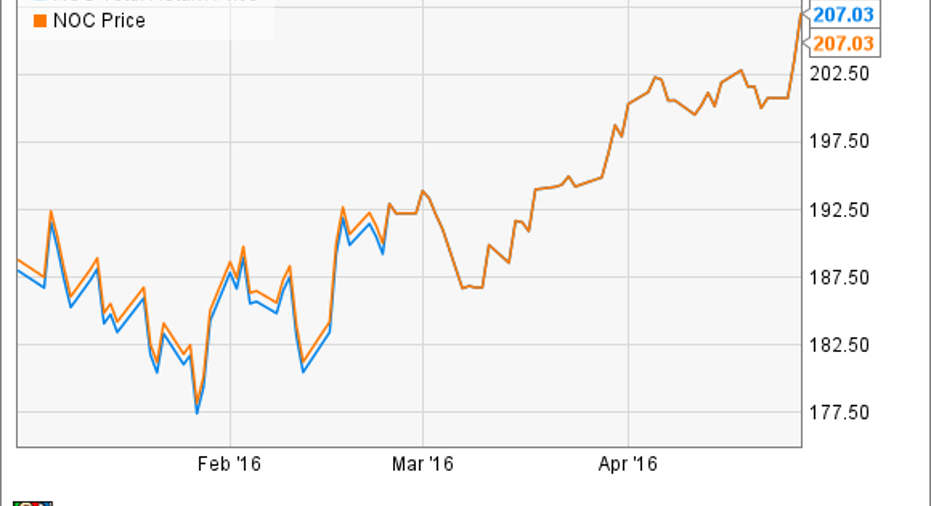 Judging from the stock chart, you wouldn't guess Northrop Grumman's revenue is flat and its profit margins falling. And yet, they are.NOC Total Return Price data by YCharts.
This week is rapidly turning out to be a great one to own defense stocks. It's turning out to be an even greater week to own one defense stock in particular: Northrop Grumman .
The news Reporting earnings for fiscal Q1 2016 on Wednesday, Northrop Grumman announced Q1 2016 revenues up infinitesimally year over year at about $6 billion. Profits, though, surged 26% to $3.03 per share.
Granted, $0.44 of these profits came from a change in the way Northrop accounts for "share-based compensation," and can largely be discounted. But $2.59 did not, and considering analysts had only expected Northrop Grumman stock to earn $2.49, the company "beat earnings" either way.
The obvious question, then, is why Northrop Grumman decided to run up the score on its earnings beat Wednesday. If things are going so great for the defense contractor, why risk raising suspicions that it's engaging in accounting shenanigans to inflate profits, when those profits already beat expectations?
Let's see if we can figure this one out.
Defense industry math If we're being absolutely precise, Northrop Grumman reported $5.956 billion in sales last quarter. That rounds to $6 billion, which was ahead of expectations, but it was precisely $1 million less than the $5.957 billion it collected in Q1 2015. Big picture, therefore, Northrop's defense business is not getting bigger.
Meanwhile, the profits Northrop earns on its revenues are getting smaller. Northrop Grumman's operating profit margin in Q1 shrank by 70 basis points, falling to 12.4%.
Now ordinarily, flat revenues and falling profitability would be bad news for investors. However, Northrop's share count is also getting smaller, as it continues buying back shares. As long as the company remains profitable, it can continue producing outsize growth in earnings per share -- even on flat revenues and smaller margins -- by reducing the number of shares among which its profits get divided.
But how much longer can Northrop keep this up?
The future of the buyback planThe first quarter saw Northrop Grumman stock outstanding shrink by 1.5 million shares, as the company continued to buy back shares of its increasingly expensive stock. With $4 billion worth of share repurchases still authorized, Northrop has the green light to buy back roughly 19.4 million more shares. In theory, therefore, Northrop can keep buying back shares at its present pace for more than three more years.
By which time, who knows? Maybe revenue will begin growing again, and profit margins expanding.
ValuationShare buybacks have proved, and continue proving, to be a good way for Northrop to keep its earnings per share on the rise. But at what cost? Free cash flow in Q1 was negative, but it was less negative than in the year-ago quarter. As a result, free cash flow at the company is growing again (which, by the way, will be helpful with the buyback program). S&P Global Market Intelligence figures put trailing-12-month free cash flow at $2.1 billion, and comfortably ahead of reported net income.
At today's market cap of $37.5 billion, Northrop Grumman stock currently sells for just under 17.9 times free cash flow, or roughly 20.3 times the company's $42.6 billion enterprise value. That seems pretty pricey to me based on analyst predictions of 8% long-term profits growth. It seems even more expensive as I watch revenues and operating profits decline in spite of analyst predictions. I, therefore, am not interested in buying the stock at these levels.
Northrop Grumman management, on the other hand, clearly still is.
The article Fueled by Tax Benefit, Northrop Grumman Stock Powers Ahead originally appeared on Fool.com.
Rich Smithdoes not own shares of, nor is he short, any company named above. You can find him onMotley Fool CAPS, publicly pontificating under the handleTMFDitty, where he's currently ranked No. 297 out of more than 75,000 rated members.The Motley Fool has no position in any of the stocks mentioned. Try any of our Foolish newsletter services free for 30 days. We Fools may not all hold the same opinions, but we all believe that considering a diverse range of insights makes us better investors. The Motley Fool has a disclosure policy.
Copyright 1995 - 2016 The Motley Fool, LLC. All rights reserved. The Motley Fool has a disclosure policy.