FuelCell Energy Stock Wins an Upgrade: 3 Things You Need to Know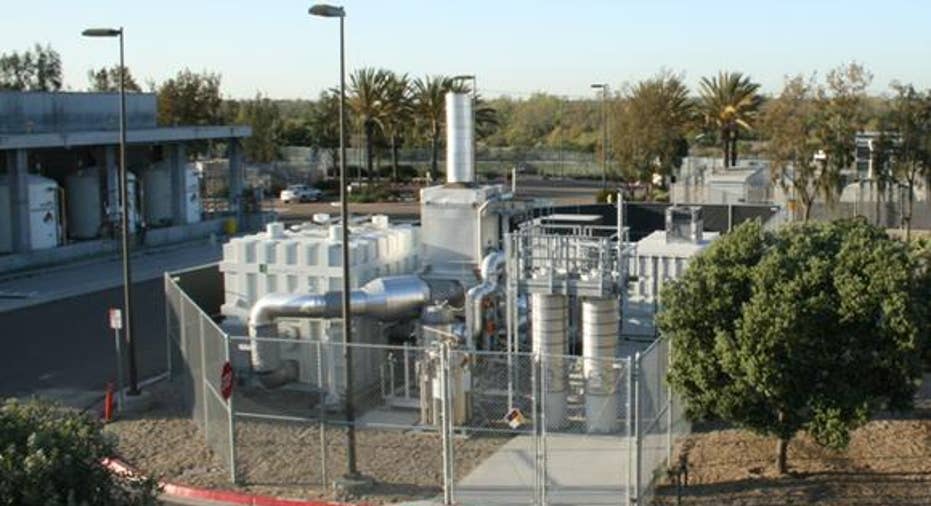 $45.7 million.
$35.5 million.
$34.4 million.
$38.1 million.
$29.4 million.
That's how much money FuelCell Energy lost in each of the past five years. And yet, just yesterday morning, analysts at investment banker Roth Capital came out and recommended that investors buy shares of FuelCell Energy stock. According to Roth, you see, FuelCell stock that currently costs just $6 and change could sell for as much as $12 within a year.
But why does Roth Capital believe that this stock, down 58% over the past 52 weeks, is suddenly going to turn around and double in price?
This tiny FuelCell power plant pumps out 1.4 MW of clean electrical energy. Image source: FuelCell Energy.
Roth Capital has three reasons.
Thing No. 1: Relative to the competition, FuelCell looks cheapFuelCell builds fuel cell power plants, small in size and capable of operating independently of the electrical grid, producing electrical power as and where needed. Roth calls FuelCell a "premiere provider of clean distributed generation solutions," and with $163 million in annual revenue, FuelCell's business is nearly twice the size of rival Plug Power and almost three times as big as Ballard Power Systems .
And yet, Ballard Power currently boasts a market capitalization of $205 million, while Plug costs a whopping $360 million. Next to these rivals, FuelCell's market cap of just $192 million looks like a relative bargain.
Thing No. 2: Relative to the competition, FuelCell looks (almost) profitableIt's not just revenue where FuelCell has an advantage over the competition, either. From the perspective of operating profits earned (or rather, lost) on revenue produced, FuelCell is leading the fuel cell pack in operating profit margins.
According to data from S&P Global Market Intelligence, Ballard Power had a 42% negative operating profit margin last year (i.e., for every $1 of product Ballard sold, it lost $0.42). Plug Power is even worse off, losing $0.56 for every $1 in revenue. By comparison, FuelCell Energy's operating margin is a relatively svelte negative 23%.
Simply put, not only does FuelCell sell more stuff. It loses less money for every $1 worth of stuff it sells, than do its rivals.
Thing No. 3: Scale's the thingIn other words, FuelCell Energy has lost a lot of money during its years as a public company. It hasn't been a successful investment yet. And yet, if there's any hope for anyone in the fuel cell industry gaining the kind of scale needed to break above water and earn even a modest profit -- Fuel Cell Energy seems farthest along the road toward this goal.
StreetInsider.com, in reporting on Roth Capital's recommendation yesterday, noted that FuelCell boasts a "$2bn pipeline with utility and industrial power customers," which is 12 times more revenue than FuelCell currently collects in a year. In megawatt terms, that translates into about 250 megawatts' worthof power production capacity that FuelCell might be hired to build. FuelCell is "lowering manufacturing costs" and moving "closer to market-clearing prices," at which it's conceivable the company could finally earn a profit.
One final thing: FuelCell is not a sure thingDoes all of this mean that FuelCell is a winner, and that you should follow Roth Capital's advice and buy the stock?
Not necessarily, no. While relative to the competition, FuelCell has many points in its favor, it's entirely possible that this stock is simply the best of a bad bunch, so to speak. It could be that the entire fuel cell industry remains a bad bet. Even if FuelCell Energy is less rotten than its rivals, that doesn't necessarily make the stock a buy in my book.
So what's my advice here? By all indications, if anyone's going to make a profit from fuel cells, the company that has fuel cells in its name appears to be your best bet. But until you see FuelCell Energy announce an honest-to-goodness profitable year, I still wouldn't make that bet.
The article FuelCell Energy Stock Wins an Upgrade: 3 Things You Need to Know originally appeared on Fool.com.
Fool contributorRich Smithdoes not own shares of, nor is he short, any company named above. You can find him onMotley Fool CAPS, publicly pontificating under the handleTMFDitty, where he's currently ranked No. 283 out of more than 75,000 rated members.The Motley Fool has no position in any of the stocks mentioned. Try any of our Foolish newsletter services free for 30 days. We Fools may not all hold the same opinions, but we all believe that considering a diverse range of insights makes us better investors. The Motley Fool has a disclosure policy.
Copyright 1995 - 2016 The Motley Fool, LLC. All rights reserved. The Motley Fool has a disclosure policy.