French, Polish leaders start to mend strained ties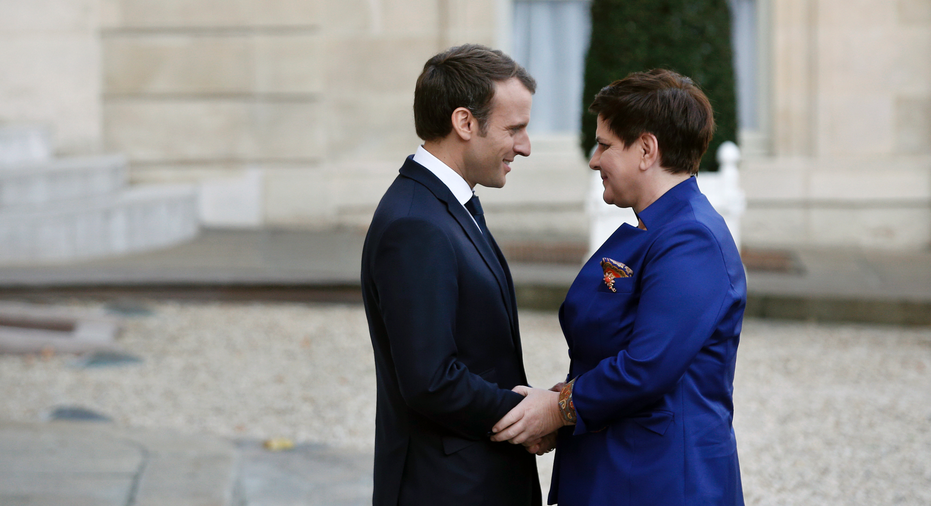 French President Emmanuel Macron and Poland's prime minister took a first, key step Thursday toward mending differences that are weighing on the whole European Union.
After talks in Paris, the two leaders remained at odds over their main dispute — workers from Eastern Europe posted by their employer in richer EU countries — but said they were looking for compromise.
"It was a good, much-needed meeting. We were able to explain many questions to each other and we agreed to hold more talks," Polish Prime Minister Beata Szydlo said. "I trust that it will be possible for us to find a compromise" on the issue of truck drivers and posted workers, she said.
Bilateral ties are tense after Poland canceled a major deal to purchase French-made helicopters and after Macron criticized Szydlo's government and bypassed Poland during a visit to the region in the summer.
Macron gave Szydlo a warm welcome at the Elysee Palace on Thursday, and afterward said he would go to Poland next year.
He said they remained in disagreement over the posted workers, but worked to "remove misunderstanding and evolve toward a position of convergence."
He also sounded a slightly softer line on judicial reforms in Poland that critics see as an authoritarian power grab.
"No member of the EU should judge reforms that another country is leading," Macron said.
But he said France fully supports a European Commission examination of the reforms, and if they're found to violate EU treaties, then "we will draw all the consequences."
Szydlo said, "We were able to clarify many doubts, but, naturally, there remain issues that still divide us, which is a natural thing, because the interests of France are different from the interests of Poland."
The two also discussed defense cooperation and armaments, the future of the EU after Britain leaves the 28-member bloc, and Poland's concerns over Russia's plans for a second gas pipeline on the Baltic Sea bed.
___
Monika Scisclowska reported from Warsaw.