French carmaker PSA discusses deal to buy GM's Opel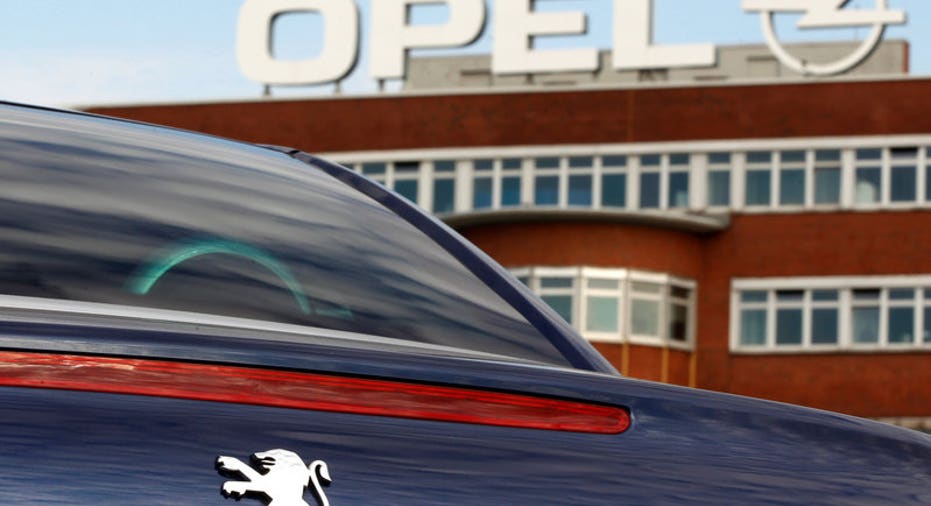 Peugeot-owner PSA Group is discussing buying General Motors' European operations, making the French carmaker the second biggest player in the region and allowing GM to focus on North America and China.
In separate statements, GM which owns the Vauxhall and Opel brands, and the maker of Peugeot, Citroen and DS cars said they were looking at a number of "strategic initiatives" with the aim of increasing profitability and operating efficiency, including through a potential acquisition of Opel.
"There can be no assurance that an agreement will be reached," the companies added. It was not immediately clear what price GM might want for the loss-making European business.
For PSA and Opel, both of which are active mainly in Europe, it is a rare opportunity to bulk up in a sector plagued by high costs, low margins and tough competition.
GM and PSA have already shared production of commercial vans and developed common vehicle platforms, a relic of their last attempt to forge a broader alliance, which was unwound in 2013 with the sale of the U.S. carmaker's stake in PSA.
GM has repeatedly failed to make Opel profitable even after shutting Opel factories in Belgium and Germany and withdrawing the Saab and Chevrolet brands from sale. The last time Opel and Vauxhall recorded a net profit was in 1999..
Together, PSA and Opel would command a 16.3 percent share of the European passenger car market compared with Volkswagen's 24.1 percent, based on 2016 data. They would overtake Renault as the closest rival to the German carmaker.
For GM, selling Opel and Vauxhall, which added almost 1 million cars to its sales, could mean abandoning the global volume race in which it is currently ranked third behind Volkswagen and Toyota, with just over 10 million vehicles delivered last year.
Selling Opel will free up GM to invest more to develop vehicles for the North American and Chinese markets, where it makes nearly all of its automotive profits, as well as to expand new businesses such as ride services, autonomous vehicles and connected commerce.
UNION RAISES VOICE
Under a 2015 agreement with shareholders GM promised investors at least a 20 percent return on capital.
The Detroit-based group may keep a stake in the combined entity, one of the sources told Reuters.
What remains unclear is how PSA will cut costs in a combined group. France's PSA has 10 factories in Europe and General Motors has 11 plants.
Opel's powerful trade union representatives in Germany immediately voiced their concern that GM and Peugeot had held discussions without their knowledge.
"If it is true that GM and PSA held talks with the aim of selling Opel/Vauxhall, it would be an unprecedented breach of all German and European co-determination rights," labor union IG Metall and Opel's works council said in a joint statement.
The confirmation of talks came after sources told Reuters earlier on Tuesday that the two companies were in advanced discussions to combine PSA with the U.S. carmaker's Opel business.
OPEL'S PROBLEMS
PSA shares traded 3.6 percent higher by 1440 GMT, having earlier been as much as six percent higher. Milan-listed shares in Fiat Chrysler also gained on renewed prospects for consolidation in the industry.
The French government, which owns 14 percent of PSA, had no immediate comment. A spokesman for the Peugeot family, which holds a matching stake in the carmaker, was not immediately available.
Under Chief Executive Carlos Tavares, PSA has rebounded from a 2013-14 brush with bankruptcy to reach record levels of earnings, posting a 6.8 percent automotive operating margin in the first half of last year.
The carmaker sold 3.15 million vehicles last year. Tavares has signaled openness to a tie-up that would increase PSA's scale and ability to meet growing investment demands in vehicle electrification, driving technology and connected services.
GM previously discussed a sale to Canadian parts maker Magna in the aftermath of the financial crisis, before pulling the plug on the tentative deal in 2009.
(Additional reporting by Gilles Guillaume and Laurence Frost in Paris and Joe White in Detroit; Writing by Laurence Frost; Editing by Keith Weir)