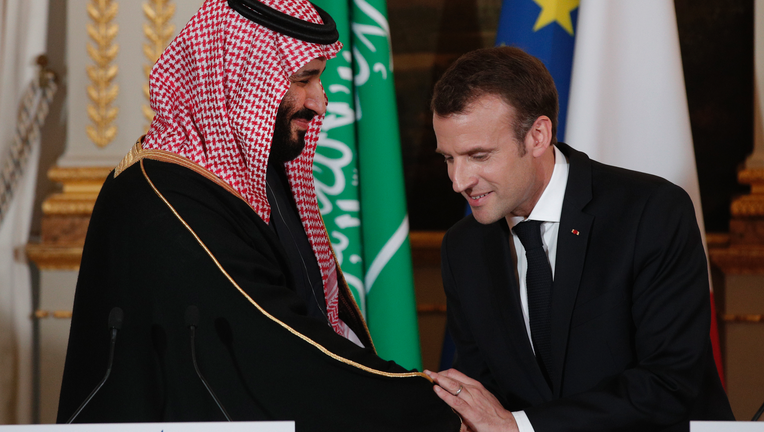 Crown Prince Mohammed bin Salman of Saudi Arabia joined French President Emmanuel Macron in expressing concerns Tuesday over the worsening conflicts in Yemen, Iran and especially Syria.
Macron said France would decide in coming days on "a strong and joint response" with the United States and Britain to the suspected use of a poison gas that Syrian activists and rescues said killed 40 people near Damascus.
Prince Mohammed, wrapping up his first official visit to France, said during a joint news conference with the French leader that Saudi Arabia would support a military operation in Syria.
"If required by our alliance with our partners, we will be there," he said, according to the French translation of his remarks spoken in Arabic.
Macron also announced that France would co-organize with Saudi Arabia a conference on humanitarian aid for Yemen, where a civil war has been fought since 2015. Saudi Arabia leads a foreign coalition backing the Yemeni president who was forced out of office as the war broke out.
Human rights groups have accused Saudi Arabia of targeting civilians with airstrikes. Yemeni rebels have launched ballistic missiles at the kingdom.
"We will not tolerate ballistic missiles activities that threaten Saudi Arabia," Macron said. "Yet we are attached to the respect of international law and especially humanitarian law in Yemen."
A lawyer representing a Yemeni human rights group filed a lawsuit Tuesday in France accusing Mohammed of complicity in torture.
He and Macron stated their conflicting views over the Iran nuclear deal, which both Saudi Arabia and the U.S. strongly criticize.
If Iran builds a nuclear bomb, "we will be in an extremely dangerous situation," the crown prince said.
Macron insisted there was no better option than enforcing the nuclear deal, but also pushed for post-2025 proposals to ensure the security of the region.
Macron, 40, France's youngest leader since Napoleon, and the 32-year-old Saudi prince who goes by MBS, met privately earlier Tuesday to discuss defense, security and economic issues.
They signed a cooperation agreement on research and tourism at the Mada'in Saleh archaeological site in northwest Saudi Arabia. Macron plans to visit the kingdom, which will be represented at the Cannes Film Festival for the first time next month, at the end of the year.
Saudi national company Aramco and French oil giant Total announced a deal Tuesday to build a petrochemical complex in Jubail in Saudi Arabia. In total, $9 billion will be invested, the companies said.
Macron hosted a gala send-off dinner for the crown prince at the presidential Elysee palace. Lebanese Prime Minister Saad Hariri, who was in Paris, attended.
___
Associated Press writers Angela Charlton and Philippe Sotto contributed to this report.