Frack Sand Stocks Saw a 2nd Straight Month of Large Gains in June (EMES, FMSA, HCLP, SLCA)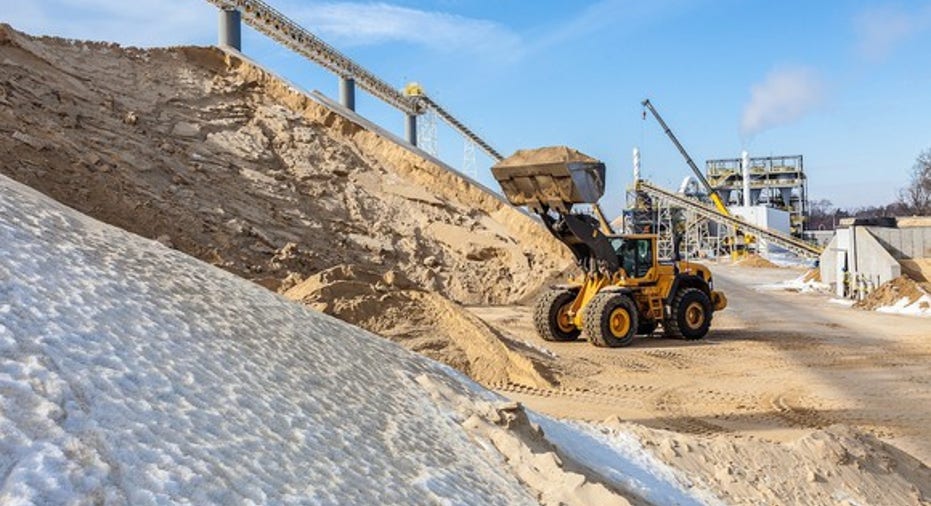 Image source: U.S. Silica Holdings.
What: After postinglarge gains in May, frack sand producers followed up in June by avoiding the fallout of the Brexit vote to post large gains. All four of the nation's largest publicly traded producers -- U.S. Silica Holdings , Fairmount Santrol Holdings , Hi-Crush Partners , and Emerge Energy Services -- gained more than 20%, with Emerge leading the way with a 128% gain.
So What: The big outlier here is Emerge Energy Services. The reason this company saw such large gains this month is that it announced it would be selling its fuels business segment to retail and marketing specialist Sunoco LP. The $179 million deal will allow Emerge to focus exclusively on its frack sand production. Considering how different the two business segments were, it seemed almost inevitable that the company would shed these assets eventually.The proceeds will be used to clean up the company's balance sheet and help fill some of the funding gaps that have come about because of the massive downturn in oil and gas drilling activity.
For the other companies here, much of the gains have to do with oil prices remaining in the range of $45 to $50 a barrel for the month. While this isn't a great price for producers, it's enough that some are starting to think about doing a little work to bring on a few new wells. Considering the large number of wells that have been drilled but not yet completed -- wells that will need frack sand -- there is a large backlog of work that these sand producers will need to fill. The question is how quickly the market will want to bring these wells on line.
This demand couldn't come at a better time, as all of these companies have struggled to make ends meet in recent quarters. Both Hi-Crush and Emerge were forced to suspend their dividends several months ago, and Hi-Crush recently completed an equity offering to raise $48.5 million. Each company has seen its balance sheet deteriorate considerably over the past 12 months. Only U.S. Silica Holdings has been able to maintain a reasonable balance sheet over that time, and a large part of that has to do withits sand sales to industries other than oil and gas.
| | | | |
| --- | --- | --- | --- |
| Company | Debt to Capital | Net Debt to EBITDA | Quick Ratio |
| U.S. Silica | 46.5% | 0.43 | 7.47 |
| Hi-Crush Partners | 73.6% | 5.71 | 1.6 |
| Farimount Santrol | 100% | 14.5 | 1.41 |
| Emerge Energy Services | 79.8% | 6.45 | 1.58 |
Source: S&P Global Market Intelligence.
Now What: With Hi-Crush, Emerge, and Fairmount all on the verge of insolvency, the smallest gain in oil and gas prices is going to keep sending these shares on big ups and downs, despite the two straight months of gains. Keep in mind that these companies' stocks still have a long way to go to get back to where they were when oil was at $100 a barrel.
Until we start to see some quarterly results with oil and gas prices in this range, it's probably best to take a wait-and-see approach. This is especially important for Emerge because we need to see how much of that asset sale cash goes to paying down debt. With such bloated balance sheets and questionable demand for the time being, there is just a little too much risk in these stocks to make any major purchases.
The article Frack Sand Stocks Saw a 2nd Straight Month of Large Gains in June (EMES, FMSA, HCLP, SLCA) originally appeared on Fool.com.
Tyler Crowe has no position in any stocks mentioned.You can follow him at Fool.comor on Twitter@TylerCroweFool. The Motley Fool recommends U.S. Silica Holdings. Try any of our Foolish newsletter services free for 30 days. We Fools may not all hold the same opinions, but we all believe that considering a diverse range of insights makes us better investors. The Motley Fool has a disclosure policy.
Copyright 1995 - 2016 The Motley Fool, LLC. All rights reserved. The Motley Fool has a disclosure policy.